Times Royal Feuds Went Too Far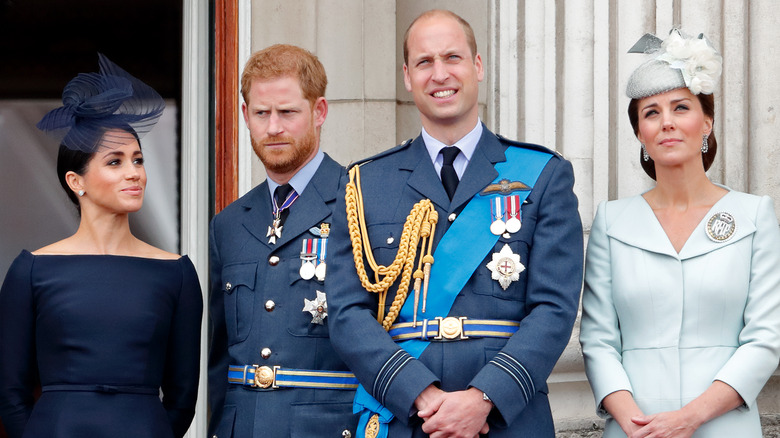 Max Mumby/indigo/Getty Images
Being a member of the royal family is hardly the fairytale we'd all like to believe it is. You only have to glance at the headlines to know that being a part of the monarchy is a stressful, full-time job that sometimes leads to plenty of disagreements. We all have everyday arguments with those closest to us, but at least we don't have tabloids eagerly digging into our lives and publishing every embarrassing detail.
It's no secret that the royal family is fraught with drama. Back when it was revealed that both King Charles III and Princess Diana were unfaithful to each other during their marriage, it started a media frenzy that continued well after their divorce. Fast forward to the present, and there has been plenty of drama to fill tabloid pages. Meghan Markle and Princess Catherine's infamous feud reached a tipping point right before Meghan's wedding day, and it's common knowledge that Prince Harry and Prince William, who were once incredibly close, are now barely speaking to each other after years of disagreements.
Needless to say, the royal family has their ups and downs just like the rest of us. Unfortunately for them, the world is incredibly interested in their comings and goings, and more so in the relationships they have with one another. Disagreements are inevitable within families, but there have been times when royal feuds went a little too far, leading to shocking headlines that did more than just a little damage to their good name.
King Charles III and Princess Diana's strained marriage led to affairs on both sides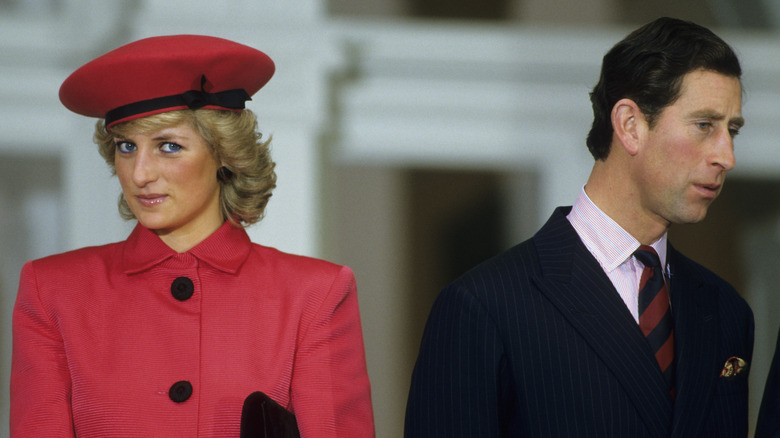 Georges De Keerle/Getty Images
Princess Diana and King Charles III's marriage was destined to end before they even said their vows, with Charles confessing to Diana on the eve of their wedding that he was not in love with her. This bit of information came to light when Diana's astrologer, Penny Thornton, granted an interview for an ITV documentary (via People). "[Diana] didn't want to go through with the wedding at that point," Thornton claimed. Diana's friend Peter Settelen corroborated Thornton's story, revealing that she told him the wedding was the "worst day of her life."
Not only does it appear that their marriage was largely devoid of love, but it was also fraught with jealousy. After she and Charles separated, Diana told the BBC (via People) that Charles had a hard time handling the affection she received from the public. In his authorized biography "The Prince of Wales," Charles compares his marriage with Diana to a Greek tragedy, saying that they were incompatible. He also admits that he was seeing Camilla behind Diana's back in 1986.
Meanwhile, Diana chronicled her unhappy marriage in a book published in 1992 by Andrew Morton, which contained some shocking revelations and put the royal family in a pretty bad light. Her riding instructor James Hewitt later claimed he had an affair with Diana around the same time Charles started his affair with Camila. Unable to overcome their differences, Diana and Charles divorced in 1996.
Princess Diana confronted Camilla about her affair with her husband at a party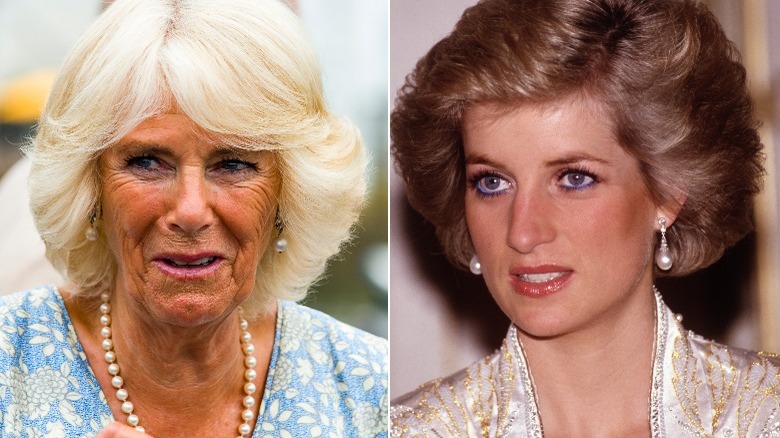 James Pearce/Shutterstock & David Levenson/Getty
Those who thought that Princess Diana was blissfully unaware of then-Prince Charles' affections for Camilla Parker Bowles were gravely mistaken. Diana was haunted by her husband's unfaithfulness and eventually plucked up the courage to confront Camilla at a birthday party, no less.
In his book "Diana: Her True Story — In Her Own Words," Andrew Morton chronicles what went down one fateful night in 1989. Diana had realized that Charles had started a relationship with Camilla behind her back and described the moment it became clear to her "as the worst day of my life." While attending Camilla's sister's 40th birthday bash, Diana found Camilla and Charles tucked away downstairs, deep in conversation. She asked to have a word with Camilla and confronted her about the affair, which Camilla tried to deny. "I said: 'I know what's going on between you and Charles, and I just want you to know that,'" Diana is quoted as saying. "I said to Camilla: 'I'm sorry I'm in the way. I obviously am in the way and it must be hell for both of you, but I do know what is going on. Don't treat me like an idiot.'"
Camilla countered by telling Diana that she had everything she could ever want — two beautiful boys and men falling at her feet, Morton writes. This wasn't any consolation to the princess, of course, and it marked the beginning of the end of her marriage to Charles.
Diana's brother Charles Spencer publicly called the royals cruel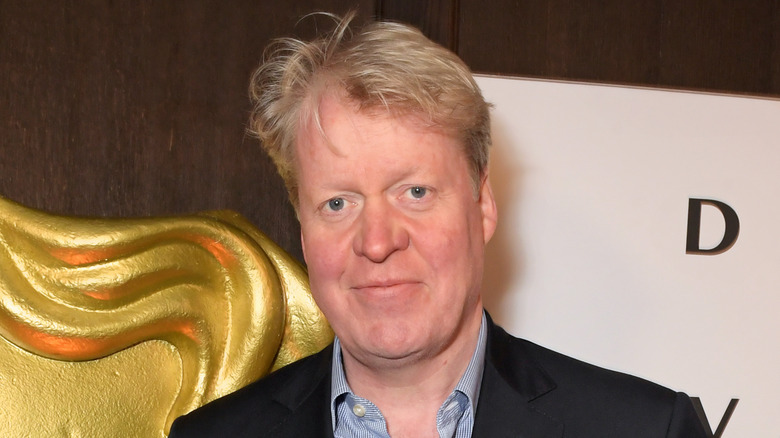 David M. Benett/Getty Images
Princess Diana's brother, Charles Spencer, hasn't exactly minced his words when it comes to the royal family. During the eulogy he delivered at Diana's funeral, he took a subtle jab at the royals when he promised his late sister that he and the rest of her immediate family would continue to raise her children in the way they knew she wished them to be raised "so that their souls are not simply immersed by duty and tradition but can sing openly as [she] planned" (via People).
As it turns out, Spencer had a fallout with King Charles III before the funeral. This encounter is described in detail in historian Robert Lacey's book "Battle of Brothers: The Inside Story of a Family in Tumult." Lacey writes that Spencer told Charles Diana would not have approved of her sons joining the funeral procession. The conversation took a bad turn and ended with Charles making an "offensive comment about Diana."
In an interview with BBC Radio 4's Today (via People), Spencer revealed that he still has nightmares about the long procession walk to Westminster Abbey. "It was the most horrifying half an hour of my life," he said. He went on to say that it was "bizarre and cruel" of the royal family to force William and Harry to walk behind their mother's coffin, adding that he was "told that they wanted to do it, which of course they didn't."
Queen Elizabeth II reportedly went as far as to call Camilla wicked in front of King Charles III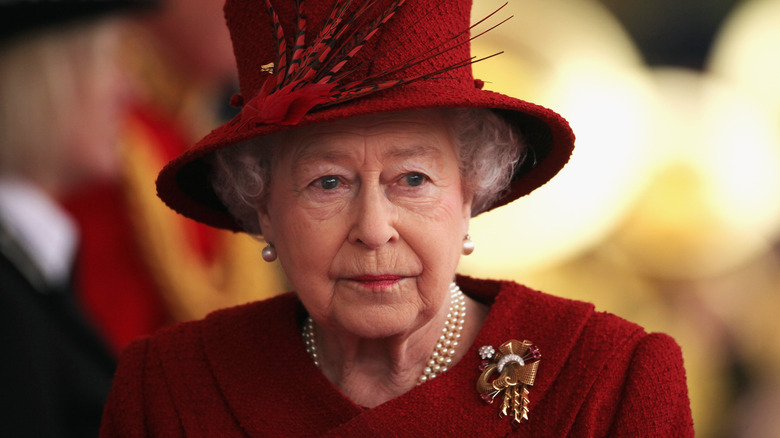 Dan Kitwood/Getty Images
When you read investigative author Tom Bower's biography of Prince Charles titled "Rebel Prince," you are led to believe that Queen Elizabeth II and the Queen Mother weren't willing to give Camilla Parker Bowles the time of day after Princess Diana's death. Not only does Bower claim that Charles was not allowed to be seen with Camilla at any royal events, but he also alleges that the queen and her mother made it clear that they disapproved of his relationship with her.
Troubled by Diana's revealing interview with Panorama in 1995, in which the princess indicated that she had her doubts about whether Charles was fit to become the next monarch and implied that he'd slept with Camilla the night before their nuptials, the queen and Prince Philip were adamant that Charles had to break up with Camilla to restore his public image. Bower reveals that, on one occasion, Charles approached his mother again about having a public relationship with Camilla, to which the queen replied that she would not turn a blind eye to his adultery. She also made it clear that she blamed Camilla for Charles' wrecked marriage. During this confrontation, the queen allegedly referred to Camilla as "that wicked woman," and told Charles that she wanted "nothing to do with her." As we all know, the queen's heart did eventually soften — at least, that's how it appeared.
Meghan Markle and Princess Catherine's feud ended in tears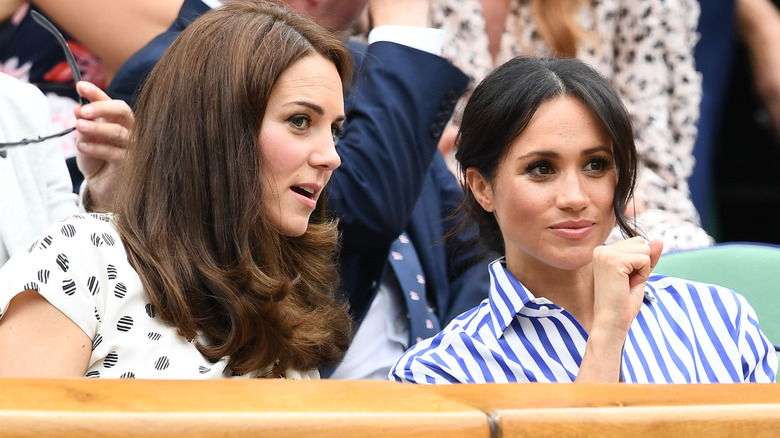 Clive Mason/Getty Images
Meghan Markle and Princess Catherine's alleged feud dominated headlines for quite some time, but things came to a head a couple of days before Meghan's wedding. Rumors were swirling about Meghan allegedly making Catherine cry, but Prince Harry finally revealed what really happened in his memoir "Spare" by including the texts Meghan and Catherine sent each other in the days before the royal wedding.
The texts reveal that Catherine told Meghan that "[Princess] Charlotte's dress is too big, too long, too baggy. She cried when she tried it on at home." To this, Meghan replied that "the tailor has been standing by since 8am. Here. At KP [Kensington Palace]. Can you take Charlotte to have it altered, as the other mums are doing?" But Catherine wouldn't budge and told Meghan that her own wedding dress designer advised that they start from scratch again.
At the time, Meghan was dealing with the media storm surrounding her father, Thomas Markle, and the unpleasant interaction with Catherine was the final straw. She burst into tears, with Harry writing that he found Meghan crying after the exchange. Catherine did apologize afterward, but according to the prince, this wasn't the only altercation between the two. Catherine was reportedly also unhappy with some of the wedding plans, which led to more than one unpleasant back and forth between the two duchesses.
Queen Consort Camilla reportedly tried to break up Prince William and Princess Catherine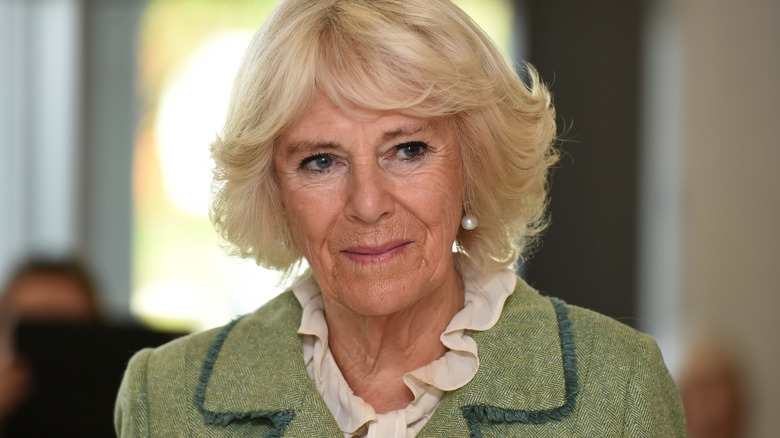 Finnbarr Webster/Getty Images
When you're part of the royal family, public opinion matters, and it appears Queen Consort Camilla didn't feel Princess Catherine was worthy of being a member of the family, nor did she like how much the public adored her.
Royal biographer Christopher Andersen told The Daily Beast (via Express) that sources told him Camilla was behind William and Catherine's brief breakup in 2007. Andersen also alleged that Camilla encouraged Charles to ask William to make a decision about Catherine — either he had to permanently break up with her, or he had to marry her. It was later confirmed that Charles had this conversation with William. "Now, his motives for doing that may have been pure but Camilla's...not so much. She was the instigator of this," Andersen said, saying that Camilla being "a bit of a snob" is one of the reasons she didn't approve of Catherine back then.
It's also alleged that Camilla still doesn't approve of Catherine and that she's jealous of her popularity. A palace insider told Radar that the new queen consort is determined to keep reminding Catherine that she is her superior. "Camilla can't stop gloating and is determined to make Kate's life a nightmare," the insider alleges. Aside from apparently requiring Catherine to curtsy in her presence, the insider also claims that Camilla forces Catherine's parents to enter the palace via the servant's entrance whenever they visit.
Meghan Markle's father publicly trashed the royal family
The drama surrounding Meghan Markle's father will probably be etched into the minds of royal fans forever. Not only did he stage photos for the paparazzi, but he also failed to walk Meghan down the aisle on her wedding day after allegedly suffering a heart attack.
Not long after Meghan and Prince Harry tied the knot, Thomas granted several interviews to the press. Speaking to The Sun, he accused the royal family of cutting him out of Meghan's life simply because he spoke to the media (and staged several photos). He went on to refer to the royal family as "outdated," and in another part of the interview, which The Sun published a little later, he likened them to a cult. "They are cult-like — like Scientology — because they are secretive," Thomas told the outlet, adding, "Maybe they have a secret handshake too! You cannot ask a question of them — as they won't answer."
He also went on to accuse Meghan of cutting all ties with him. Some of Meghan's friends, however, spoke out, saying that Thomas was misinforming the public and that Meghan was used to her father's antics. "She isn't shocked or surprised by his behavior and dealt with it all with a lot of grace," an unnamed friend reportedly said.
Meghan Markle's half-sister filed a defamation lawsuit against her
After Prince Harry and Meghan Markle's explosive interview with Oprah Winfrey aired in 2021, Meghan Markle's half-sister, Samantha Markle, accused Meghan of publicly humiliating and shaming her in the interview. Meghan told Winfrey that she grew up as an only child and that she and Samantha were never close. She added that she and Samantha didn't really know each other, despite being half-sisters.
This did not sit well with Samantha, and she proceeded to file a defamation lawsuit against Meghan in 2022. It did not work out quite as planned, however, and the judge ended up ruling in Meghan's favor. Now, Samantha is set to file yet another defamation lawsuit against her half-sister, and reports indicate that she plans on making a stronger case this time. Whether her allegations are likely to stick this time around is unclear, but one thing's for sure: Meghan and Samantha aren't becoming close half-siblings anytime soon.
Samantha Markle wrote a scathing book about Meghan
Defamation lawsuits aside, Samantha Markle doesn't appear to shy away from making an extra buck or two from her half-sibling's fame. She published a book titled "The Diary of Princess Pushy's Sister Part 1," which focuses almost solely on Meghan Markle. Despite the derogatory title, Samantha told Us Weekly that the aim of the book had never been to put Meghan in a bad light. "Contrary to troll gossip and aggregate news rumors, my book has never been designed to attack my sister," Samantha told the outlet.
And yet, despite Samantha's claims, the title of the book speaks volumes about how she feels about Meghan, as do its contents. In its pages, Samantha details Meghan's childhood and goes on to criticize her apparent behavior during this time. "He [Thomas Markle] was paying for Meg to get a great education, and instead of showing gratitude, she was being belittling and controlling," Samantha writes. She also accuses Meghan of becoming a different person after becoming involved with the royal family.
Meghan addressed the book in an interview with Oprah Winfrey, revealing that Samantha changed her last name back to Markle when she started dating Prince Harry. She also emphasized that Samantha doesn't know her well at all. "The last time I saw her must have been at least 18, 19 years ago, and before that, 10 years before that," Meghan said, effectively indicating that she believes Samantha's tell-all doesn't have much truth to it.
Prince Harry and Prince William's feud got physical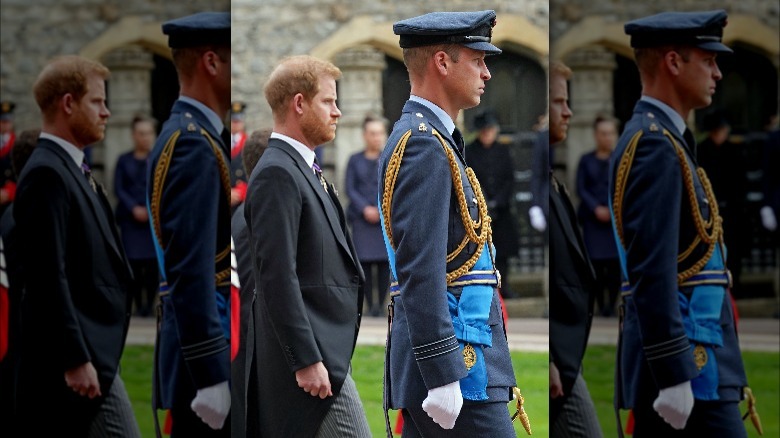 Wpa Pool/Getty Images
It's no secret that things between Prince William and Prince Harry have been a little, erm, strained, and their relationship likely hasn't improved since, especially because Harry went into detail about a fight he and William had in his memoir "Spare."
The brothers' feud came to a head when William discussed Meghan with Harry and allegedly called her "difficult," "rude," and "abrasive." Harry accused William of sounding just like the press and said that he was disappointed in him. This led to a shouting match, which ended in a physical encounter. Harry describes the argument in detail in his memoir. "He set down the water, called me another name, then came at me. It all happened so fast. So very fast. He grabbed me by the collar, ripping my necklace, and he knocked me to the floor. I landed on the dog's bowl, which cracked under my back, the pieces cutting into me. I lay there for a moment, dazed, then got to my feet and told him to get out," Harry writes.
The prince adds that he didn't hit William back, even though his brother was goading him to do so. The Prince of Wales returned a while later to apologize and asked Harry not to speak with Meghan about the encounter. With Harry revealing the fight to the world in his book, it's likely safe to say that William is not pleased and that the two won't be reconciled anytime soon.
Prince Harry sought therapy after a heated argument with Meghan Markle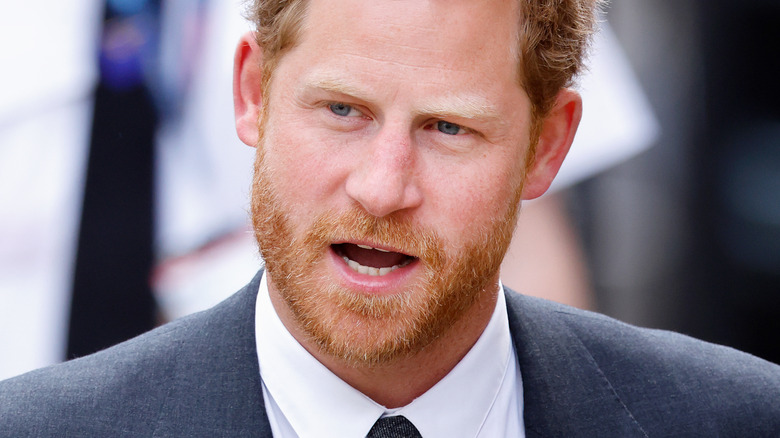 Max Mumby/Indigo/Getty Images
Couples fight all the time, and the Duke and Duchess of Sussex are no different, but one particular fight turned quite nasty when Prince Harry lost his temper and shouted at Meghan Markle.
Harry truly bares all in his memoir "Spare." Aside from detailing his fight with Prince William, he also takes a moment to talk about a fight he had with Meghan. Harry recounts the argument he had with his wife, saying that he got "sloppily angry" after their conversation went in an unexpected direction. He misunderstood her, and suddenly, there were fireworks — and not the good kind. "I was also just over-sensitive that night. I thought: 'Why's she having a go at me?' I snapped at her, spoke to her harshly [and] cruelly," the prince writes.
Harry writes that Meghan spoke to him after, making it clear that she would not tolerate such behavior from him. She then encouraged him to go to therapy to deal with the underlying issues that caused his outbursts. Having tried therapy before and not finding it effective, Harry wasn't exactly keen, but Meghan insisted that he give it another go, so he did. Now, he's an advocate for therapy and still happily married to Meghan. We're just glad the couple could move past this.
Prince Harry and Meghan Markle broke up with the royal family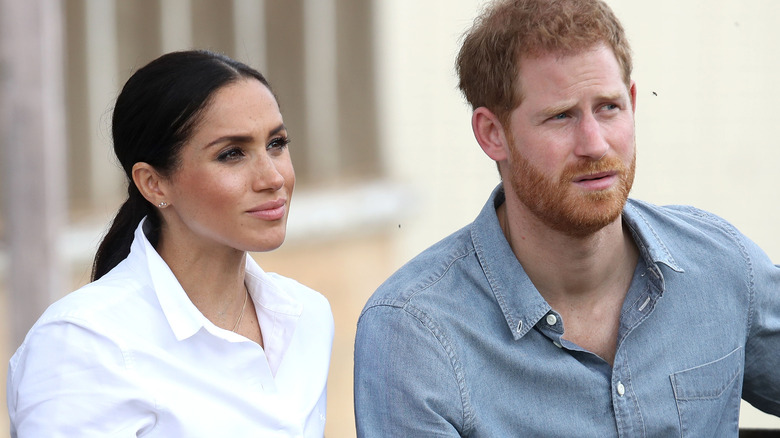 Chris Jackson/Getty Images
The world watched in awe and horror as Prince Harry and Meghan Markle walked away from the monarchy. As we all know by now, there were various reasons for the split, but it all came down to one thing: A lack of support and protection from the royal family.
During the couple's interview with Oprah Winfrey (via Oprah Daily), Harry alleged that his family didn't try to support Meghan while the British media was tearing her apart. They argued that Meghan simply had to endure it as they had over the years, but the scrutiny Meghan faced was unlike anything other family members have dealt with in the past.
"A member of [Harry's] family would comfortably say, 'We've all had to deal with things that are rude,'" Meghan told Winfrey, adding, "Rude and racist are not the same." She also mentioned that the royal press team never went on the record to defend her as they had for other family members. Adding fuel to the fire, some of Harry's family members also allegedly asked him what color Archie's skin would be and what it would mean if he didn't look like the rest of them. The tension kept building, and eventually, the couple stepped back from the family. They have since spoken openly about their experience, much to the dismay of the royals. It's unlikely that they'll reconcile with their estranged family anytime soon after the public fallout, but one can hope.