You're Never Too Old For A Smoky Eye — How To Get The Look On Mature Skin
We're so over that whispered "rule" regarding women and makeup. You know the one — the unstated rule that women past a certain age shouldn't wear makeup. More specifically, older women can't pull off bold eyeshadows and bright colors because it simply doesn't work on mature skin. And to that, we say, puh-lease. Think again.
It's true that as we age, our skin's appearance begins to change. Changes in the skin can start showing up as early as our 30s, although the real signs of aging don't typically accelerate until we reach our 40s. This is when our skin becomes less firm due to lower levels of collagen production, and wrinkles — particularly around the eyes — start popping up.
There are ways to treat fine lines, of course, but changes in the skin are a natural process of getting older; they're nothing to be ashamed of. However, fine lines and crow's feet have made many women shrink away from testing bolder styles of eye makeup. The classic smoky eye is the boldest eye look of all, and yes, you can absolutely slay this look with mature skin. All it takes is a little extra focus on your eye crease and knowing how to create a killer cat eye.
Find your eye crease first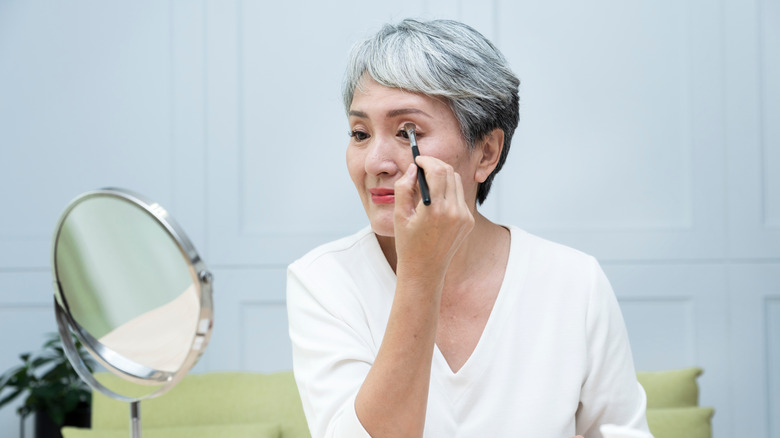 lingtsyr/Shutterstock
From a dinner date to a girls' night out, we believe that there is no wrong place to wear a beautiful smoky eye. With an endless variety of colors to choose from, you can customize the look to fit wherever your night takes you. Building the perfect smoky eye isn't any more difficult to achieve on mature skin than it is on any other type of skin. It's just the method that differs slightly.
Before you begin picking out colors, your first step should be to apply eyeshadow primer to your lids so your shadow will stick better. After that, it's time to locate your eye crease. Your crease is the little fold of skin that rests just above your eyeball and below your browbone. As makeup artist Todd Harris pointed out in an interview with The Zoe Report, the eye crease can be trickier to find on mature skin. He offered this useful tip if you're having trouble locating it: "Look straight in the mirror and don't raise your eyebrows. Remember your resting face is what people see."
From there, the makeup expert suggests swiping a few layers of matte shadow onto your crease, making sure the shade you use is a bit darker than your skin tone. For a palette with a nice range of natural shades, we recommend the Urban Decay Naked2 Basics Eyeshadow Palette ($33).
Make a cat eye work with this easy trick
Once your crease has been colored in, it's time to create your cat eye, the signature of a good smoky eye. This is when you use a liner or a dark eyeshadow to extend your lashline at an angle. Here's where the technique will differ from how you might have done a cat eye in the past. With mature skin, it's far more likely you'll have hooded or drooping eyes where the skin will overlap your eyeliner swoop, meaning any line you draw toward the end of your eyebrow won't be visible.
Instead, as this YouTube tutorial from Fabulously50s shows, try drawing your eyeliner in a vertical line, starting from the outside corner of your eye and ending at the crease you defined earlier. Connect another line that begins above your pupil to the first line and lightly fill in the newly-formed 45-degree angle with a dark eyeshadow. It's a different take from what you might be used to seeing, but trust us — it turns out amazing. From there, it's smooth sailing.
There you have it! A smoky eye perfect for a night out. Once you've got it down, your only real problem will be deciding where you're going to wear this look. And remember, the best base for makeup is skin that is well taken care of, so be sure to include skincare products essential for aging or mature skin in your beauty regime.