Lionel Richie Makes Royal Faux Pas Greeting Queen Camilla At Coronation Luncheon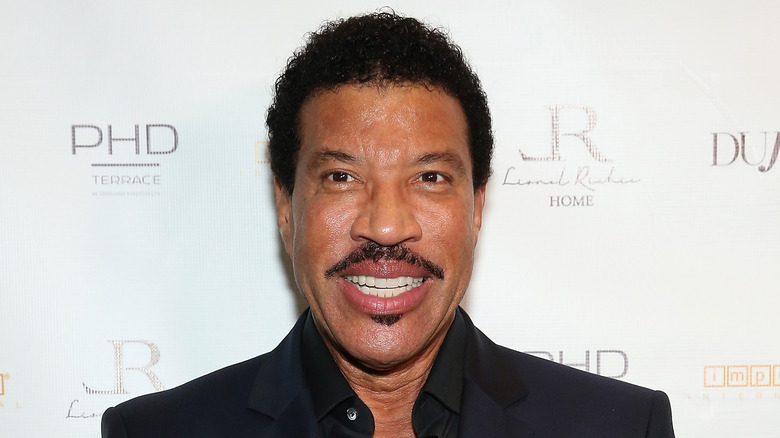 Monica Schipper/Getty Images
Lionel Richie proved himself a true American at Buckingham Palace on the Wednesday before King Charles III's coronation, which is slated for May 6, 2023, by not following or perhaps even knowing about certain mysterious British customs. At a garden party where thousands of people milled about eager to chat with the royal family, Richie warmly offered his hand to Queen Camilla and then patted her arm more than once, according to The Mirror, which included a video capturing the scene. 
As Grant Harrold, a former butler to the king who now dispenses expert etiquette advice, noted on his website, The Royal Butler: "Please remember when it comes to royal etiquette, you never shake the hand of a royal unless they extend their hand first ... This applies to both male and female royals." Those with royal blood should always be given the opportunity to make the first move, according to Harrold. 
So Richie's touching of Camilla, the gentle pat on her arm, was a definite no-no. The iconic singer appeared unconcerned about this (debatable) faux pas, and thus he's thankfully unlikely to add more fuss to the drama surrounding Charles' coronation.
Richie will perform at the coronation concert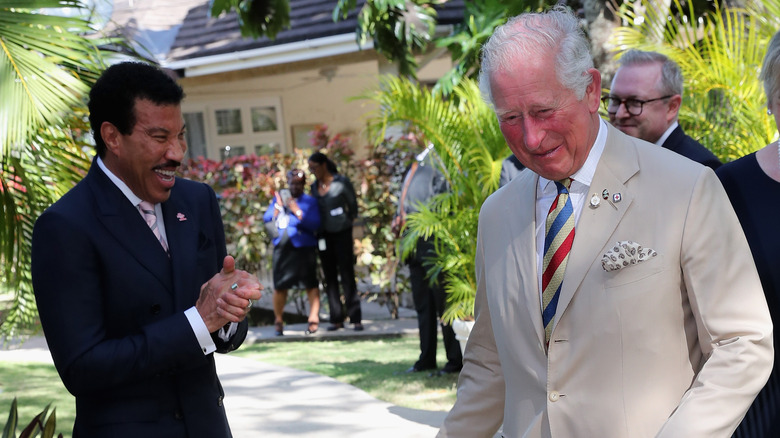 Chris Jackson/Getty Images
The "All Night Long" singer is clearly pleased to be participating in the May 7 concert too. "To share the stage with the other performers at The Coronation Concert is a once-in-a-lifetime event and it will be an honor and a celebration," Lionel Richie told the BBC, as part of their press announcement on the event, which was released in April. The live audience for Richie will number 20,000 strong, with millions more watching at home. 
Along with the Grammy, Oscar, and Golden Globe-winning superstar, other performers at Windsor Castle on coronation night will include pop singer Katy Perry, opera star Andrea Bocelli, singer/songwriter Freya Ridings, British pop group Take That, and composer Alexis Ffrench, with the BBC taking charge of broadcasting and streaming the event live. 
Richie, who's sold over 125 million records throughout a lengthy career that first took flight in the '70s, has a meaningful if not long-standing relationship with Charles. He became the first Global Ambassador for The Prince's Trust in 2019, according to the singer's website. The trust, founded in 1976, has aided thousands of young people seeking education and employment across the UK, before turning its focus toward achieving a similar international mission. Richie seems to share a genuine friendship with the British monarch, telling People: "I know him as a wonderful person." 
The not-so-rigid royals aren't beholden to rules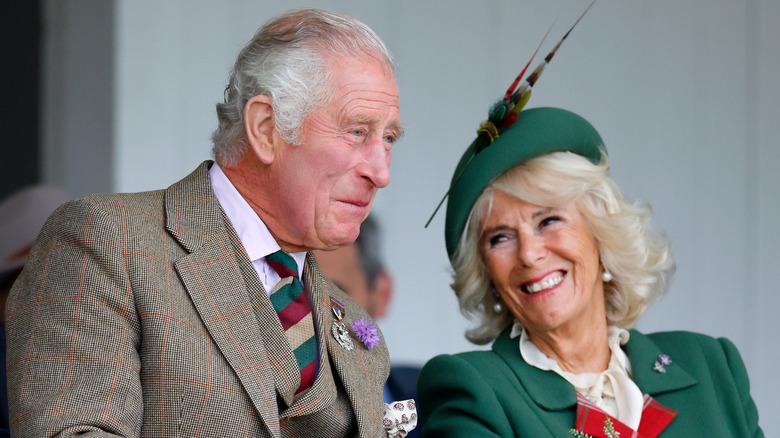 Max Mumby/indigo/Getty Images
Former butlers and royal watchers may know all the rules by heart, but to the family, themselves, the many rituals that most of us cannot even begin to fathom are not their greatest concern. "There are no obligatory codes of behavior when meeting The Queen or a member of the Royal Family, but many people wish to observe the traditional forms," the royal website clarifies. 
Men should bow and women curtsy, while making use of a formal address first ("Your Royal Highness" will do for most royals, though King Charles should be called "Your Majesty"), and then following up with a simple "sir" or "ma'am," when necessary. Meanwhile, Lionel Richie told People he's looking forward to the glitz and glam of King Charles' pricey coronation, which will cost taxpayers a pretty penny despite being majorly scaled back. 
"I want to see the pomp and circumstance," Richie enthused. "I don't care what you thought Michael Jackson did. I don't care what you thought Prince did. I don't care what you thought Madonna did. Nothing's going to be like this. This is the grandiose of grandiose right here." Beyond relishing the grandeur, Richie is honored to be chosen. "Of all the names that are out there that he could have had for this, he called my name."