The Lead Role Lady Gaga Landed That Was Initially Intended For Beyoncé
Andrea Raffin/Shutterstock
Lady Gaga is a household name thanks to her music career, but she's also evolved into an actor during her time in the spotlight. Fans may remember Gaga's appearances on TV shows such as "Gossip Girl" and "American Horror Story: Hotel," her breakout role. She's also appeared in movies like "Machete Kills," "Sin City: A Dame To Kill For," and "House of Gucci." Of course, Gaga's most acclaimed project to date has been her collaboration with actor/director Bradley Cooper in the 2018 film "A Star Is Born."
The film is one that had been done three times prior, with stars Barbra Streisand, Judy Garland, and Janet Gaynor in the lead role. It was Gaga's turn to shine this time, and she did just that. The role led to an Oscar nomination for her performance and she also won the Oscar for best original song thanks to the movie's memorable tune, "Shallow." The role also changed Gaga's life forever.
"As an artist, there's always a feeling of 'Am I good enough? Am I making something honest? Am I making something true?' There is a sort of stagnant sadness in me, wondering if I'm enough. Today I did not see that. I saw something different. I saw a clarity. I saw a truth," she told Variety of the movie. However, what you might not know is that Gaga nearly didn't land the gig, as Beyoncé was the first choice for the role.
Beyoncé was supposed to play the lead role in A Star Is Born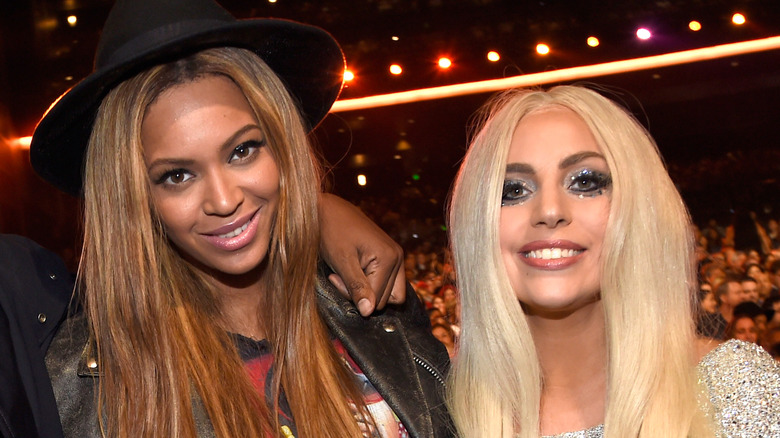 Kevin Mazur/Getty Images
When another remake of "A Star Is Born" was greenlit, Clint Eastwood was set as the director, and he wanted none other than Beyoncé to play his leading lady. The casting process dragged on as Beyoncé tried to shuffle her commitments to appear in the movie. However, there was just no way for her to block out the time for the project. "For months we tried to coordinate our schedules to bring this remake to life but it was just not possible," Beyoncé told E! News in 2012.
As for Eastwood's choice for the movie's male lead, he reportedly wanted to cast Leonardo DiCaprio in the role. Other actors rumored to be up for a role in the film also included Will Smith and Jennifer Lopez.
Eventually, Eastwood also dropped out of the movie and Bradley Cooper took over directing duties. In addition, he was also cast as the leading man. Cooper reportedly tried to get Beyoncé to return to the project, but the singer was said to want too much money for the role, which later went to Lady Gaga. Cooper and Gaga proved to have great chemistry together on screen, which led fans to believe there may have been romantic feelings between them. However, those rumors were shot down by the co-stars.
Lady Gaga almost had a different co-star in A Star Is Born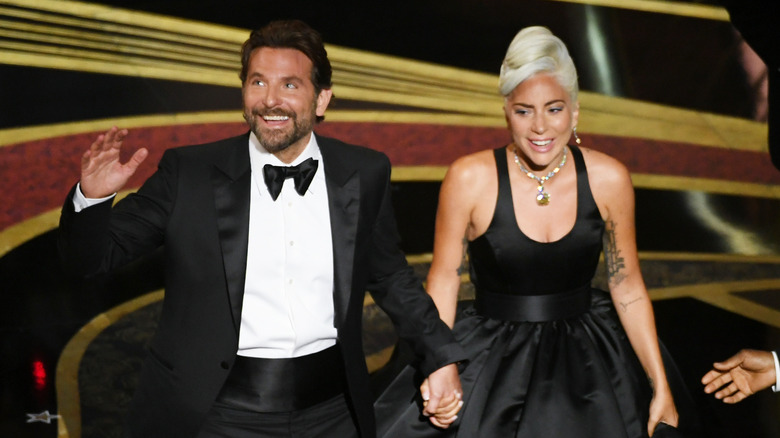 Kevin Winter/Getty Images
After all of the shakeups surrounding "A Star Is Born," including Beyoncé and Clint Eastwood dropping out of the project, the movie finally seemed to get on track when Bradley Cooper was hired as the director. However, he wasn't his own first choice to play the leading man. Instead, he wanted a real-life rock star to take on the role. During an interview with Variety, Cooper admitted that he met with a musician about playing the character. However, the studio wouldn't sign off on the casting.
"I saw this other person that I wanted to do this, who is an actual musician," Cooper said. "But [the studio] wouldn't make the movie with him." Although Cooper never named the musician, sources claim that it was White Stripes singer Jack White. After taking on the starring role, Cooper did his best to become a musician himself, learning to play both piano and guitar for the film, two instruments that his co-star Lady Gaga knows well. Cooper even showed off his singing chops in the film and on the movie's lead track "Shallow" with Gaga.
After "A Star Is Born" opened to rave reviews, there was plenty of talk of Gaga's enchanting performance, and some fans now can't imagine anyone else in the role of Ally — not even Beyoncé.