A Complete Timeline Of Giuliana And Bill Rancic's Relationship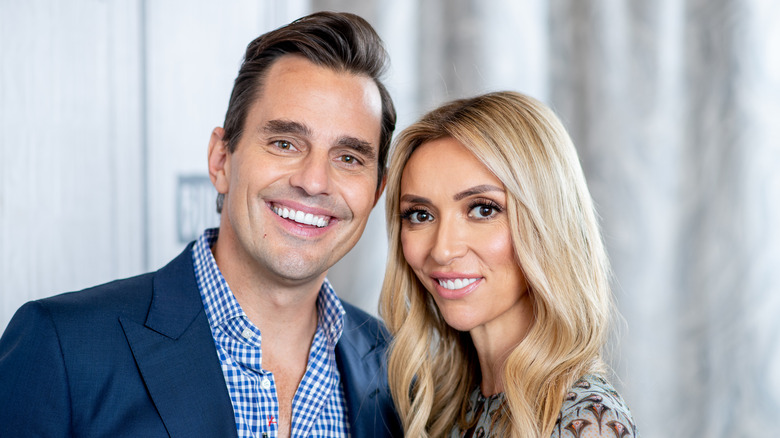 Roy Rochlin/Getty Images
Giuliana and Bill Rancic became the golden couple of the early 2000s thanks to the reality show that followed their relationship. Giuliana was a TV host and correspondent for E! News for 20 years, whereas Bill is a businessman. Together, the couple became unstoppable and showed fans the ups and downs of their busy lifestyle on the Style Network's "Giuliana and Bill" as well as social media.
The famous couple has been married for well over a decade, breaking the mold that those in the limelight can't have successful relationships. As happy as the couple appears in interviews and online, they have been through the wringer due to their careers, health issues, and struggles to grow their family. Through it all, though, these two have made it work and continue to grow their empires publicly.
Let's take a look at Giuliana and Bill Rancic's relationship — from the moment they met (which happened to be caught on camera) to where they are today.
Giuliana and Bill Rancic met on camera
Giuliana DePandi met Bill Rancic after he won Season 1 of Donald Trump's former reality competition series, "The Apprentice." As a former correspondent for E! News, she interviewed him about his accomplishment. What followed was an interview filled with magic.
In the interview shared by E! News, the sparks between Giuliana and Bill were instant. With the primary interview being about his winnings and donating a car he won to research kidney cancer, the interview quickly turned into a round of speed dating when Giuliana asked Bill about his love life. Adorably, he seemed as interested in her personal life as she was in his.
Bill teased the cameras and asked viewers if they thought they should tie the knot before they both switched lanes and talked about their lack of love lives and focus on their careers. Giuliana admitted to being attracted to entrepreneurs instead of the typical California surfer boy. All the while, Bill joked about showing up at her home if she was the lucky winner of the car he was auctioning off. By the end of the interview, the two had their head in the clouds and a first date was on the horizon.
An epic date in Chicago led to an exciting dating life for Giuliana and Bill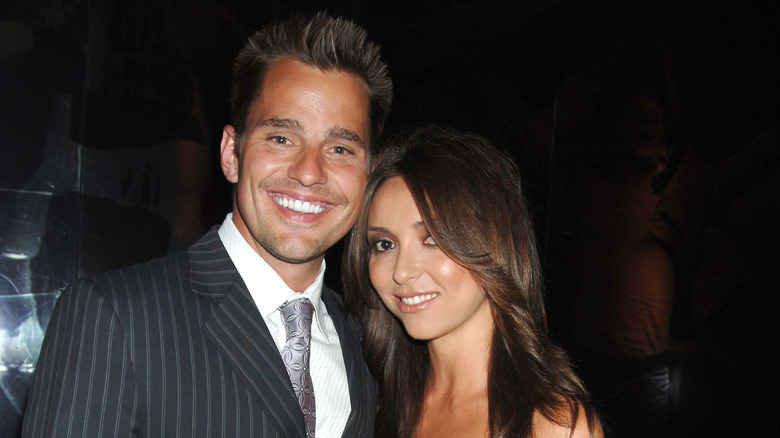 Robin Platzer/Getty Images
Giuliana Rancic was already a huge fan of Bill Rancic before the two started dating. As she told HuffPost, "I would watch ["The Apprentice"] with my girlfriend Colette every week, and Colette's like, 'You need to marry him.' I'm like, 'I do need to marry him.'"
Bill revealed to ABC News that things moved quickly after their initial meeting on E! News. Before long, Bill took Giuliana on a date in Malibu where they went over their busy schedules to see when they could see each other next. "We were making plans for three, four months out," he said. "That was on our first date. We had our phones out and we were like, 'In July, I gotta go here, maybe you can meet me,' and this was in March, two hours into the first date. It was the craziest thing ever."
Knowing how right they were for each other, a busy Memorial Day weekend in Chicago only solidified things more for the pair. Bill wanted to show Giuliana a good time and so he took her to the Chicago Cubs game on top of bringing her to some of his favorite places and meeting his friends. After that weekend, Bill told E! News, "That was the end of my dating world."
Giuliana and Bill got engaged in 2006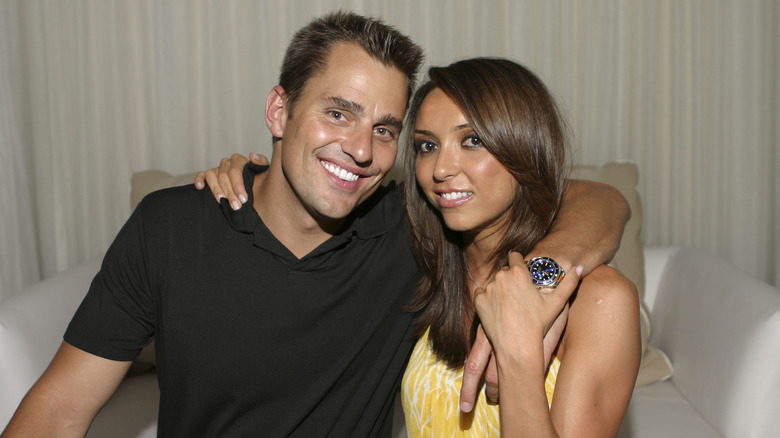 Christina Elliott/Getty Images
Bill Rancic wasted no time in proposing to Giuliana Rancic. Bill told ABC News all about his romantic proposal and, funnily enough, it came with a few speedbumps (and broken glass).
With Christmas 2006 just around the corner, Bill wanted the couple to see Chicago's Christmas lights from above. He decided to propose to Giuliana on a helicopter while overlooking the city. The only challenging aspect was keeping it a surprise. With the help of his three older sisters, Bill rolled out the proverbial red carpet for his soon-to-be fiancé.
As Bill explained, he had a limo pick up Giuliana from the airport and instead of dropping her off at his house, the driver dropped her off in an open field by the airport. Bill and a helicopter were waiting for her the whole time. As the helicopter jetted off in the night sky, Bill had Michael Bublé playing over the speaker and popped champagne for the two to drink. However, he said the proposal was almost a bust when he took a knee on a champagne glass. "It shattered and even though it wasn't the smoothest move in the world, I still proposed," he admitted. And Giuliana said yes.
Their wedding was televised for the masses
Giuliana Rancic was born in Naples, Italy, and has a strong connection to her Italian roots. Although she moved to the United States as a child, she knew wanted to get married in her homeland. With just under 200 guests, the Rancics had a traditional Catholic mass on the Italian island of Capri. The couple also shared their wedding in a televised special, "Married Away: Giuliana and Bill's Italian Wedding."
Bill's childhood priest married the couple in Capri's Santa Sofia church, according to People. Giuliana wore a stunning Monique Lhuillier wedding gown and her sister served as her maid of honor. One of the coolest parts of their wedding came after the ceremony on their way to the reception. The bride and groom walked and danced with their guests and townspeople in the town square. As seen in the reality special, it was an epic Italian party done right.
Bill and Giuliana didn't go on their honeymoon right away
While it's traditional for newlyweds to jet off on a honeymoon soon after marrying, Giuliana and Bill Rancic may have been too busy to get away. In 2007, Giuliana had a thriving career with E! News and Bill was more popular than ever in the business realm following his win on "The Apprentice." As Giuliana explained to PR.com, "We thought we'd have more flexibility but it's fine."
Five months later, though, Giuliana and Bill got to go on their trip. The couple told OK! magazine that they traveled to Grand Cayman and stayed at The Residences at The Ritz-Carlton. Since the couple split their time between Los Angeles and Chicago, their honeymoon was one of the first times they were able to be present with one another, according to Giuliana.
"Being with Bill every second of the day made me fall more in love with him," Giuliana told the publication. She went on to reveal that she and Bill both spent their 20s working to the bone and now that they were in their 30s, they were more ready than ever to plan a family. 
Giuliana & Bill: the reality TV show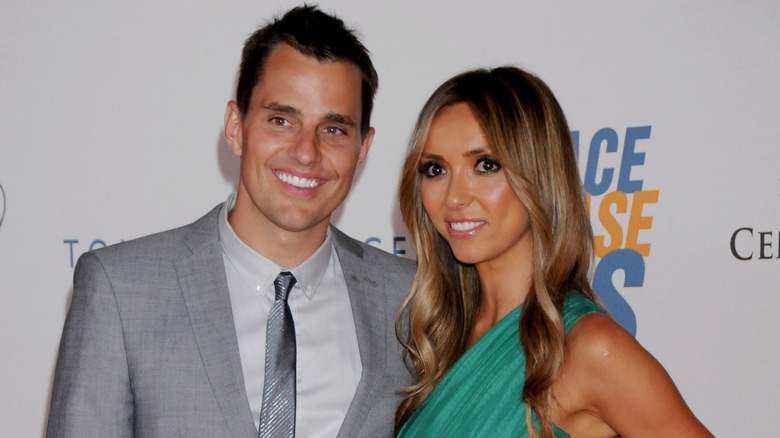 Gregg Deguire/Getty Images
The Rancics became universally adored thanks to the Style Network's reality TV show "Giuliana & Bill," which premiered in 2009. With Giuliana Rancic having a thriving TV career in Los Angeles, and Bill Rancic's home base being in Chicago, their whirlwind marriage made for great television.
As newlyweds, a large portion of the series dissected their journey of finding a home base and starting a family. Viewers saw them choose between Bill's preference for Chicago and Giuliana's love for Los Angeles. More importantly, Bill and Giuliana were very open about their struggles with infertility and carrying a child to term. Sharing such personal struggles made the couple personable, relatable, and on-screen for seven more seasons.
After the Style Network folded, the series moved over to the E! Network where it remained until the end of its seventh season. Giuliana & Bill continued appearing on TV, however. Giuliana was a successful host for "Fashion Police" and Bill began hosting shows like In the "Loop with Village" and "We Mean Business."
They wrote a book about their successful relationship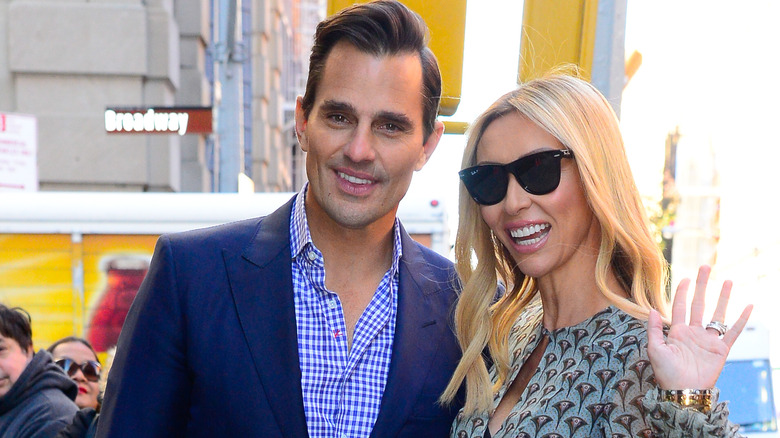 Raymond Hall/Getty Images
In 2010, Giuliana and Bill Rancic shared with the world the ins and outs of their successful relationship in a raw autobiography titled "I do, Now What?: Secrets, Stories, and Advice from a Madly-in-Love Couple." While their former reality TV show shared the ups and downs of their love story, their book dives deeper. 
The successful couple has been busy with work commitments since they met, but they detailed how they made each other a priority while achieving their personal goals. What made the book a fan-favorite was that it's written in a light-hearted and authentic way — like fans are getting life advice from one of TV's best couples. Even though the pair adore each other, they remained honest about their differences and even arguments.
Following the success of their autobiography, Giuliana went on to write another in 2015, titled "Going Off Script: How I Survived a Crazy Childhood, Cancer, and Clooney's 32 On-Screen Rejections."
Giuliana and Bill tried hard for a baby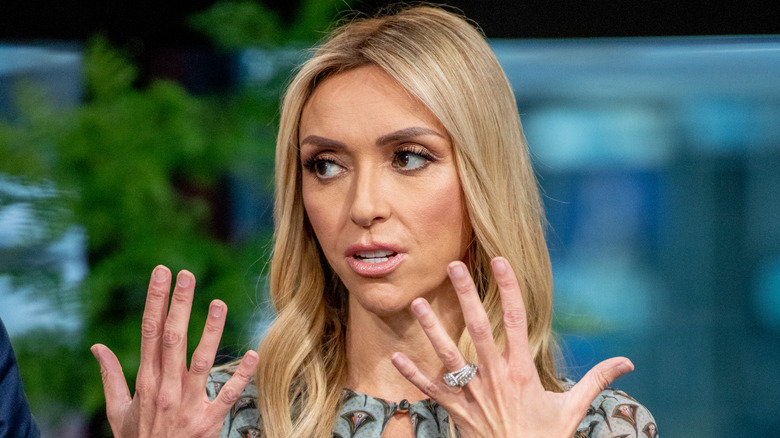 Roy Rochlin/Getty Images
Those who have watched "Giuliana & Bill" know that the couple had a hard time conceiving a child. In 2013, Giuliana Rancic told Access Hollywood that she wanted a big family because of her Italian roots. "I mean, there's nothing more beautiful. I think [you should] have as many kids as you can handle!" she exclaimed. Although the couple had some hardships getting pregnant, it only brought the couple closer.
Viewers watched the Rancics go through three rounds of in vitro fertilization (IVF) when getting pregnant naturally wasn't working. One embryo didn't take, another was miscarried, and the other round led to Giuliana getting a startling diagnosis (more on this later). Because of the toll it took on Giuliana's body, the couple kept some aspects of their journey private, which included what they were going to do next if IVF continued to not work out. 
A breast cancer diagnosis halted the Rancics' baby fever
Despite having a successful career and a caring husband, Giuliana Rancic's life was anything but perfect. During their third round of IVF and filming "Giuliana & Bill," Giuliana was diagnosed with breast cancer.
Giuliana told CBS News that she was caught off guard by the diagnosis since the only thing on her brain was conceiving a child. "I was totally blindsided at 36 years old — totally blindsided. No family history of breast cancer, and I got diagnosed," she said. Giuliana revealed to Parade that she'd had a double lumpectomy to clear some of the cancerous cells that could have spread to other parts of her body. Unfortunately, the surgery was unable to entirely remove the cancer so Giuliana opted for a double mastectomy. "For me, it was important to get the cancer out," she explained on "Today" in late 2011. "That's what I wanted to do, just get it out."
In 2012, a baby made three
Once Giuliana Rancic was in the clear from breast cancer, she and Bill Rancic recentered their focus on having a baby. This time, however, instead of putting her body through continued stress, the Rancics found a surrogate. The couple found an amazing woman named Delphine to carry their child. The two initially kept her information private, but Bill told Us Weekly that they hit the "gestational carrier lottery!" And that they did.
In 2012, Delphine gave birth to a healthy baby boy that was genetically Giuliana and Bill's. The happy couple named their son Duke Edward Rancic and finally got the family they had always longed for. "It's true what they say (and what u all told us) ... [Bill]and I couldn't love little Duke anymore than we do. He's a dream," Giuliana tweeted after her son's birth.
With a baby, a clean bill of health, and a couple of business opportunities on the horizon, everything was looking up for the Rancics.
The Rancis formed an empire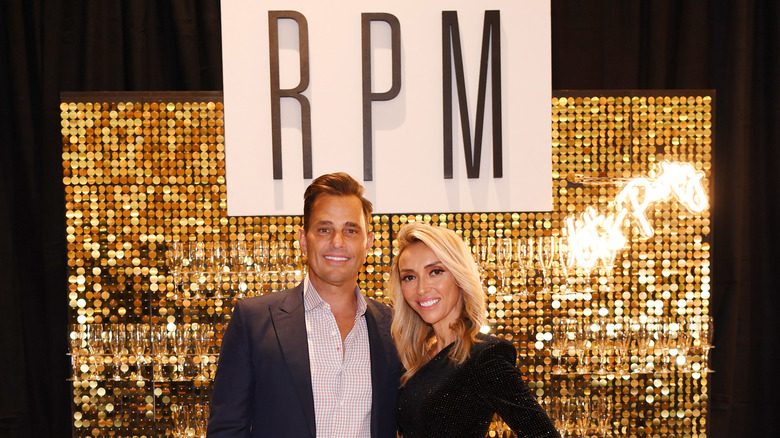 Denise Truscello/Getty Images
Outside of working in TV and media, the Rancics created an umbrella of business ventures. With a child in tow, Bill and Giuliana set their sights on the restaurant business. In 2012, after careful research and partnership with Lettuce Entertain You, the Rancics opened RPM Italian in Chicago. With a menu based on Giuliana's Italian family's recipes, the restaurant became a master success.
To continue giving the country popular recipes and a chic dining experience, the Rancics opened RPM Steak two years later and, in 2020, opened RPM Seafood. And while Chicago remained a hot spot for the RPM restaurants, the happy couple expanded their restaurant and became an empire. As of this writing, you can dine at the Rancics' restaurants in Las Vegas, Washington DC, and West Palm Beach.
Outside of owning restaurants, Giuliana has her own prosecco (Giuliana Prosecco) and wine (Xo, G) labels, as well as a fashion line (G by Giuliana Rancic).
The Rancics take Chicago (full-time)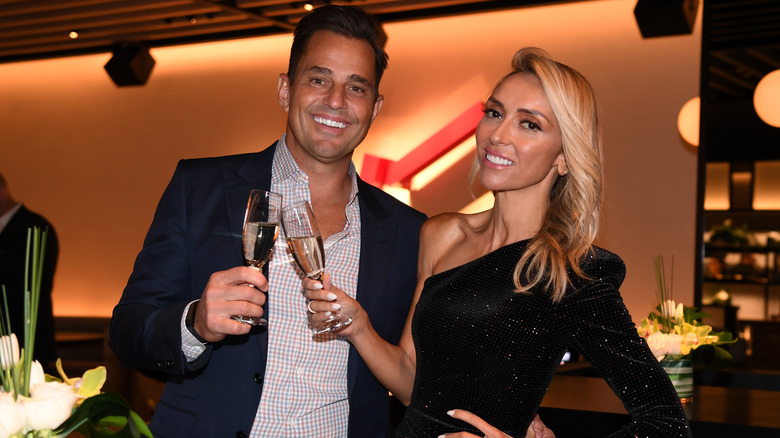 Denise Truscello/Getty Images
After living in Los Angeles for over a decade, Giuliana Rancic decided to take the plunge and move to Chicago full-time. In a 2020 interview with People, Giuliana explained that the family of three split their time between Los Angeles and Chicago; however, when Duke Rancic got to an age where moving constantly could affect his friendships and school work, they made the move permanently.
The couple sold their LA home for $10.7 million before the pair moved into their dream home in the Chicago suburbs. Knowing how much the pair wanted a sense of family and community, building a lifelong home where Bill Rancic was raised made the most sense. Likewise, Giuliana has come to love Chicago as well. "I won't be in LA on set as much," Giuliana told People. "There's a lot of work in New York and Chicago too. I don't have to pick one or the other."
Giuliana and Bill are living the good life in Chi-town
Giuliana and Bill Rancic may no longer be on reality TV, but the pair shares snippets of their lives on social media. Giuliana's Instagram account, in particular, shows what the family of three has been up to since Giuliana left E! News and ventured to the Midwest. While they're still busy, it appears they get to spend more time with the people they love. "We have such a rich social life in Chicago," Giuliana told Better Homes & Garden. "That just wasn't the case in Los Angeles. It seemed like one giant office with great weather."
As Bill told the publication, "We knew the family who lived here before, and they put a great vibe in this house that we hope to continue. We've always had one foot here, and now we have two. Finally, we're home."
As of this writing, Giuliana continues to sell her clothing line on HSN, while Bill has been hosting business conventions. After over a decade of marriage, the couple is still going strong and loving the time they have with their son.