Royal Author Claims King Charles Was Blindsided By Harry And Meghan's Romance Going Public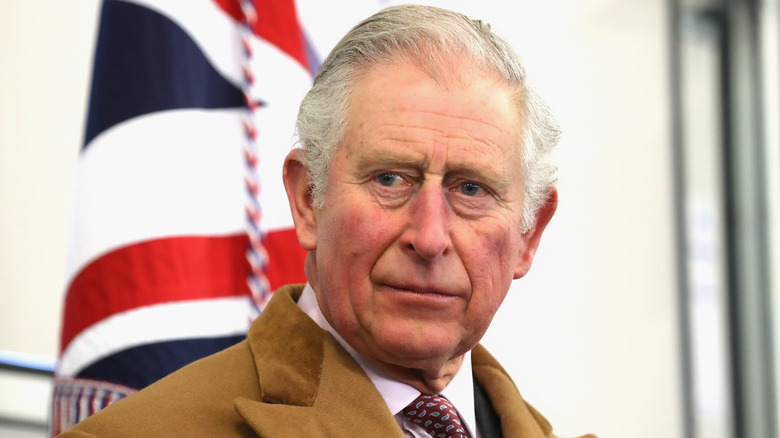 Chris Jackson/Getty Images
The love lives of the British royals have always been a source of fascination — and in many cases, of gossip and criticism too. When William, Prince of Wales, publicly began dating Catherine, Princess of Wales, she was nicknamed "Waity Katie" as more and more time passed without an engagement announcement. Still, it was generally agreed that Kate's intelligence, poise, and decorum boded well for her future as the queen consort.
But when rumors spread that Prince Harry, Duke of Sussex, was getting serious with Meghan Markle, Duchess of Sussex, the press was much less kind. The American actor was portrayed from the start as an outsider who would never fit in. Sure enough, Meghan got in trouble (headline-wise) for breaking the same royal rules Kate got away with flouting: Wearing an off-the-shoulder dress, crossing her legs, and donning a hat when out with the queen. 
Unlike Kate, she was also subjected to racially-tinged jabs that hinted the public wasn't comfortable with the idea of a biracial woman joining the royal family. Meghan and Harry tried to keep their relationship low-key for several months, but the relentless criticism finally got to be too much. In November 2016, he released an official statement not only confirming Meghan's girlfriend status but also lashing out at the tabloids for their hateful attacks.
Harry's timing couldn't have been worse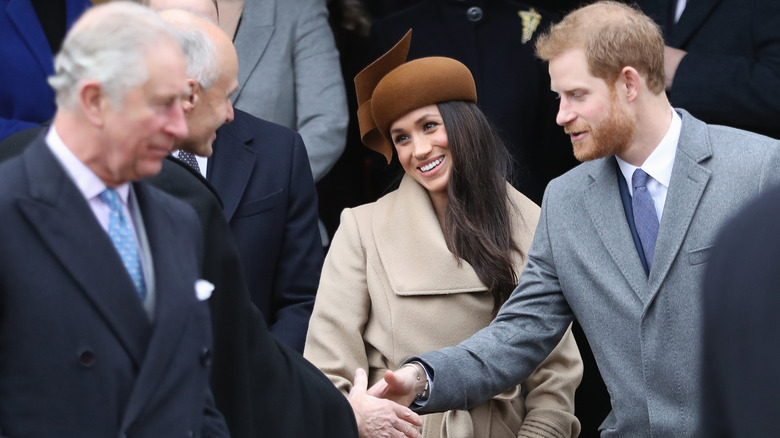 Chris Jackson/Getty Images
Prince Harry would probably have preferred to share his relationship status in a happier way — something along the lines of "The palace is pleased to announce..." Instead, the statement he released through his communications secretary (seen in full here in People) was more of a lecture. It began by explaining that the prince had developed "a thick skin" about gossipy stories, for the sake of staying on good terms with the media. Then, almost as a throwaway, Meghan Markle was identified for the first time as his "girlfriend." 
Harry went on to slam the tabloids for their "abuse and harassment" of the Duchess of Sussex, accusing reporters of trespassing on her property and making it impossible for Meghan's mother, Doria Ragland, to even leave the house. He also claimed that certain outlets had tried to get dirt on her from "nearly every friend, co-worker, and loved one in her life," including an ex-boyfriend who had been offered bribes. The statement ended with a plea to the press to back off, for the sake of Meghan's privacy and general human decency.
It was a shockingly blunt declaration, but perhaps no one was more surprised than then-Prince Charles himself. According to royal biographers Omid Scobie and Carolyn Durand, Harry gave his father just 20 minutes notice that the statement was going to be released. This gave Charles no time to react or to advise the young prince that the timing could potentially be disastrous.
Prince Charles's staff was 'crushed' by Harry's announcement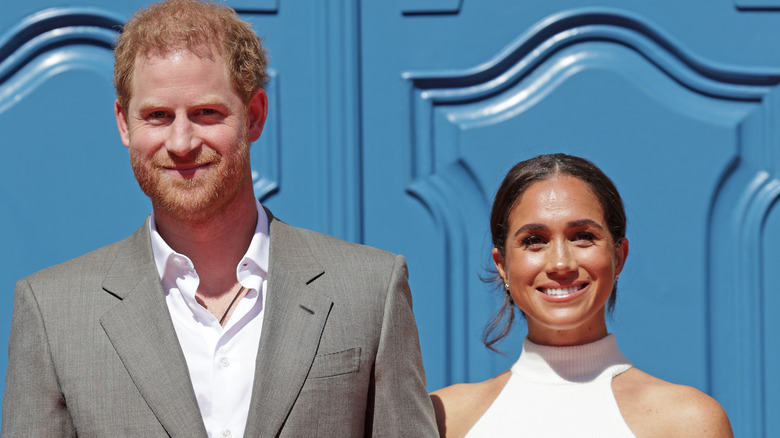 Chris Jackson/Getty Images
Apart from being inconsiderate, Prince Harry's decision to spring his news at the last minute pulled focus from his father at a key moment. As authors Omid Scobie and Carolyn Durand wrote in their 2021 book "Finding Freedom: Harry and Meghan and the Making of a Modern Royal Family," (via The Mirror), Charles was about to go on a Middle Eastern tour that included a stop in Bahrain. It was a controversial choice; at the time, the Bahrainian government was under fire for human rights abuses. 
Charles' staff hoped the trip would help maintain good diplomatic relations and generate a ton of positive press for him — a major change from the PR disasters Charles and other members of the royal family had endured in recent years. But a prince dating an American actor and divorcée is much juicier news than a prince chatting up an unpopular Arab king. Harry's bombshell "would all but eliminate coverage of Prince Charles's tour of the Gulf," the authors wrote. 
According to Scobie and Durand, royal staffers were "crushed" at having the media opportunity yanked away. However, the authors also claimed that although Charles was "disappointed," the future king "understood" why Harry felt he had to go public with his relationship as soon as possible. And yet, considering the media has yet to stop bashing Meghan, Harry might as well have held out on his announcement until his father's tour was over.