Juliette Lewis And Brad Pitt's Four-Year Relationship Was An Early '90s Fever Dream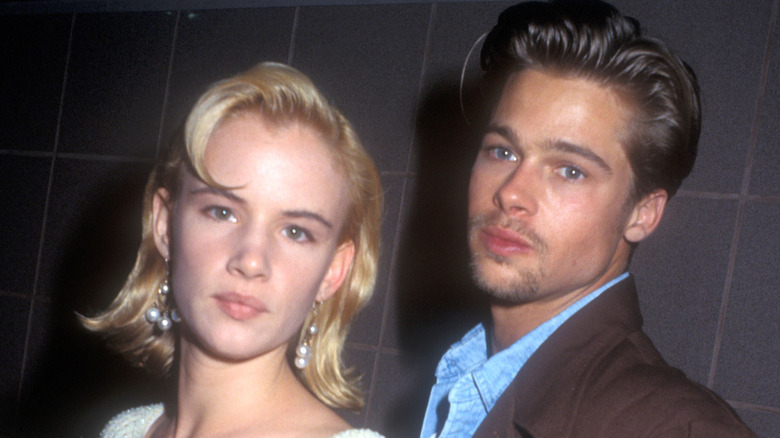 Barry King/Getty Images
Brad Pitt is known for his iconic films like "Fight Club," "Once Upon a Time . . . in Hollywood," and more. His many romances with equally famous women have made Pitt a media sensation. In 2000, Pitt married Jennifer Anniston in an opulent Malibu wedding. The pair divorced in 2005, and Pitt began a relationship with Angelina Jolie, his "Mr. & Mrs. Smith" costar. The pair married in 2014, but split in 2016 — this is reportedly one reason why Jolie and Pitt got divorced, after six kids and 12 years together. Before his two marriages and status as a Hollywood legend, the Missouri-raised thespian dated frequently in the late '80s and early '90s.
In 1989, Pitt began dating Juliette Lewis. The fellow actor gained notoriety for starring in films like "Cape Fear" and "Natural Born Killers." Lewis and Pitt first crossed paths when they were cast in "Too Young to Die." The 1990 made-for-tv film was an early project for Lewis and Pitt, who were starting their careers. At the time, she was 17 and Pitt was 27. The couple moved in together and famously attended the 1992 Academy Awards. Come 1993, Lewis and Pitt starred in "Kalifornia." 
In an interview with The Los Angeles Times, the pair discussed the film and gushed about working together. Despite this, the romance between Lewis and Pitt was short-lived.
There's little information about the actors' breakup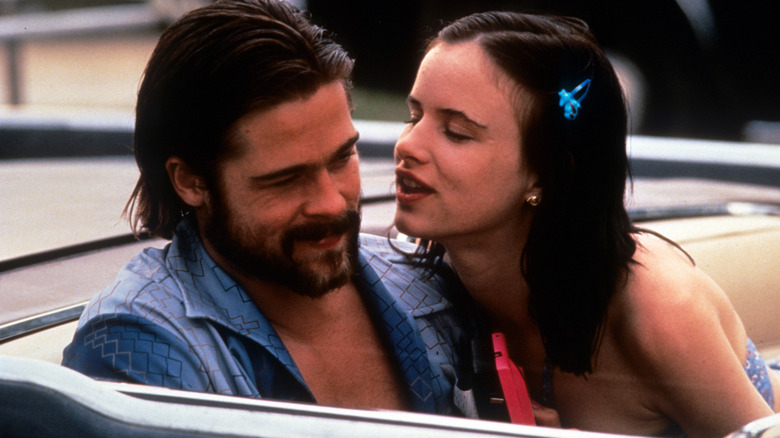 Hulton Archive/Getty Images
Speaking to The Los Angeles Times in January 1993, Brad Pitt explained why he and Juliette Lewis decided to reunite professionally for "Kalifornia." He explained, "You do a scene and then go over and grab the one you love." Pitt added, "You want to keep your careers your careers and your love your love, but we just wanted to do it more for a vacation." However, two months after this loved-up interview was released, People reported that Lewis and Pitt had ended their relationship. While no cause was given for their demise, Lewis' publicist told People they were "remaining friends."
In 2011, Pitt briefly spoke to Vanity Fair about his relationship with Lewis. While Pitt did not disclose why the breakup occurred, he did give the publication insight into his feelings about his former girlfriend, saying, "I still love the woman. There's some real genius there. I had a great time with her." Pitt noted, "It was one of the greatest relationships I've ever been in. The problem is, we grow up with this vision that love conquers all, and that's just not so, is it?" Following his relationship with Lewis, Pitt dated Gwyneth Paltrow and even ended up proposing, though they never made it to the altar.
Juliette Lewis on her ill-fated romance with Brad Pitt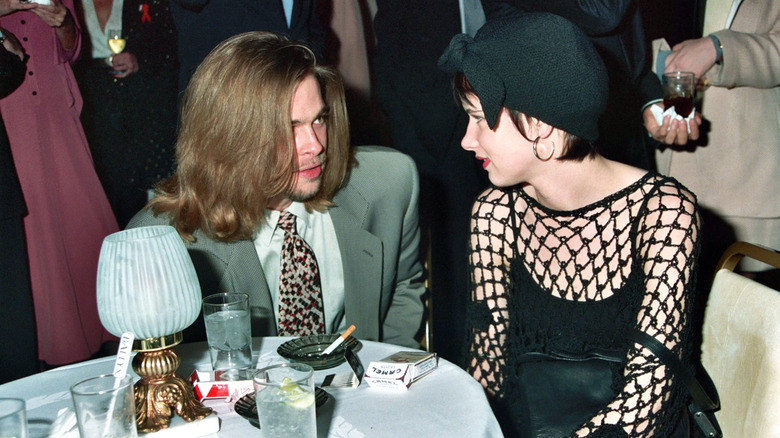 Jeff Kravitz/Getty Images
Although Juliette Lewis first kept quiet about her relationship with Brad Pitt, she has discussed him in recent years. In 2006, Lewis spoke to The Guardian about her band Juliette and the Licks and Pitt. She said, "It seems like a high-school relationship because now he's a very famous person. I look at this person that I shared a bit of history with. I hope he finds happiness because I genuinely loved him. He's a very stand-up, good guy. Four years was an eternity at that time." Lewis added, "We're strangers now. Isn't that weird? I don't know him as an adult, and he doesn't know me."
Far Out Magazine wrote that Lewis' relationship with Pitt may have inspired the Juliette and the Licks song "20 Year Old Lover." Notably, Pitt is 10 years older than Lewis, and the actor has expressed annoyance at being asked about her former love so many years after the end of their relationship. Like Pitt, Lewis found love again and has had a successful career in Hollywood. She dated drummer Brad Wilk and was previously married to skateboarder Steve Berra.