Princesses Eugenie And Beatrice Were Once The Rumored Cause Of A Royal Feud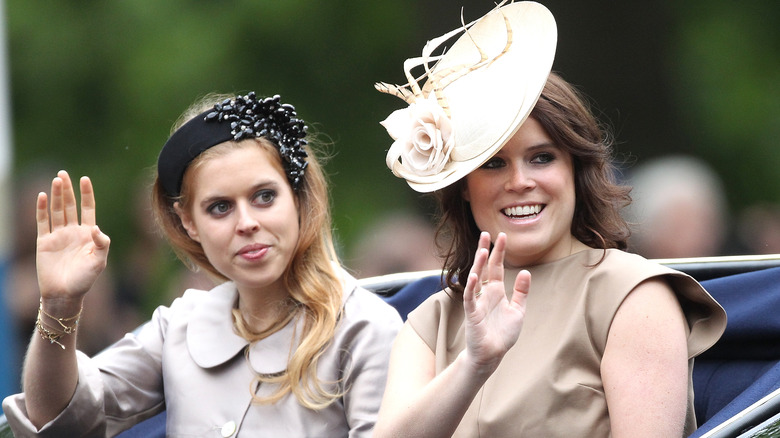 Danny Martindale/Getty Images
Spotted at the coronation of King Charles III, Princesses Beatrice and Eugenie looked every inch the glamorous royal sisters. Eugenie was additionally praised for her Instagram post celebrating the big day, which included several photos of Prince Harry alongside various other members of their family. Many of the comments thanked Eugenie for her support of the royal defector.
The sisters and their husbands actually walked into Westminster Abbey with Harry, and he was seated close to them during the ceremony itself. Perhaps this is because Beatrice and Eugenie are no strangers to being the topics of tabloid speculation. Since they are not considered working royals, Eugenie and Beatrice make their money through careers outside of the royal family. 
Eugenie currently works as the director of the Mayfair-based art gallery Hauser & Wirth, whereas Beatrice is a strategist and the vice president of partnerships and strategy at the technology firm Afiniti. The sisters may be viewed more positively now, but back in 2016, they were the subject of intrigue. Rumors that stemmed from a potential family feud even caused Prince Andrew to step in — but what was the rift about?
The sisters were caught up in some major drama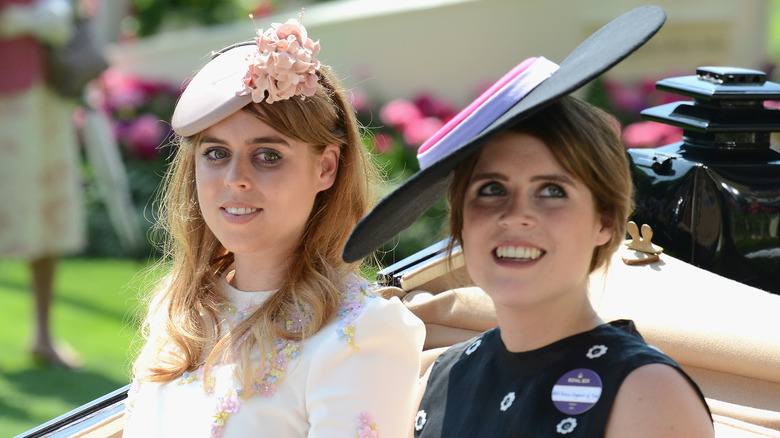 Kirstin Sinclair/Getty Images
The trouble appears to have started when gossip site Celebrity Dirty Laundry published an article claiming that then-Prince Charles and the late Queen Elizabeth II were fighting over whether to make Princess Beatrice and her sister, Princess Eugenie, full-time royals — something their father, Prince Andrew, wanted alongside making any future husbands earls. There was also an implication that Andrew and Charles had fallen out over the ongoing discussion. 
A royal insider told the Daily Mail, "The row between Andrew and Charles is not pleasant. It has been going on for many years and it all comes down to Andrew feeling that he and his family are being phased out." In light of these rumors, the Duke of York released a statement on his Twitter account, which has since been deleted. According to Refinery29, it read in part, "There is no truth to the story that there could be a split between The Prince of Wales and I over my daughters' participation as Members of the Royal Family and any continued speculation is pointless." 
Andrew also briefly referred to the princesses' bright futures beyond The Firm, clarifying, "As a father, my wish for my daughters is for them is to be modern working young women, who happen to be members of the royal family, and I am delighted to see them building their careers."
Beatrice and Eugenie have been ridiculed for their looks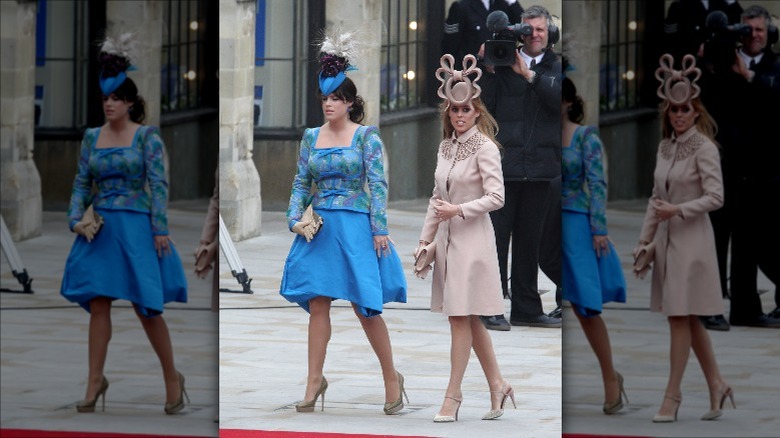 Mike Marsland/Getty Images
This incident wasn't the first time the royal sisters have come under fire, either. Princess Beatrice and Princess Eugenie's relationship appears to be quite close, with the pair attending a lot of royal events together. However, when they were at the wedding of the Prince and Princess of Wales, in 2011, Beatrice and Eugenie were ridiculed for their attention-grabbing outfits. The coverage focused mainly on Beatrice's outlandish hat, which many said resembled a pretzel. 
Her sister didn't fare much better either, with Beatrice's Vivienne Westwood dress looking garish thanks to its clashing blue and green color palette, while her cartoonish fascinator didn't help matters. Moreover, in 2022, rumors began circulating that Beatrice and Eugenie were feuding with Kate and William over plans to shut their father, Prince Andrew, out of all official royal events following his sex abuse scandal. 
The sisters were supposedly in disagreement that their father should be subjected to such harsh treatment, whereas the Prince and Princess of Wales believed keeping Andrew away was the best course of action. As of this writing, there are no further updates about Beatrice, Eugenie, or their father. Still, judging by the outfits they wore to the coronation, one plus is that Beatrice and Eugenie's fashion sense has definitely improved.