Matthew Perry Credits This Friends Co-Star For Helping Him The Most Through His Addiction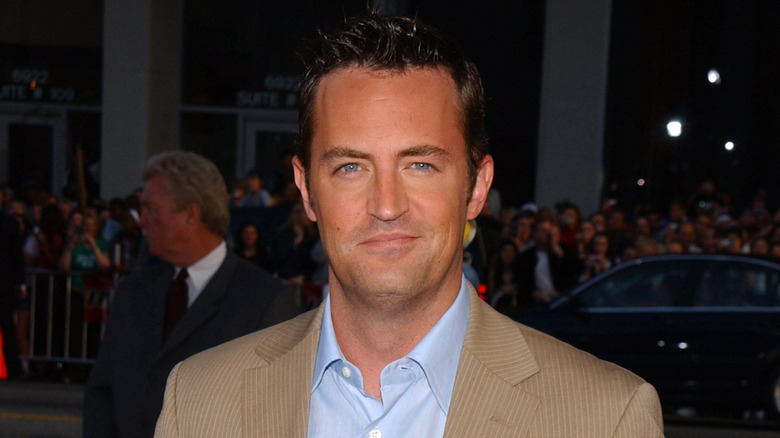 Jean-paul Aussenard/Getty Images
Matthew Perry has cemented his place in pop culture history as a member of the cast of "Friends." The beloved TV show began airing in the '90s and had its curtain call in 2004 after ten seasons. During the show's run, Perry struggled with serious alcohol and drug abuse issues. In 2022, the actor opened up about his problem with addiction and credited his "Friends" co-star Jennifer Aniston for supporting him through his battle. "She was the one that reached out the most. You know, I'm really grateful to her for that," Perry told Diane Sawyer during a candid interview (via Entertainment Weekly).
The actor admitted that it took him a while to share his story via his memoir because he wanted to ensure that reliving wouldn't be damaging to his sobriety and recovery. "I wanted to share when I was safe from going into the dark side of everything again," Perry told People at the time. "I had to wait until I was pretty safely sober — and away from the active disease of alcoholism and addiction — to write it all down. And the main thing was, I was pretty certain that it would help people."
Through all of the opening up, Perry admitted the important role that Aniston played in supporting his recovery many years prior while they were working on "Friends."
Jennifer Aniston confronted Matthew Perry about his drinking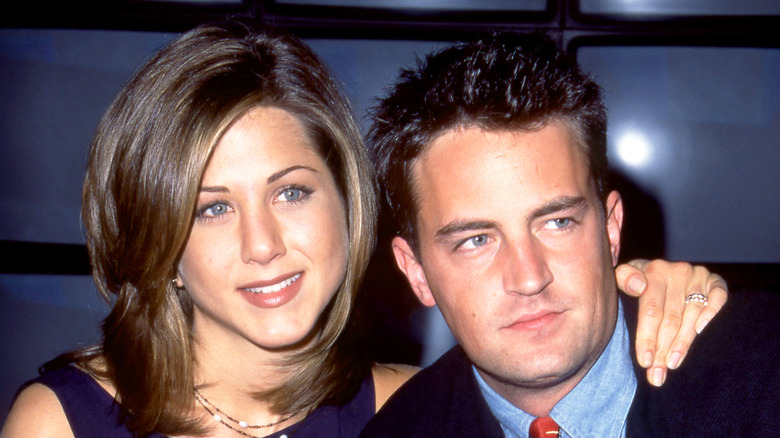 Ron Davis/Getty Images
In Matthew Perry's memoir titled "Friends, Lovers, and the Big Terrible Thing," the actor opened up about his time on "Friends," and revealed that Jennifer Aniston once confronted him about his drinking on set. "I know you're drinking," Aniston said, per Perry's book. The TV star admitted that he was heartbroken by the interaction as he used to have a huge crush on his co-star. "To be confronted by Jennifer Aniston was devastating."
Perry wrote that he asked Aniston how she could tell he'd been drinking as he had been making an effort to hide it. "'We can smell it,' she said, in a kind of weird but loving way, and the plural 'we' hit me like a sledgehammer. 'I know I'm drinking too much,' I said, 'but I don't exactly know what to do about it,'" he wrote (via Entertainment Weekly).
Thankfully, Perry says that Aniston as well as the rest of the cast, including Matt LeBlanc, David Schwimmer, Courteney Cox, and Lisa Kudrow were also supportive of him as he went through his addictions struggles during his journey to sobriety, according to People. "It's like penguins. Penguins, in nature, when one is sick, or when one is very injured, the other penguins surround it and prop it up. They walk around it until that penguin can walk on its own. That's kind of what the cast did for me," Perry said.
Matthew Perry admits he nearly died because of his addiction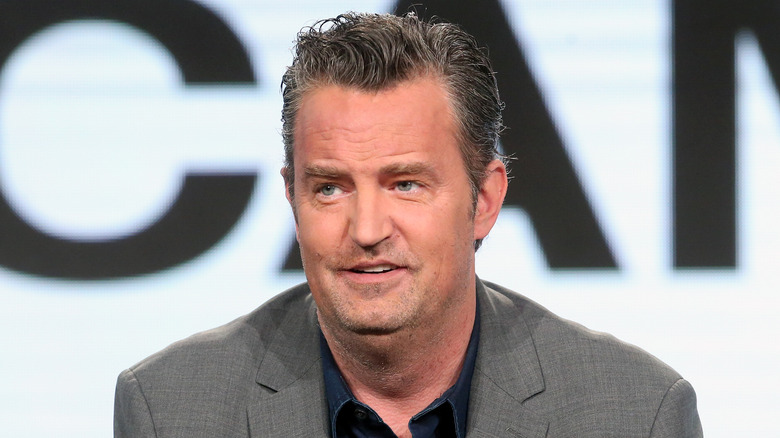 Frederick M. Brown/Getty Images
Sadly, Matthew Perry's struggle with addiction didn't end after his stint on "Friends." The actor struggled with his sobriety for many years and nearly lost his life when overdosed on opioids and his colon burst. Perry spent five months in the hospital, two weeks of which he was in a coma (via CBS). During his interview with Diana Sawyer, Perry got candid about the height of his addiction, admitting that at one point he was taking up to 55 Vicodin each day, as well as using other drugs like Xanax and Methadone, and drinking a quart of vodka. "At the time I should have been the toast of the town," Perry told Sawyer. "I was in a dark room meeting nothing but drug dealers and completely alone," he added.
Perry has revealed that he's been sober since 2021, just before the HBO "Friends" reunion. The actor also confessed that he has spent a lot of money during his journey. "I've probably spent $9 million or something trying to get sober," Perry told The New York Times.
Perry's fans are happy that he's found a way back to sobriety and continue to hope that he can stay on the wagon in the future.