Grace Kelly's Iconic Diamond Wasn't The First Ring She Received From Prince Rainier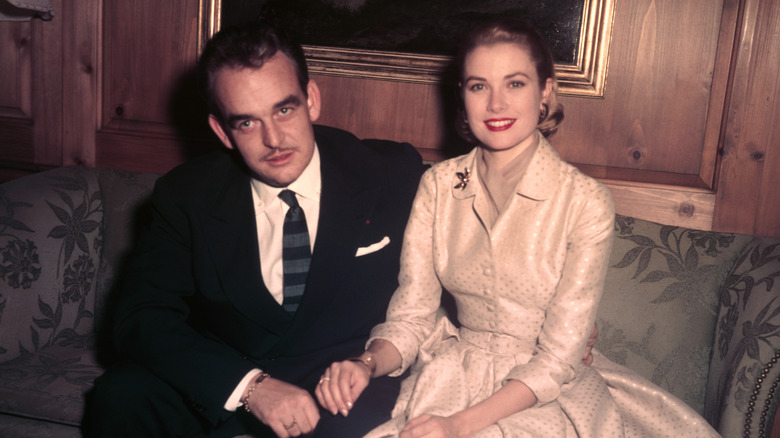 Bettmann/Getty Images
When Grace Kelly and Prince Rainier III of Monaco met, it seemed like a fairytale straight out of the Hollywood movies Kelly had been starring in. Grace Kelly was young, beautiful. and already a Hollywood icon at 26 years old when she left it all behind to marry royalty. Their love story is well known, partially due to the fact it isn't the most obvious match.
However, there are some things you may not know about Grace Kelly and Prince Rainier's marriage, including the incredible story of her two engagement rings. Prince Rainier proposed to Kelly at her family home in Philadelphia in late 1955, less than a year after their first meeting in April. 
As Prince Rainier was well, a prince, you may expect he gave Kelly a stunningly bejeweled ring fit for a future princess, and you would be right. The two engagement rings given to Kelly, one upon her engagement and another later on, were spectacularly beautiful. 
The future princess found herself with two impressive rings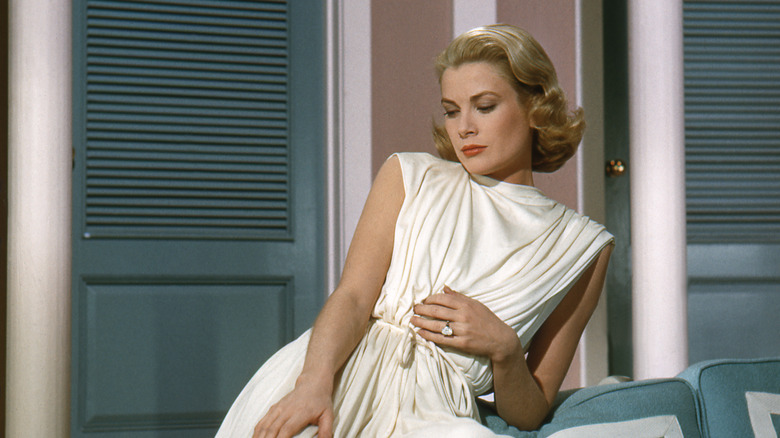 Sunset Boulevard/Getty Images
The first engagement ring given to Kelly by Prince Rainier is generally accepted to be made by Cartier, and featured a striking arrangement of heirloom rubies and diamonds. These gems were thought to have been chosen as a reference to Monaco's flag, which is red and white. Despite the impressive size of the ring, it was a promise of things to come.
 In her last film before she retired to become a Princess of Monaco, "High Society," Kelly can be seen wearing another extremely impressive ring. You may have thought this ring was a gorgeous piece of movie costuming, but it was actually Kelly's second engagement ring. Speaking to Vogue, Cartier's director of image and style, Pierre Rainero, revealed, "We have pictures of them peering in at the windows of the Cartier store on the Rue de la Paix [in Paris]." 
Rainero additionally shared, "I don't know if they were already married or engaged, but perhaps they were choosing this ring." Either way, the ring made several appearances in the movie, becoming a star in its own right. It was worth $4 million at the time, and is thought to be worth around $40 million now.
Grace Kelly and Prince Rainier's wedding was a luxurious affair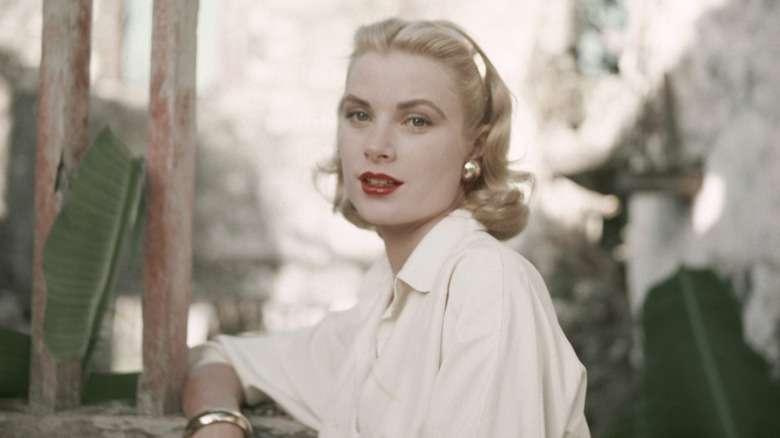 Archive Photos/Getty Images
The wedding, which took place in April 1956, was as elaborate as you might expect from the union of a Hollywood star and a royal. Grace Kelly's dress had to suit her dual roles as MGM's Hollywood princess and the new Princess of Monaco, and it did just that. Designed by acclaimed costume designer Helen Rose, who had worked with Kelly on several occasions, the dress was given to Kelly as a parting gift by MGM Studios. It featured a dramatic three-foot-long train, hand-sewn pearls, and plenty of layers underneath to give it a flouncy, princess-esque look.
However, Grace Kelly may not have been as happy as she appeared to be with her new role as a Princess. In 2018, Kelly's nephew, Chris LeVine, revealed to Fox News that his aunt "was very tempted to continue her acting," mentioning that Alfred Hitchcock tried to recruit her for a few films throughout the 1950s and 1960s but Kelly put motherhood and her duties as a princess first.
Tragically, Kelly died at only 52 in the early 1980s, but her movies and her beautiful wardrobe, including her engagement rings, live on.