Rihanna Made A Big Security Change At Her Concerts After Releasing A Hit Song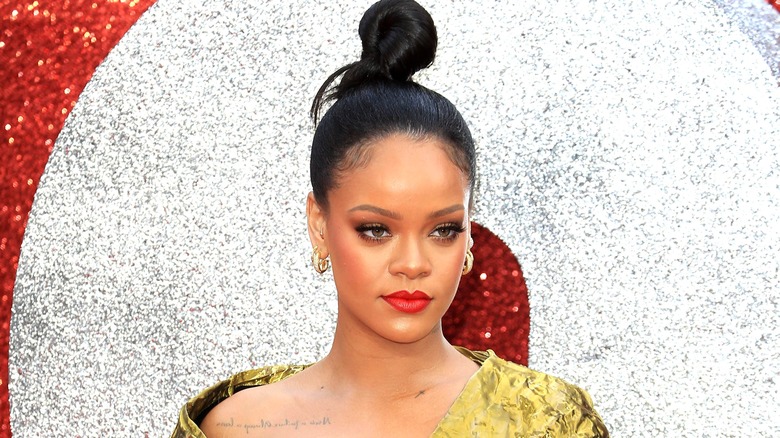 Fred Duval/Shutterstock
Rihanna is one of the most successful musicians in the world. The Barbados-born singer started her career in 2005 with her debut album, titled "Music of the Sun." After the success of her first album, the she continued to make music, and has since released eight studio albums, all of which have earned massive commercial successes.
Aside from her impressive musical career, she has also achieved success as a businesswoman. Rihanna officially became a billionaire due to her successful business ventures. She launched her own makeup line called Fenty Beauty in 2017. She branched out into lingerie with her own line called Savage X Fenty the following year, and then launched her skincare line, Fenty Skin, in 2020. 
The singer has definitely come a long way, and she has earned legions of fans called the Rihanna Navy. Her fans are so dedicated that Rihanna apparently had to reprimand them and ban a specific item from her live shows following the release of her hit song, "Umbrella." 
A song so iconic that Rihanna had to ban umbrellas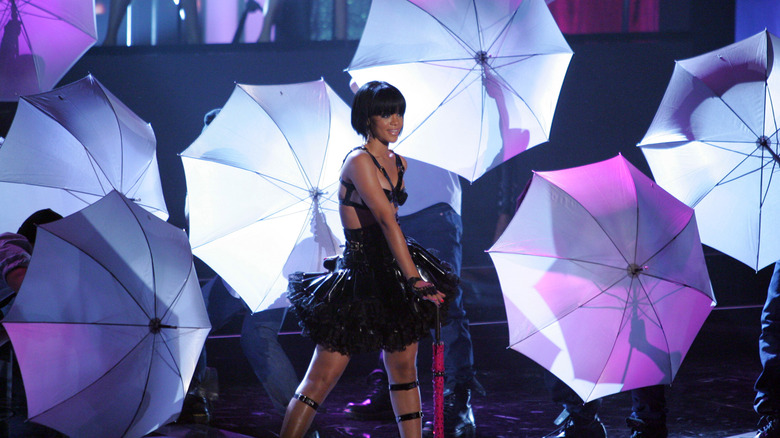 John Shearer/Getty Images
Rihanna's career has definitely been marked by several hit songs, but perhaps none as monumental as "Umbrella." The release of the song in 2007 marked a turning point in the career of the Barbadian singer. At the time of its release, the song dominated several charts, which catapulted Rihanna to international success. 
But "Umbrella" was more than just a hit song for the singer. While it propelled her career to the top, it also became a source of potential danger. Umbrellas may seem like a harmless and essential household item, but Rihanna's team had to take precautionary measures involving umbrellas. 
Apparently, umbrellas had to be banned at Rihanna's live shows due to heightened security risk. The singer's team was concerned that umbrellas could be used as weapons or cause injury to others, so any fans who tried to enter a show with an umbrella had to leave them at the door. Security guard Andy McDonald told the Daily Star (via NME), "We don't normally ask people to leave an umbrella outside. But we were taking precautions over a potential accident." He continued, "We were told that Rihanna's song features dancing with umbrellas on stage. We didn't want the crowd following her actions and someone getting their eye poked out."
Umbrella was originally written for Britney Spears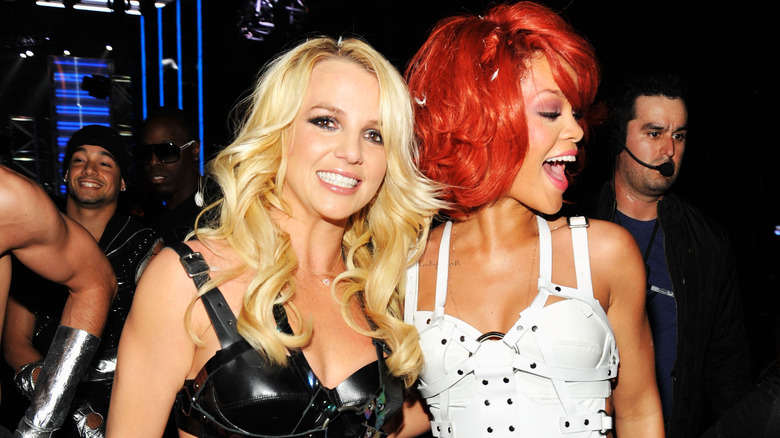 Kevin Mazur/Getty Images
"Umbrella" was written by Terius Nash, widely known as The Dream, with his songwriting partner Christopher "Tricky" Stewart. It was written with Britney Spears in mind. Nash said in an archived interview published by the now-defunct Blender Magazine, "Britney was starting work on her new album, and her personal life was a little out of control. We thought, Let's save our friend; let's give her a record." Unfortunately, Spears had a lot on her plate at the time, so she never even heard the record. The pair decided to continue making calls to shop their song.
The song was then passed on to Mary J. Blige, but the song came to her at the wrong time. "It was during Grammy time for me, it was a big Grammy time. I was nominated for eight Grammys and I was trying to get myself together for that. During that time, that's when 'Umbrella' came to me and I couldn't do anything with it because I was so busy with my own life and I was like, you know what? It doesn't even sound like me anyway. And then Rihanna took it and I said, 'Well there,' it was for Rihanna anyway and it wasn't for Mary J. Blige," she told Andy Cohen during a segment of "Watch What Happens Live."
After Blige turned down the song, it was passed on to Rihanna — and the rest is history.