Florence Pugh's Friendship With Real Housewives' Lisa Rinna Started With DMs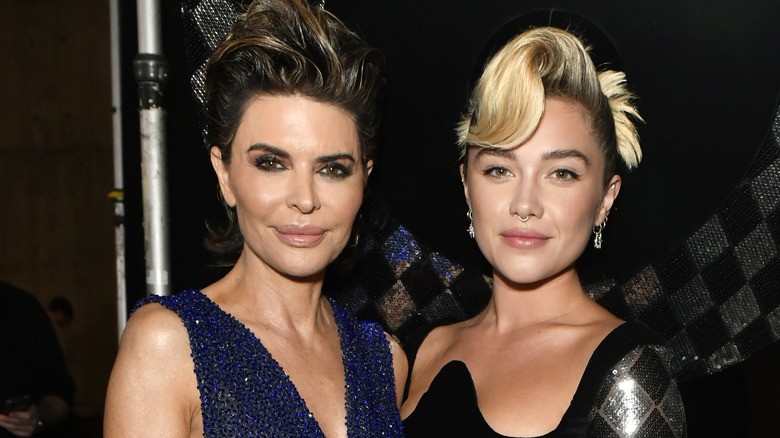 David M. Benett/Getty Images
Moments of crossover between Bravo's "Real Housewives" universe and our favorite film and television actors often provide hilarious and surprisingly wholesome content. Examples include Jennifer Lawrence's friendship with Kris Jenner, Rhianna's Instagram interactions with "The Real Housewives of New York" cast members, and "Real Housewives" super-fan Sarah Paulson getting surprised by Dorinda Medley on "Watch What Happens Live." But there's one adorable meet-cute that we wish we'd witnessed IRL, between actor Florence Pugh and "Real Housewives of Beverly Hills" star Lisa Rinna, and it's apparently been a long time coming. 
Pugh is currently snagging some of the biggest leading roles around, including in Marvel's "Black Widow" and Olivia Wilde's directorial debut, "Don't Worry Darling," while Rinna was a soap opera star earlier in her career before more recently becoming a controversial figure on reality TV — especially on Season 12 of "Beverly Hills." Some of the drama came from Rinna protecting her relationship with Harry Hamlin, but the majority resulted after she accused co-star, Kathy Hilton, of disparaging other cast members, as well as the Bravo network, behind closed doors. 
Though it's unclear, as of yet what Rinna's biggest "RHOBH" regret will ultimately be, she announced in January 2023 that she's exiting the series. The former soap star will continue pursuing business ventures as a public figure, so she isn't really going anywhere. Still, after news of her "Housewives" departure, hearing about Pugh and Rinna's friendship might be exactly what we need right now.
They were friends for years before meeting IRL
Apparently, Florence Pugh and Lisa Rinna have been actively trying to connect in person for a while now. Rinna revealed in a video posted to her Instagram that the unlikely duo regularly exchange messages via social media, expressing their mutual admiration for each other. "We've literally DM'd each other for three years," the reality star enthused. 
When an interviewer asked if they'd ever met in person before, both confirmed they hadn't. As Pugh assured them, "Never. But we know each other really well." When asked if she watches the "Real Housewives," Pugh answered with an emphatic, "Yes I do, indeed I do." She also said of Rinna, "You know we've been messaging for the last three years. So when she came and said hi to me I was like, 'Oh! Friend!'"
Rinna reiterated their sweet, and surprisingly lengthy, connection, by firmly stating, "We love each other. I love her so much!" Though this friendship has outlived Rinna's role in the "Housewives" franchise, hopefully, it will lead to some future artistic collaboration between the two. Or maybe just a joint appearance on "Watch What Happens Live."
Rinna exited RHOBH under a cloud of drama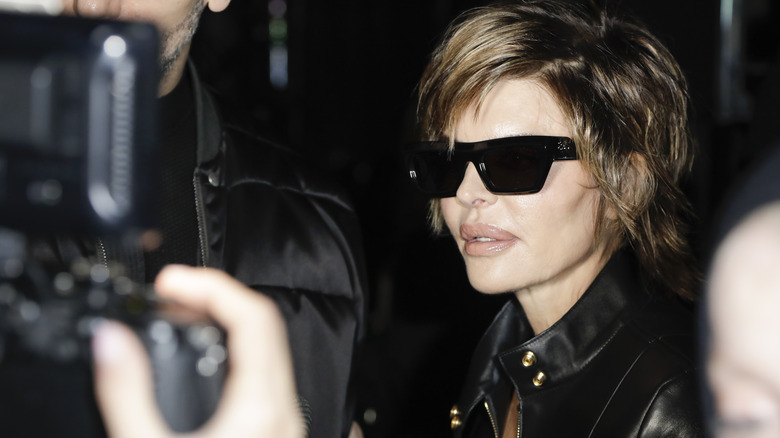 Antoine Flament/Getty Images
Just like her years-long friendship with actor Florence Pugh, Lisa Rinna's departure from "The Real Housewives of Beverly Hills" somehow feels both surprising and not entirely unexpected. With Denise Richards confirmed to return to the show (via Variety), it's clear that the stars would have inevitably butted heads since Richards condemned Rinna's behavior over the last few years on the show as "so cruel" and "so vindictive" (via Instagram). 
Another bad omen for Rinna's "Housewives" run was Kathy Hilton's brutal rebuke of the star during the Season 12 reunion when she called her the "biggest bully in Hollywood" and said of their off-screen fight: "You wanted it on camera because your contract was coming up," (via the Mirror). For her part, Rinna shared in a statement with People that while she's ready to move on from the show, she appreciates the platform it provided for eight years. 
It's also clear that Rinna doesn't really mind coming across as a villain on TV. While attending 2022's BravoCon, Lisa Rinna proudly told Us Weekly, "I'd never been booed before. I kind of thought it was the greatest thing ever. It's like being a wrestler. I loved it." Alongside the haters, Rinna still has notable fans, too, including, as we now know, British star Pugh.