Everything We Know About Garth Brooks And Dolly Parton's Relationship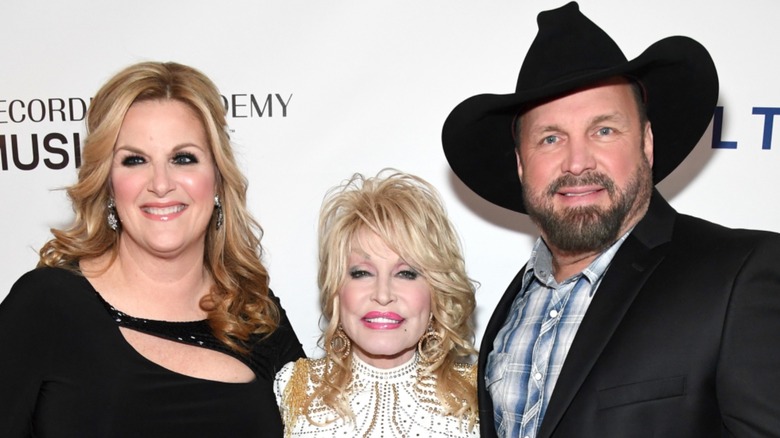 Kevin Mazur/Getty Images
The American Country Music Awards will take place on May 11, 2023, for its 58th year. The ceremony will be held at the Ford Center in Frisco, Texas, and co-hosted by Dolly Parton and Garth Brooks. Damon Whiteside, ACM CEO and ACM Awards executive producer, commented on this duo to Billboard: "We couldn't be more excited to bring this legendary pair together for the first time ever as Country Music's Party of the Year heads to the Dallas Cowboys World Headquarters."
Whiteside was not being dramatic when he referred to Parton and Brooks as a "legendary pair." These two beloved country stars are world-renowned for their innovative contributions to the music genre. Brooks holds the title of the best-selling solo artist in the U.S. (via Billboard). Meanwhile, in 2021, Parton was named by Time as one of the 100 most influential people in the world. The two are adored by their fans separately, and it sounds like the buddies are just as charming when our together.
How well do Dolly Parton and Garth Brooks know each other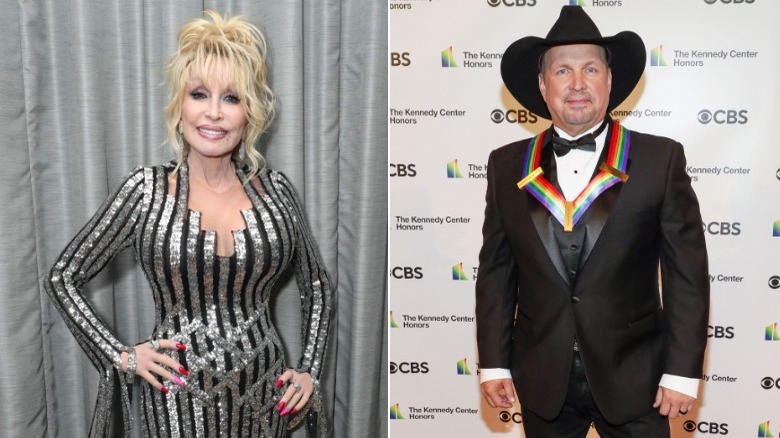 Kevin Mazur & Paul Morigi/Getty
Both Dolly Parton and Garth Brooks (who is married to fellow country star Trisha Yearwood) have had wildly successful career paths. However, until the 2023 ACM Award Show, these paths never seemingly intersected. In an interview with the Los Angeles Times, Parton remarked that she and Brooks had worked in close quarters, seeing each other backstage, and even performing at the same events. Although, they never had time to talk in depth. Regardless, they've always been fond of one another. Parton told Billboard, "We've always admired each other musically and as people and how we handle our business."
Like the rest of the world, Brooks seems to look up to Parton. He confessed to ET Online, "I'm nervous to stand next to her. She's so approachable but yet she seems untouchable, right? Because, I mean, she's just a goddess, c'mon." The two appear to hold a great amount of respect and amazement for one another. We expect they will make an incredibly warm and entertaining duo at this year's ACM Award show.