What Each Royal's First Official Engagement Was Like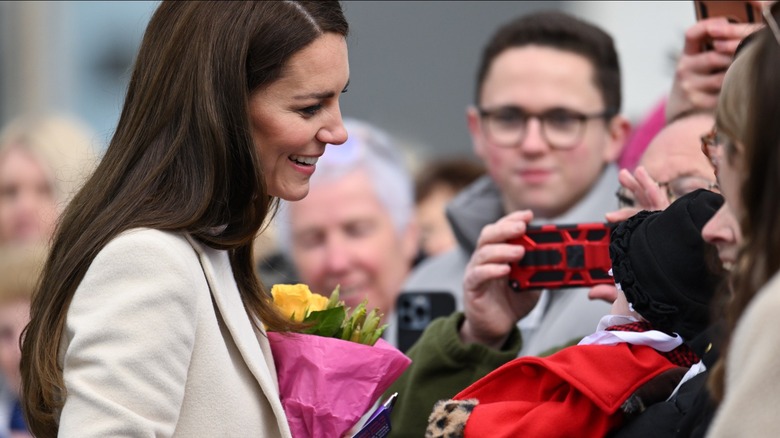 Karwai Tang/Getty Images
Royal engagements are one of the many expectations royal monarchs must follow. A first royal engagement provides the public with a better understanding of what a royal member is like, what they stand for, and how they value their community, but a first royal engagement is especially significant since this gives the public an opportunity to see the royal first-hand.  Royal engagements vary and come in many forms but mostly consist of philanthropic opportunities, diplomatic trips, palace parties, presenting awards to citizens, and more.
In the British Royal family, one is not considered an official Royal until after a wedding engagement has officially been announced and the first public royal engagement is a big deal, marking their first steps as an official royal. On the other hand, those already born into the royal family might feel a bit less pressure during their first public royal engagements since they typically begin at such a young age and allow one to become more accustomed to them early on.
According to the Telegraph, when it came to the Queen's ruling, her calendar was undoubtedly booked, and just in the year 2015 she carried out over 341 royal engagements, just to give you an idea.
First impressions are everything, especially in the royal world. To get an idea of what the public's first impression was of each royal monarch, let's take a look at their first royal engagements.
Queen Elizabeth ll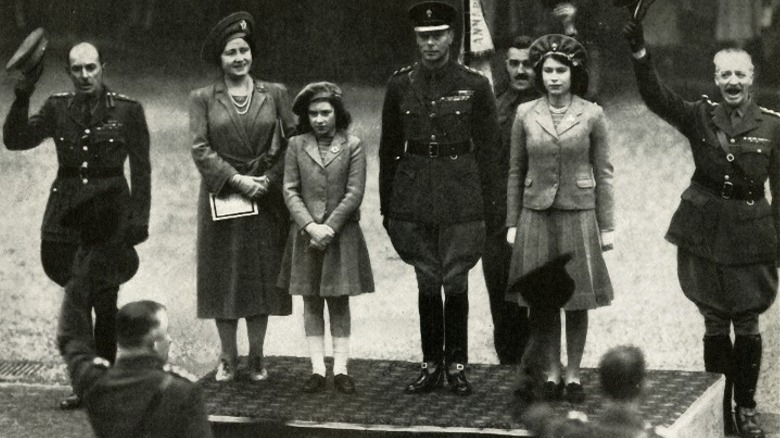 Heritage Images/Getty Images
On her sixteenth birthday, April 21, 1942, Princess Elizabeth was appointed as the Colonel of the Regiment of the Grenadier Guards. With this title, she was given the duty of inspecting the Guards which would become known as the Princess's first official public engagement. The inspection of the Grenadier Guards took place during a parade at Windsor Castle.
Although Princess Elizabeth's duties were considered more symbolic, they involved making sure everything was uniform during guard inspections. This included proper attire, clean shoes, appearance, posture, etc. After the inspection was done, the guards would begin a parade march which the royal family would watch from the steps of Windsor Castle. A Guard inspection took place once a year, which was a tradition Princess Elizabeth followed up until her death.
According to the UK Army's website, "The Grenadier Guards specialize in Light Infantry operations and are ready to deploy anywhere in the world at short notice."
Prince Phillip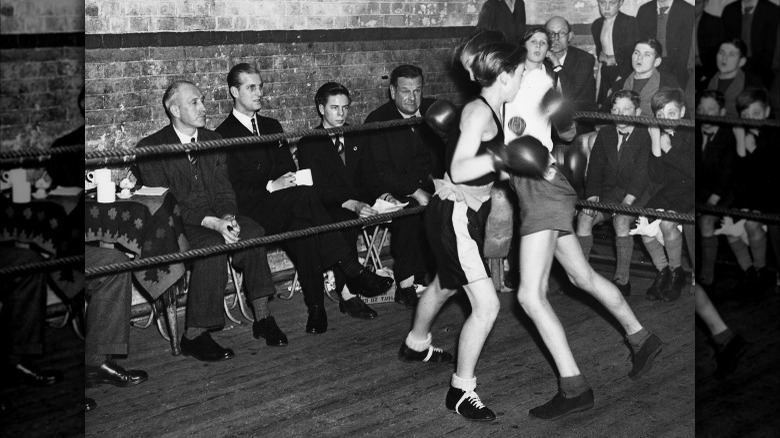 Fox Photos/Getty Images
At the age of 27, Prince Philip attended his first official engagement on March 2, 1948, at the Royal Albert Hall to watch the Federation of London Boys Clubs' boxing championships, shortly after becoming a patron for the club.
The Duke of Edinburgh attended these boxing matches quite frequently and even "watched all the battles with keen enjoyment," according to a news bulletin. He was also the guest of honor at the London boys club championships and had special duties at the match. At this event, he presented awards to the winners of the matches after making a speech. He also shook hands with each participant, showing kind sportsmanship.
In his speech, he said, "I'd like to say how delighted I am to see this so full of people—obviously, well-wishers of the London Federation boys clubs and the boys clubs throughout Great Britain," per Gaumont British News.
Princess Anne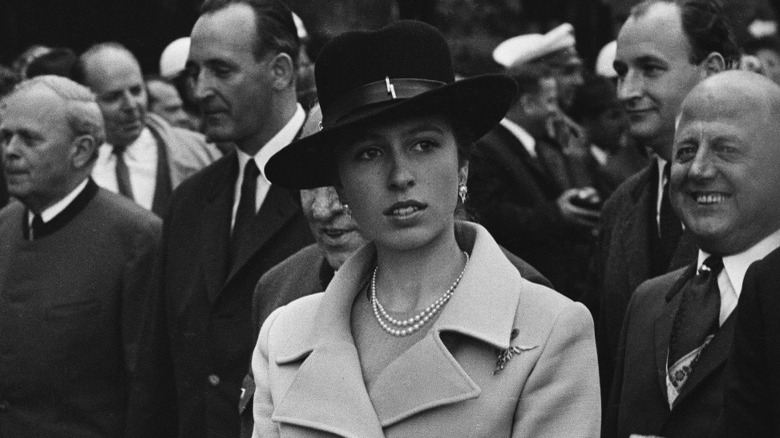 Terry Disney/Getty Images
Princess Anne took on her first official engagement for her mother Queen Elizabeth at the age of 18 in 1969. Her first engagement involved the opening of an educational and occupational training center in Shropshire run by the Road Transport Industry Training Board in 1969.
The Multi-Occupational Training and Education Centre (MOTEC) provided training for Heavy Vehicle drivers (HVD) and mechanics., so, to commemorate the event, the Princess was given permission to drive a double-decker bus. The Birmingham Post described her as a "most modern Miss" behind the wheel, and, apparently, she even made a joke that the bus was easier to drive than a Land Rover car.
Twenty years later, the Princess made a return to the center and was given another wild opportunity to put her ultimate driving skills to the test in a Ford Cortina with treadless tires on a skidpan, which can best be described as a precursor to a racecar track.
Prince Charles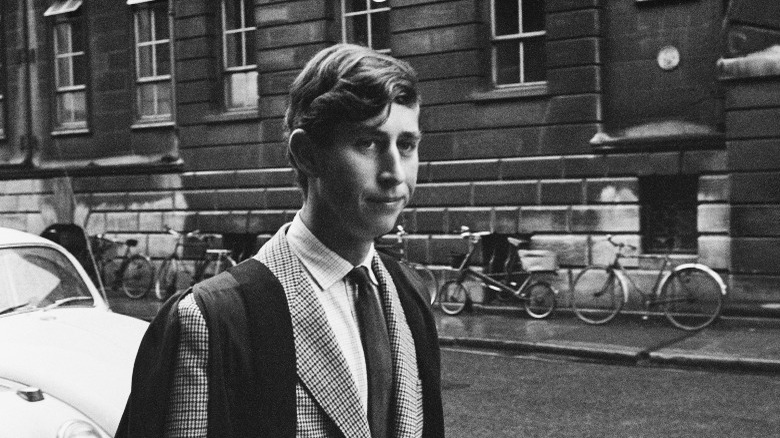 Peter Dunne/Getty Images
Prince Charles took on his first royal engagement at the young age of 16. He attended a garden party for students at the Palace of Holyroodhouse in Edinburgh, Scotland. At the event, he met over 100 people who have made positive contributions to their community.
In the Royal family, Garden Parties are great opportunities for royals to speak to positive advocates of the public who seek to make an impact for the greater good. Garden Parties also recognize and reward those in public service. Royals typically host three Garden Parties over the summer at Buckingham Palace the Palace of Holyroodhouse in Scotland. Each year, typically 30,000 guests are invited to attend.
As the official residence of the Scottish Monarchy, the Palace of Holyroodhouse is the usual venue used for events and holidays but is also open year-round to public visitors. One particular royal tradition of Queen Elizabeth's actually took place in the Palace of Holyroodhouse. The week-long celebration was known as "Holyrood Week" – an annual event which celebrates Scottish culture and ran from late June to early July.
Princess Diana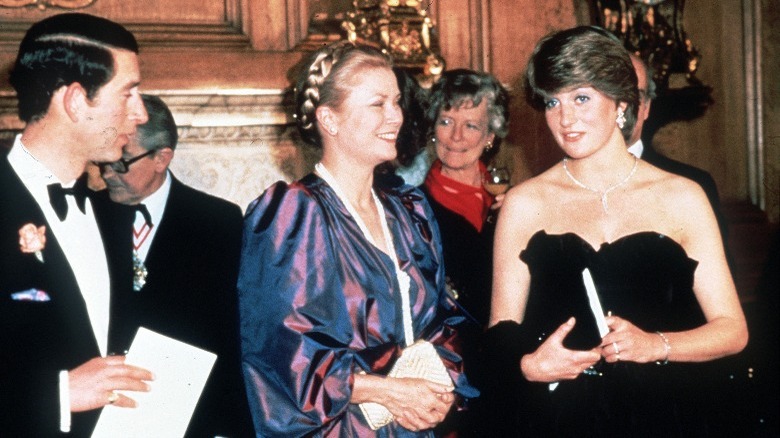 Anwar Hussein/Getty Images
Lady Diana Spencer's first royal engagement took place at the young age of 19 with her fiancé Prince Charles at a charity event in Goldsmith's Hall to benefit the Royal Opera House in 1981. Diana described the event as a "disaster" due to her criticized dress choice and nerves. Diana wore a strapless, black taffeta gown which was very taboo given the color choice, considering black was strictly reserved for funerals by royals.
"I thought it was OK, because girls my age wore this. I hadn't appreciated that I was now seen as a royal lady," Diana said in her documentary "Diana: In Her Own Words."
"I remember walking into my husband-to-be's study, and he said, 'You're not going in that, are you?'" Charles then explained "But it's black. Only people in mourning wear black." Diana then responded with, "Yes, but I'm not part of your family yet."
Although a news commentator described Diana as looking relaxed at the event, Diana admitted she was completely full of nerves and felt very unprepared. "I didn't know if the handbag should be carried in your right hand or your left hand. Everything was all over the place. I was terrified," she said.
Prince William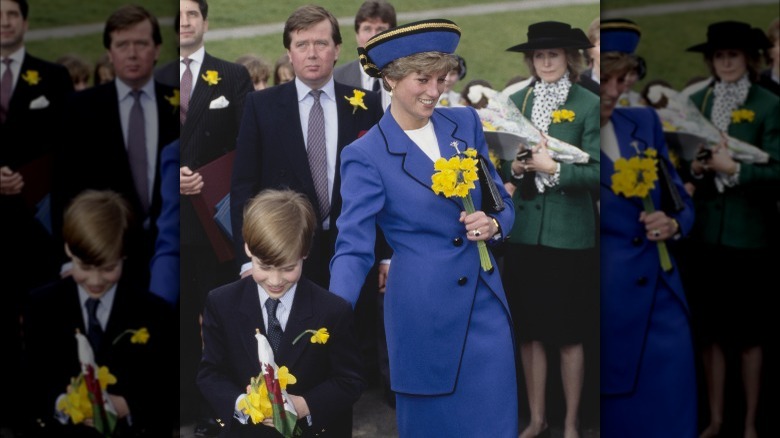 Tim Graham/Getty Images
Prince William was just eight years old when he joined his parents Prince Charles and Princess Diana on a visit to Cardiff in March 1991 to the Welsh capital on St. David's day which is a day dedicated to celebrating the patron Saint of Wales.
On this day, William first attended a ceremony at St. David's Hall with his mother Diana. The royals then attended a service at Llandaff Cathedral in Cardiff where Diana gave a speech honoring the country. As a Royal and literal sign-off, Diana and William signed the guestbook.
However, when it comes to Prince William's first solo engagement, his may take the cake for being the most unique and involved. At the age of 23, and just a week after graduating from Scotland's St Andrew's University, William joined the British and Irish Lions rugby team for an 11-day tour in New Zealand in June 2005. But this wasn't William's first visit to New Zealand. He also visited in 1983 when his parents took him to visit when he was just a baby.
Prince Harry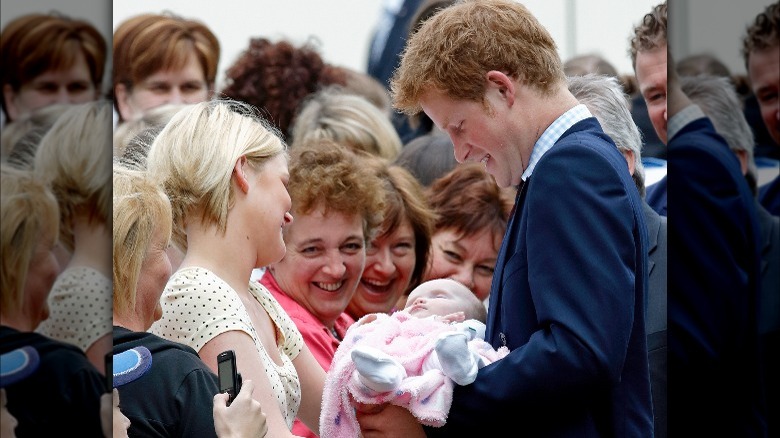 Max Mumby/indigo
At eight years old, Prince Harry attended his first royal engagement with his mother on a visit to the Light Dragoons base in Germany, which Diana was the Commander in Chief of. According to a news video, Princess Diana even told reporters that "she wanted to ease her son into public life and that this [event] was the perfect introduction."
The adorable Prince Harry even carried out some of the visit on his own separate from his mother. When Harry left for a short time, he reappeared at the event sporting an army uniform custom-made just for him. He also got to ride in an army tank alongside other fellow soldiers and looked completely ecstatic the entire time.
Just like his older brother, William, Harry attended his first solo engagement at the age of 23 when he visited the University Hospital in Cardiff, Wales. But five-month-old baby Lexie Hailstone stole the show when a young mother handed baby Lexie over to Prince Harry to hold while she was still sleeping. Seen behind the royal are smiling faces among the crowd in awe of the sweet moment.
Kate Middleton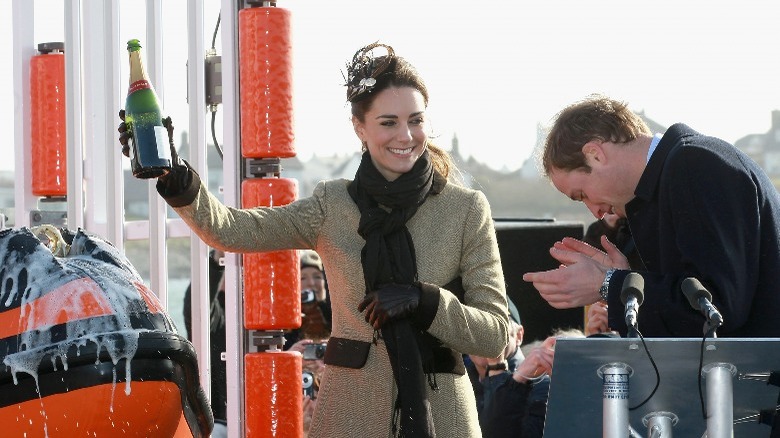 Chris Jackson/Getty Images
Just three months after the royal couple shared their wedding engagement with the public, Kate Middleton officially debuted her first official royal event with fiancé Prince William at a lifeboat naming ceremony for the "Hereford Endeavour" in Wales. Kate Middleton sang the Welsh national anthem which was well received by the audience and she even poured a bottle of champagne down the side of the boat to commemorate the event as William clapped by her side. Fiancé Prince William even joked in his speech about fiancé Kate, "I do the talking, she does the fun bit," per Town and Country. Kate also made time to speak to the public crowd who attended the ceremony and even gave Kate a few gifts to show their enthusiasm for the new Royal.
The event was very significant to Prince William who worked as an RAF Search and Rescue Pilot. The event was also convenient due to its close proximity to the engaged couple's cottage in Anglesey.
For her ensemble, Kate opted for a simple, neutral, and chic outfit. She wore a beautiful heathered beige trench coat with a long black scarf and gloves to match. Her hair was done up in a ponytail and included a netted floral fascinator. Based on the photos, William and Kate were all smiles and looked completely in love.
Meghan Markle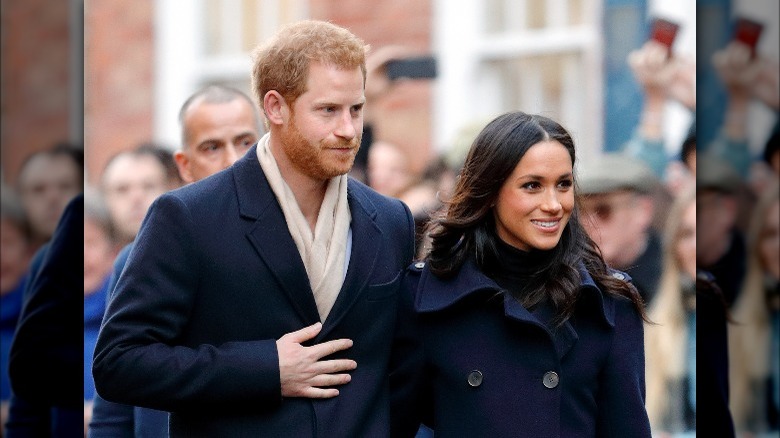 Max Mumby/indigo
Less than a week after Prince Harry and Meghan Markle announced their wedding engagement to the world, they made their very first royal appearance together as a couple at the World Aids Day Terrence Higgins Trust charity fair in Nottingham on December 1, 2018. This marked Meghan's first official royal engagement. Harry has been a huge advocate for finding a cure for the disease. Just a month prior to the event, he even arranged to have a pop-up shop set up for HIV testing. AIDS was also a cause Princess Diana openly supported and was also a supporter of the Terrence Higgins Trust.
Meghan and Harry spent time meeting and speaking with the public who waited outside to see them. Meghan gracefully even introduced herself with the introduction "Hi, I'm Meghan" to individuals outside, per People Magazine. Once inside, the couple spoke with participants and organizers of the fundraiser to raise awareness and money to support HIV/AIDS. The couple also met with students at Nottingham Academy and watch a "hip hopera".
Princess Eugenie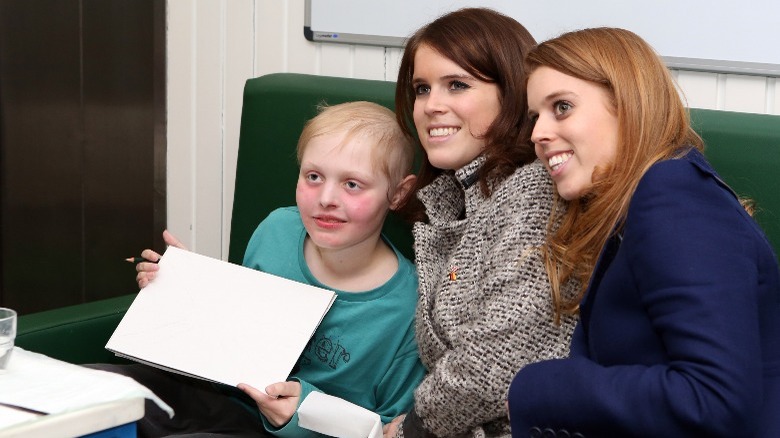 Pool/Getty Images
On the day of her 18th birthday in 2008, Princess Eugenie appeared at her first public engagement to open a new Teenage Cancer Trust unit in Leeds with her mother, the Duchess of York Sarah Ferguson, and her sister, Princess Beatrice.
In 2022, Princess Eugenie reflected on the event during a virtual opening of a new blood cancer ward at University College London Hospital. She also shared just how devastating it was to meet patients her age, which only made it all the more important to her. "On my 18th birthday I got to come down to the ward and meet some of the young people," Princess Beatrice told Hello! Magazine. "I think when you're a young person yourself, it changed for me the trajectory of what it is to be in service."
This event was quite significant considering The Duchess of York opened the first Teenage Cancer Trust unit in 1990 and because this is a cause that the family cares deeply about. The Duchess of York especially appreciates Teenage Cancer Unit because of how above and beyond it goes for patients to continue living their lives, per Hello! Magazine. "Teenage Cancer Trust's specialist nurses and youth workers provide the very best care and support during treatment and beyond, making sure that cancer doesn't stop young people living their lives," The Duchess of York said.