Meet Ray Romano's Wife Anna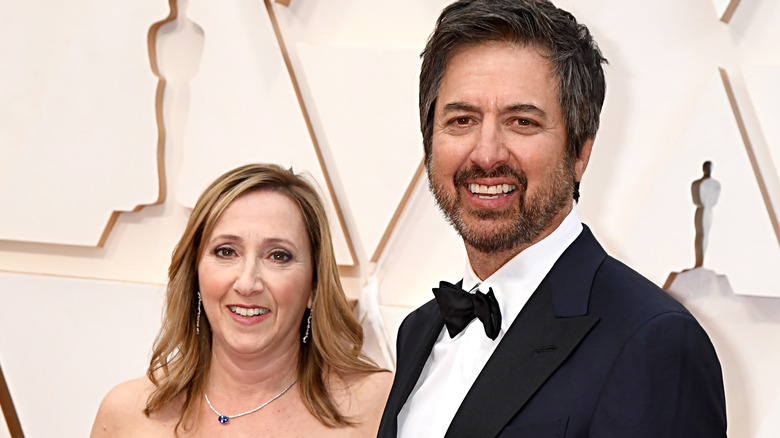 Jeff Kravitz/Getty Images
Everybody loves Raymond, but there's no one in the world who loves him more than his wife Anna. For nearly 40 years, she has been the one cheering him on from just behind the scenes — and comedian Ray Romano truly has no idea what he would do without her. "If aliens came and took her away and didn't hurt her and kept her in a safe place and was gonna bring her back in like six months, for those six months, I wouldn't know what to do," the comedian once said during an interview with CBS News.
The rest of the world may not know much about Anna, who isn't a part of the entertainment industry herself. Yet, that's exactly what makes her so special to her celebrity husband. "I think it works, because if you are someone, you know, with fame — whatever amount — it's good to be married to someone who is not impressed with that at all," he shared on "The Ellen DeGeneres Show."
Their long-lasting love story is one that anyone, whether they work in Hollywood or not, can truly learn a thing or two from. Read on for a few fun facts about Ray Romano's wife Anna.
She grew up in New York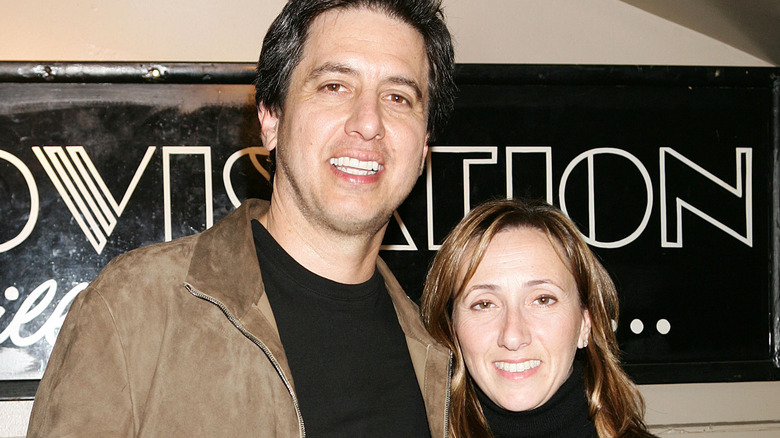 Mathew Imaging/Getty Images
Ever since Ray Romano made it big in Hollywood, he and his family have lived in the sunny city of Los Angeles, California. However, it's actually the east coast that he and his wife Anna will always refer to as their home. Queens, New York was the city that they both grew up in.
Before ever ending up in New York, though, Anna's parents had spent their entire lives living in Italy. It was after moving to the States that their daughter eventually met the love of her life and never looked back. In fact, the city where Ray and Anna began their life as an Italian-American family is actually what inspired his film "Somewhere in Queens." "When I decided to write a script, I knew I wanted it to be about my hometown of Queens and the people I grew up with," he once explained during an interview on "Good Morning America."
Though Anna's parents have since moved back to Sicily, she and her famous husband always make time to travel back to see them. Ray even created a two-part episode of his sitcom "Everybody Loves Raymond" to be set in Italy so he could spend a week off-screen with Anna in her hometown.
She fell for Ray Romano long before he was ever famous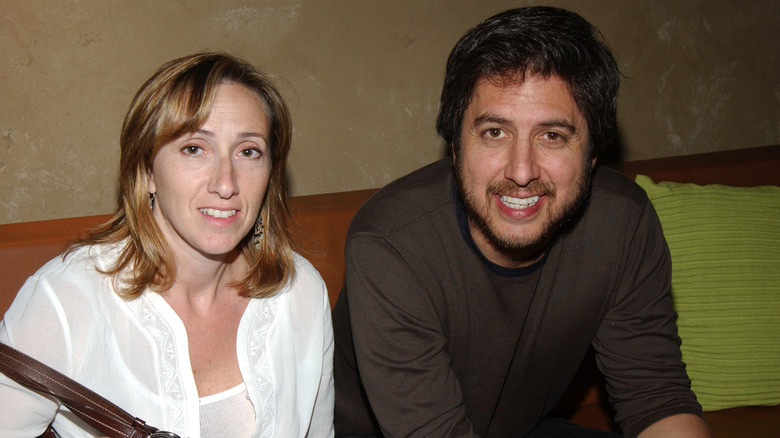 Jon Kopaloff/Getty Images
Long before the world ever knew Ray Romano's name, Anna simply knew him as her co-worker. The two met while they were working as bank tellers in Queens, New York. Each day, "I would ride my bike to work," Ray reminisced on "Good Morning America." "I don't know what she saw in me."
During that time, Ray had recently dropped out of college, was living with his parents, and was just beginning to start up his stand-up career. He had asked out two other girls who worked at the bank and even wrote them silly poems, but neither one seemed to pay much attention to him. Anna, however, was the one who saw something special in the aspiring comedian that fans all over the world have since gotten to see as well. "He was funny, and he was kind and sweet," she shared on the podcast "Double Date with Marlo Thomas and Phil Donahue." "He really was an easy personality, you know? We didn't really have any expectations when we were dating."
Anna and Ray dated for two years before tying the knot, and quickly after, Ray's comedy career took off. "I give her credit [because] she married me before any of this happened," he told "Good Morning America."
She recalls that her first kiss with him was 'awkward'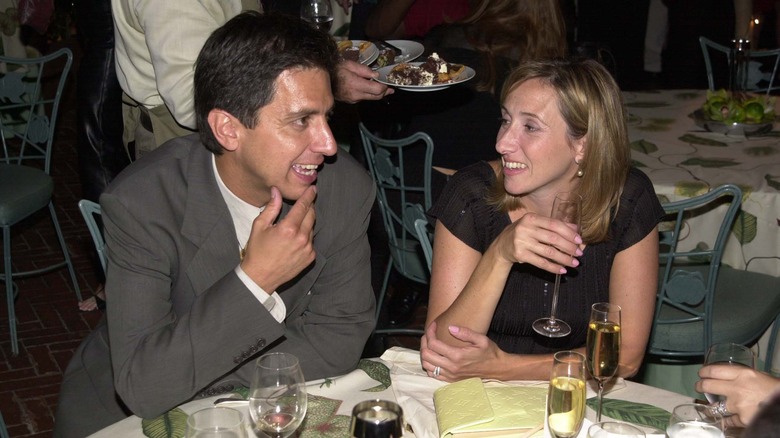 Jeff Kravitz/Getty Images
Ray and Anna Romano have been through all sorts of things together during their more than three-decades-long marriage. However, their first kiss is certainly something that Anna will never forget.
It happened at the end of one of their very first dates. Ray was driving her back home to her parents' house. When he pulled the car up against the curb out front to park, and the two began to kiss. As they finished locking lips, Anna was unsure of what she should do or say next. "So I look at him, and he literally is not looking at me. He can't even look at me. He's looking straight out the windshield," she recalled on the podcast "Double Date with Marlo Thomas and Phil Donahue."
It seemed as though he had no idea what to do next either — so she simply got out of the car and told him to call her to set up another date. "The afterwards was awkward. During, was fine, you know?" She laughed.
Obviously, Ray did end up calling her, and the two have been together ever since.
She was the one who got Ray Romano to move out of his parents' house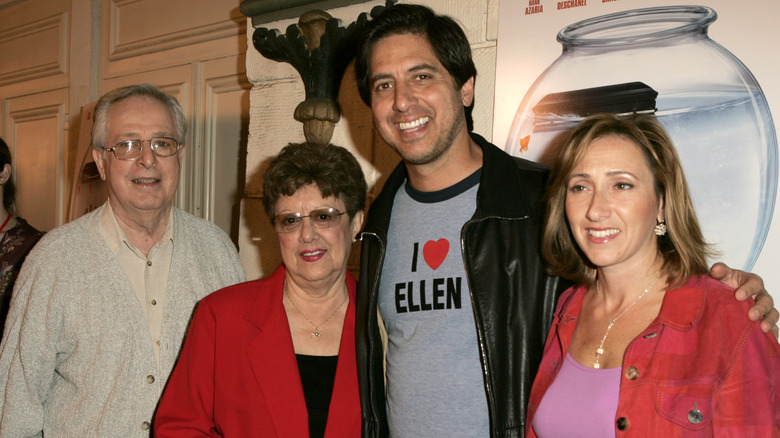 J. Vespa/Getty Images
All the way up until Ray Romano was officially married to Anna, he lived with his parents — and if it wasn't for Anna, he wouldn't have left. In his late 20s, he was working on building up his stand-up comedy career and wasn't quite making enough money to be out on his own. When he tied the knot with Anna in 1987 was when he moved out of his childhood home the very next day.
Now that Ray and Anna have children of their own that still live with them, the comedian understands what it was like hanging out for so long at his own parents' place. "I lived at home until I was 29 in Queens in a little one bathroom," Ray shared during an appearance on "The Ellen DeGeneres Show." Since his successful career started, his children have "got nine bathrooms. They've got a movie theater. They've got a trampoline," Ray said. "They're not going anywhere."
At first, she was concerned about him entering the entertainment industry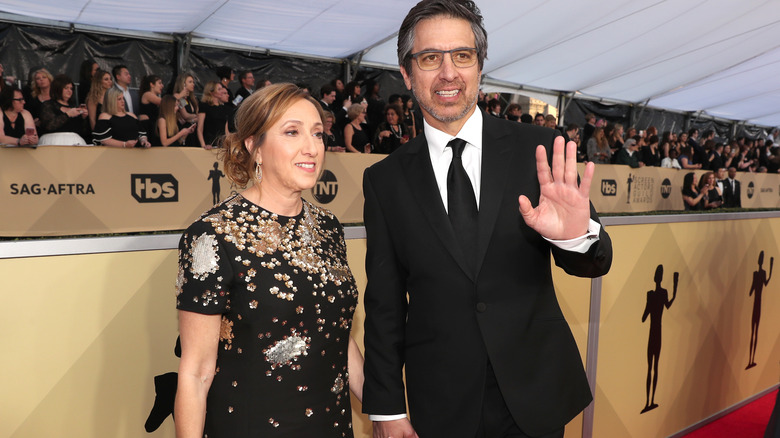 Christopher Polk/Getty Images
When "Everybody Loves Raymond" started up its first season, it was a big gamble for the Romano family. They had no idea if the world would love it. For fear that the sitcom could get canceled at any time, Anna Romano stayed back at their home in New York while her husband lived out in an apartment in Los Angeles during production. "He became the Hollywood star," Anna described on the podcast "Double Date with Marlo Thomas and Phil Donahue." "And I really was the stay-at-home mom. I didn't have a career. I was not in this business."
When his sitcom started seeing success, they were ecstatic. "Now, he's a celebrity," Anna described. However, "I don't know what that's like."
Because of that, she was worried about Ray being roommates with a friend who was single — and one who was constantly wanting to bring female friends back to their apartment. While she wasn't worried about Ray's loyalty, she was worried about all the women who were constantly around her special someone who was now considered celebrity status.
Eventually, Anna did move out to Los Angeles to live with him as he worked on eight more seasons of "Everybody Loves Raymond," and the two still reside on the west coast to this day.
She once appeared on an episode of his sitcom Everybody Loves Raymond
Though Anna Romano isn't in the entertainment business, she simply couldn't let her comedic husband Ray Romano be the only one having all the fun on screen. In 2001, during Season 6 of his sitcom "Everybody Loves Raymond," she made a guest appearance during the first episode.
In the episode, titled "The Angry Family," Ray and Debra's son Michael writes his own story to read to his class. As all of the classroom parents watch with excitement, Michael's parents begin to get uncomfortable when they realize that the boy has written a book all about how his family constantly argues.
While Anna didn't have any lines in the episode, her facial expressions are a hilarious addition as she stands in the crowded classroom alongside Ray's character witnessing it all — especially considering the fact that many of the sitcom's comedic moments have been based on Ray's real life.
She is a breast cancer survivor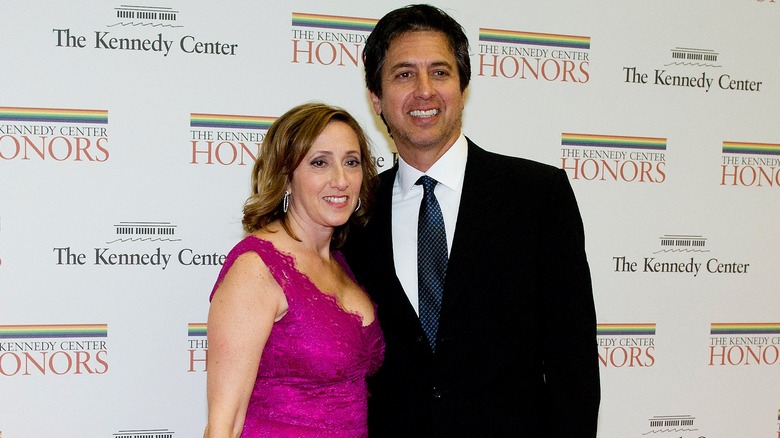 Pool/Getty Images
In 2010, Anna Romano received some news that completely changed her life: She had been diagnosed with stage one breast cancer. After privately going through four rounds of chemotherapy, treatments, and medication, Anna has since been declared officially cancer free — but she still has never forgotten the effect that cancer has had on her life. "The reason we're going public is to share our experience, yeah, but to have an effect," her husband told People. "Our goal is to help people."
Ever since, the couple has stood behind two organizations to help others going through similar situations: The American-Italian Cancer Foundation is one that is based in their hometown in New York City, which helps finance mobile mammograms throughout the city to people who may otherwise not have access to the life-saving x-ray. Their donations to the Saban Free Clinic, located in their current city of Los Angeles, help families not have to worry about finances when it comes to receiving a mammogram or other breast health services.
"We got lucky," Ray said. "But it kind of opens your eyes — so I want to just give back."
She shares 4 kids with Ray Romano
Jamie Mccarthy/Getty Images
The Romano family has expanded quite a bit since Anna and Ray first read their vows back in 1987. Today, they share four children together — all of whom have also dabbled in the entertainment industry over the years.
Their oldest child, a daughter named Alexandra Romano, was born in 1990. Throughout her childhood, she appeared in various episodes of "Everybody Loves Raymond" and even lent her voice alongside her father to the animated film "Ice Age: Continental Drift." She's since got engaged and has stepped behind the scenes to work in public relations.
Their twin sons, Gregory and Matthew Romano, were born in 1993 and have appeared quite a few times on various talk shows throughout the years. In fact, they've even worked as production assistants for "Jimmy Kimmel Live!" and "The Late Late Show with James Corden." "Every time I do Kimmel or Corden, I have to come up with a bit to do with them in it now," Ray shared during an episode of "The Ellen DeGeneres Show." "We try to get them dates. They're single."
Anna and Ray's youngest son, Joe Romano, was born in 1998. He can be heard as one of the characters in "Ice Age: Dawn of the Dinosaurs" alongside his father and has also made an appearance in his father's most recent film "Somewhere in Queens."
She's often the subject of his comedic work (but she doesn't mind)
Over the course of Ray Romano's career, he's always gravitated toward jokes about family life in both his stand-up routines and in his famous sitcom "Everybody Loves Raymond." In fact, many of these jokes have come straight out of the Romano's household — and even straight out of Anna's mouth, whether she likes it or not. "Whenever she says anything, I tell her what I always tell her: to go cry in a bag of money," Ray joked on an episode of "The Ellen DeGeneres Show."
After his family was the butt of his jokes in his Netflix comedy special "Ray Romano: Right Here, Around The Corner," they appeared at the end to eat some pizza with him and discuss everything he just exposed to the world about Anna. "She's okay with it. She's fine," the comedian has since clarified. "She's gotten used to it."
And we're sure that's not the last we'll be hearing all about his number one fan Anna.