HGTV Renovations May Not Be Amazing As They Appear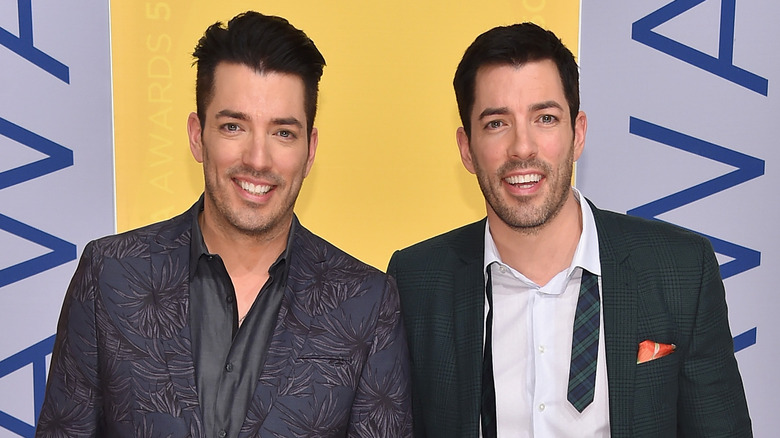 Michael Loccisano/Getty Images
If you've ever watched HGTV, you've probably seen the breathtaking renovations on the show. The channel is known for taking old, outdated homes and completely flipping them — making homeowners' dream homes come to life. Recently, several TikTokers have come out to accuse HGTV of doing poor quality and even dangerous work on homes, leaving many people wondering whether the surreal renovations are just for show (via Daily Mail).
TikToker Niftynest shared that she stayed in a home renovated by HGTV while on a work-related trip, and she said that not everything is as it appears. In her video, she says, "HGTV bragged about these beautiful marble countertops when in fact it was just plywood and contact paper over it." She then clarified that it was the island that was not marble and not the countertops. One TikToker commented, "I was on an HGTV show called "My First Place". They had my friends sewing curtains and the room was basically put together with tape and a prayer." 
This isn't the first time HGTV has been under fire about its work. There are some HGTV renovations that ended in tragedy, bringing to light the renovation fails that are far from flawless.
Several people claim HGTV did poor-quality work on their homes
Homeowners on the show "Fixer Upper" revealed that the furniture featured in the renovations does not come for free, but homeowners can opt to purchase it (via Insider).
One couple even went as far as suing the production company after their home was renovated for HGTV's show, "Love It or List It". The couple claimed their home had stained and damaged floorboards and that cheap carpeting was used to put over chipped concrete (via The Charlotte Observer).
TikToker Ron Onyon claims that HGTV ruined his and his wife's home with shoddy work for the show, "Renovation Impossible". Ron shows various clips of unsafe conditions of his home, including a shower that sprays water directly into an electric fireplace, creating a major fire hazard. He also revealed a sliding door that he claims was installed without being bolted into any studs but was rather held on by the trim. Ron claims he has lost $150,000 and a major portion of his and his wife's life savings trying to fix the hazards the show created with the renovations.
Renovation Impossible host responded to the claims
Russell J. Holmes, the host of the show "Renovation Impossible", did respond to the allegations being made in an Instagram post, claiming that the owner of the home making all of the noise employed their own designers and contractors to build the home. Holmes claims he was simply the on-camera personality meant to mitigate any issues, and he was never paid by the homeowners for any of the work.
Ron Onyon responded to his claims in a TikTok video, stating that he did not hire any other contractors and paid Russell and the foreman, Joel, directly. It's clear that while HGTV renovations may look amazing on the outside, there is a lot that can happen behind the scenes.
There are several HGTV stars who were sued after a renovation, giving us insight into the reality that poor renovations and mishaps may not be part of the show, but do happen more often than you may think.