How Michelle Yeoh Got Her Showbiz Start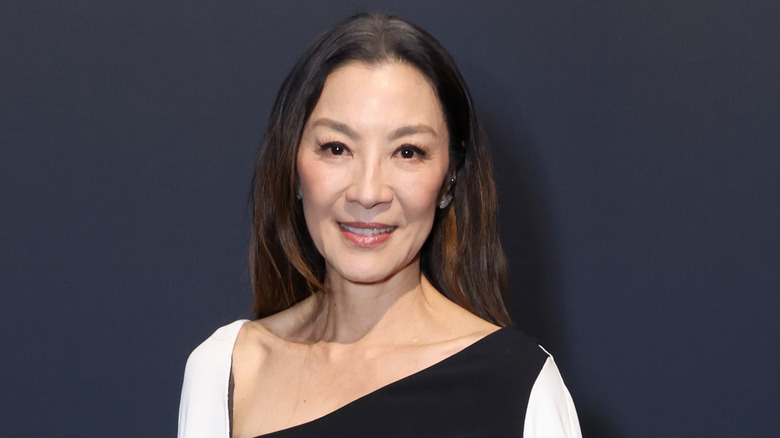 Jp Yim/Getty Images
Michelle Yeoh is an internationally acclaimed actress known for her performances in films like "Memoirs Of A Geisha," "Hidden Dragon," "Crazy Rich Asians," and the Oscar-winning "Everything Everywhere All at Once," and is renowned for her acting skills and impressive stunts. Yeoh is often praised for her ability to seamlessly portray strong female characters with depth and nuance.
She is known for her meticulous preparation for each role, immersing herself in each character to deliver a superb performance. Although she never had formal training, Yeoh carefully learned martial arts on set. Her passion for her craft allowed her to bring authenticity and credibility to her performances. Yeoh's complete evolution through the years is admirable and she has impressively demonstrated her ability to perform in a wide range of genres, from action films to dramas and comedies. While she has definitely come so far, Yeoh confessed that her showbiz career happened by chance. So how did she get her start in the entertainment industry?
A path Michelle Yeoh landed accidentally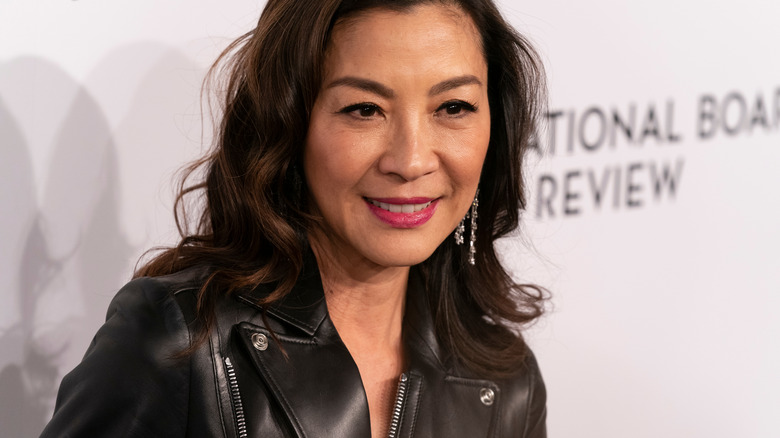 lev radin/Shutterstock
Yeoh grew up studying ballet and pursuing a career as a dancer. However, after a spinal injury, she was forced to give up her passion and divert to other forms of art. She went on to earn a degree in creative arts in 1983.  After she graduated, Yeoh decided to go back to Malaysia and that's when things took a turn in her life. 
During an appearance on "The Graham Norton Show," Yeoh revealed that her mother forced her to join a beauty pageant. Yeoh's mother filled out the application form but the actress admits that she never wanted to take part in the competition. She relented and made a deal with her mother, saying, "I did it to shut her up. Because she wouldn't stop talking about it, so we had a deal: 'If I do this, you will never do something like this again.'"
The Academy Award winner ended up winning the Miss Malaysia beauty pageant in 1983. Following her win, she forged a successful career in Hong Kong which opened her doors to Hollywood. Yeoh was discovered by a Hong Kong businessman, fashion mogul, and co-founder of D&B Films, Dickson Poon. At the time, Poon was looking for an actress to pair with Jackie Chan for a watch commercial. Yeoh agreed to meet with Poon in Hong Kong and she went home victorious after she signed a contract with D&B Films.
She didn't allow stereotypes to hold her back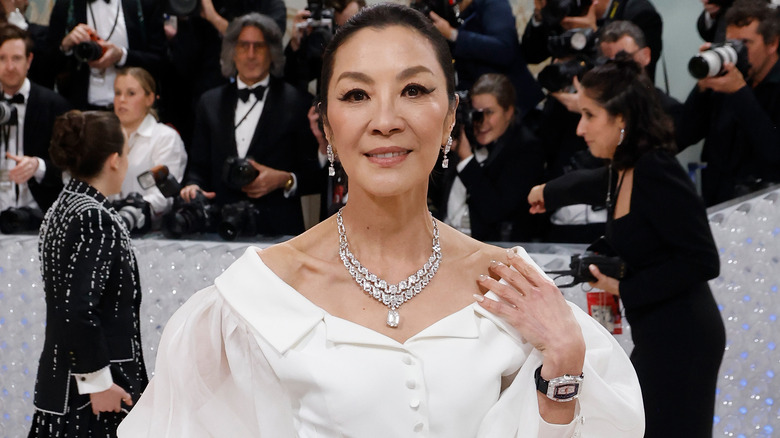 Taylor Hill/Getty Images
Yeoh soon started her first film after landing a role in the action film, "The Owl vs. Dumbo." She quickly established a successful acting career in Hong Kong and despite her massive success there, Yeoh faced struggles in breaking into the international film market. Yeoh's path to Hollywood was not an easy one, and it was challenging for her to find a foothold in Hollywood due to the industry's limited roles for Asian actors.
Her perseverance and determination soon paid off as she finally landed her breakthrough role in the 1997 James Bond film, "Tomorrow Never Dies." Since then, she has become a sought-after actress in Hollywood, known for her action-packed performances in films like "Crouching Tiger," "The Stunt Woman," and "Mulan."
While it might seem like she's had it easy after her Hollywood breakthrough, she had to stop working to protect her peace. Her refusal to be typecast in Hollywood left her without work for two years. She told People, "I didn't work for almost two years, until Crouching Tiger simply because I could not agree with the stereotypical roles that were put forward to me." Nevertheless, Yeoh is proud of sticking to her guns which made her a role model for Asian actors in Hollywood. She added, "Over the last few years, I'm very proud that we have been breaking away from stereotypes — it's not just lip service. It is happening. And it's happening to me."