The Time Tom Cruise Crashed Kate Hudson's House Party
Monica Schipper/Getty Images
Tom Cruise has developed a reputation over the years for being a bit of a wild guy. When Cruise's relationship with Katie Holmes was still in its infancy in 2005, he made waves when he announced his love for the actress by excitedly jumping on a couch during Oprah Winfrey's daytime talk show. That same year, he caused a stir when he grabbed a man who squirted him with water on the red carpet, reprimanding the jokester and repeatedly calling him "rude" and "a jerk." A few years later, in 2008, a video leaked online of the actor touting the benefits of joining the controversial Scientology religion.
Of course, Cruise's eye-raising behavior has come in handy during shoots for his blockbuster movies, especially when it comes time to pull off risky stunts. The actor is known to do his own stunts, once even crashing into the side of a building for the film "Mission: Impossible – Fallout" and breaking his ankle in the process.
Even when the cameras aren't rolling, the star isn't afraid to take risks and climb walls — just ask Kate Hudson.
Tom Cruise channeled Mission: Impossible to crash Kate Hudson's party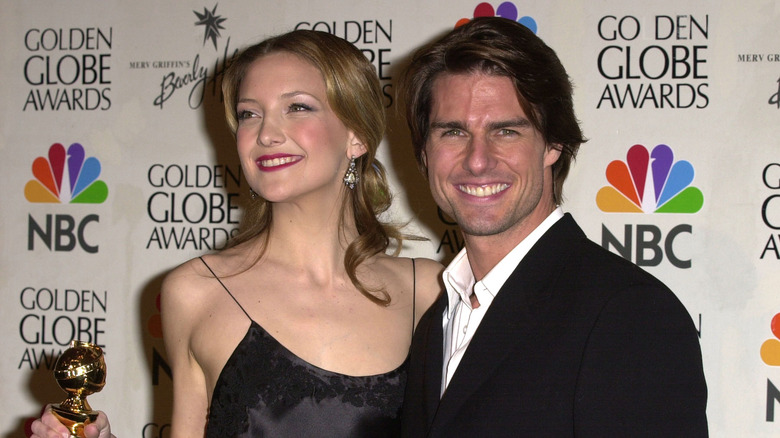 Steve Granitz/Getty Images
Tom Cruise and Kate Hudson are undoubtedly two of the biggest names in Hollywood, and they don't just brush shoulders at A-list events or prestigious awards shows. Apparently, Cruise has spent time with Hudson at one of her private house parties, too, though the actor wasn't actually invited.
Kate shared the story during an interview on "The Ellen Show" alongside her brother, Oliver Hudson. The pair explained that they used to throw big house parties when they were younger and still lived with their parents. "We were naughty when our parents would leave town and we always had parties," the actress revealed. During one bash with 400 or so of the siblings' friends, Kate was guarding the door to make sure no uninvited guests entered when she noticed a party crasher outside. "I see someone scaling, literally scaling, an eight-foot gate at my parents' house." After climbing down (or, as Kate describes it, doing a "back handspring thing"), the stuntman turned out to be none other than Cruise. "And I was like, 'Oh, I didn't realize you were coming to our party,'" the actress recalled, adding that she let him attend even after his risky entrance.
Cruise's stunt didn't seem to wreck his friendship with Hudson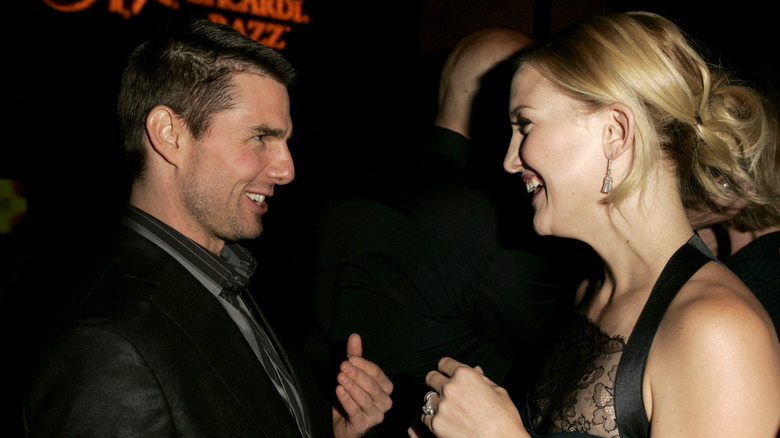 J. Vespa/Getty Images
While trespassing would likely be enough to end many budding friendships, Tom Cruise's gate-climbing antics didn't seem to get in the way of his platonic relationship with Kate Hudson. After becoming a household name, and likely after her days of throwing secret parties at her parents' house were over, Hudson spoke fondly of Cruise on "The Graham Norton Show" in 2011, describing her childhood crush on the star. "I was just crazy about him," she shared with a big grin.
In a 2022 conversation with actor Glen Powell for Variety, Hudson also opened up about the time she tapped Cruise for skydiving advice. "My son [Ryder] recently wanted to skydive. And I didn't know what to do with myself. He's 18. I was like, 'I need to call Tom.' And Tom was so all about it." Though the phone call was meant to be for her son, by the end of the conversation, Cruise had talked Hudson into jumping out of a plane too. "Somehow, he had convinced me how incredible skydiving was."
Throughout their careers, the A-listers have also posed together at events, including backstage at the 2023 Producers Guild Awards, proving that the two are still on good terms even after all these years.