Why Tom Cruise Accused Oprah Winfrey Of Setting Him Up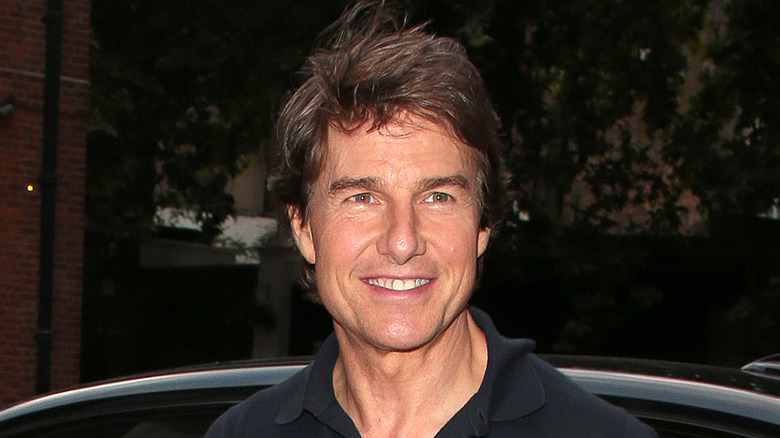 Ricky Vigil M/Getty Images
Tom Cruise is no stranger to controversy. One of the actor's most memorable moments came during a wild 2005 interview with Oprah Winfrey. At the time, Cruise had just started dating Katie Holmes, and the two had gone public with their romance. While talking about his new relationship, the actor became giddy, smiling from ear to ear, pumping his fist, jumping on Oprah's couch, and playing to the audience. "You're gone ... The boy is gone!" Oprah could be heard saying during the viral moment. The interview became one of the most talked-about moments in pop culture, but looking back, Cruise was reportedly unhappy about how he was portrayed and even accused Oprah's show of setting him up with heavy editing. 
During the interview, Cruise looked like a man possessed by love, gushing over Holmes and even dragging her up on stage for some public canoodling. "I'm in love. I'm in love and it's one of these things where you want to be cool, like, 'Yeah I like her' ... that's not how I feel," Cruise told Oprah at the time (via Us Weekly). Following the interview, Cruise's behavior was analyzed and turned into a running joke on the internet.
Since that time, it's been alleged that Cruise claimed the interview was edited to make him appear unhinged, and none other than Hollywood comedian Seth Rogen was said to get the scoop about Cruise's true feelings regarding his infamous Oprah appearance.
Tom Cruise allegedly told Seth Rogen he was being set up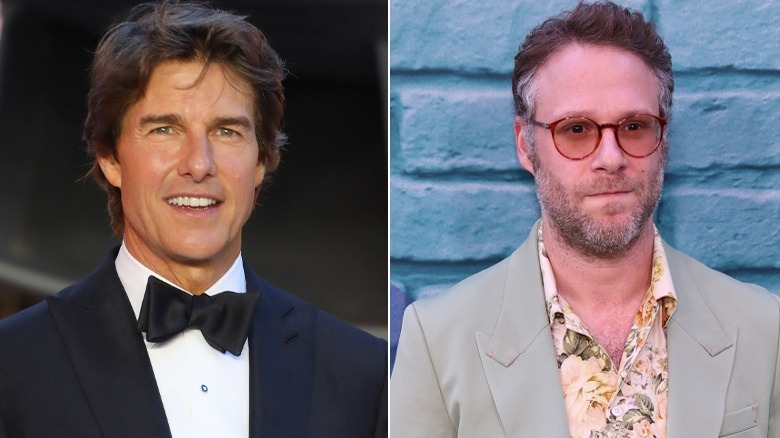 Leon Bennett & Lia Toby/Getty & undefined
When actor Seth Rogen released his first book titled "Yearbook," the comedian opened up about his many of his encounters with people in Hollywood, and one of those interactions was with Tom Cruise. Rogen revealed that he and Cruise had a long meeting with Judd Apatow in 2006 (just one year after the viral Oprah interview), where they met up at Cruise's home to discuss the possibility of the actor taking a comedic role.
"It was all totally normal ... until ... it wasn't," Rogen wrote in the book, adding that four hours after arriving for the meeting the conversation turned towards Cruise's highly talked-about interview, where he jumped on the couch and excitedly opened up about his love for Katie Holmes (via Insider). Cruise reportedly told Rogen that the "Oprah Winfrey Show" had edited the interview to shed a negative light on him. "Well, yeah, they're making it seem like I'm losing my mind," Cruise reportedly told Rogen. "There's a coordinated effort to make it appear that way." 
When Rogen pressed the "Mission: Impossible" star to elaborate on who would want to make him seem crazy, he allegedly claimed that the pharmaceutical industry was behind it due to the actor's exposure of their fraud. "They're scrambling and they're doing everything they can to discredit me so I won't hurt sales anymore," Cruise said, per Rogen.
Tom and Oprah revisited the interview in 2008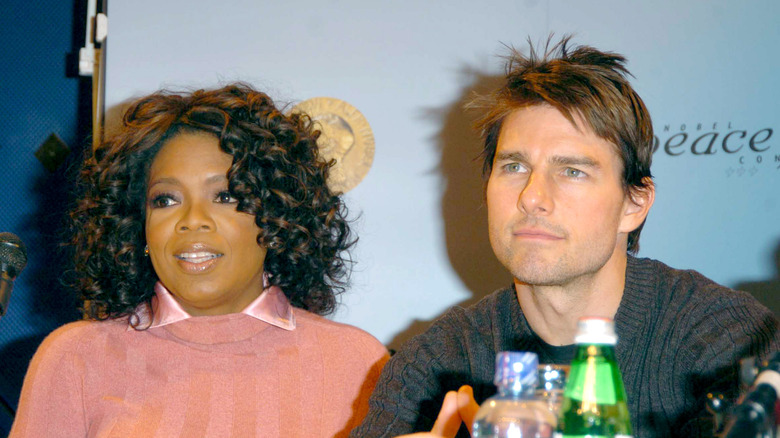 Jon Furniss/Getty Images
Despite the backlash about his wild Oprah Winfrey interview, Tom Cruise later revealed that he wasn't ashamed of the moment. In 2008 after Cruise and Katie Holmes were married and had welcomed a daughter together, Suri, the couple invited Oprah into their home for another interview. During that time, the actor revealed that the energy behind their previous interview was genuine. "That was a moment, and it was real, and I don't know if I would [do it differently]. I really don't," Cruise said during the sitdown, per the New York Post.
However, in 2012, Cruise and Holmes divorced. In 2020, Holmes opened up about being a single mother raising her daughter in New York City following her split from the A-lister, calling the early time "intense" (via InStyle). "It was a lot of attention, and I had a little child on top of it. We had some funny moments out and about in public. So many people I didn't know became my friends and helped us out, and that's what I love about the city," she added.
Both Cruise and Holmes have moved on from the wacky 2005 interview, continuing to build their careers. However, fans will likely never forget the moment, which will be cemented in pop culture history for years to come.