Do You Actually Need To Moisturize Your Entire Body?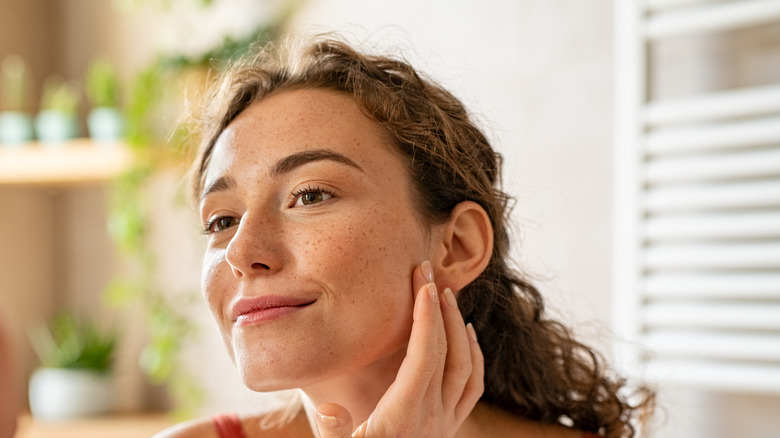 Ground Picture/Shutterstock
If you've so much as dipped your toe into the world of skincare, you probably know that moisturizer is a key step in keeping the skin looking smooth and feeling fresh. Moisturizer is also essential for protecting the skin barrier. But while many of us use face moisturizers religiously, only a few people are as committed to moisturizing the body. Sure, we might quickly slap on some lotion after a shower or when the skin feels particularly dry, but it's only sometimes a key part of our regime.
If you're not a dedicated body moisturizer, you may find yourself wondering — do I actually need to moisturize my body? And how often should I be moisturizing? As it turns out, body lotions and moisturizers can make a real difference in the texture and feel of our skin. Plus, a slow moisturizing session can actually become a luxurious part of your self-care regime.
Let's examine some of the reasons why moisturizing the entire body might be the skincare ritual you never knew you needed.
Why we should all be moisturizing the whole body every day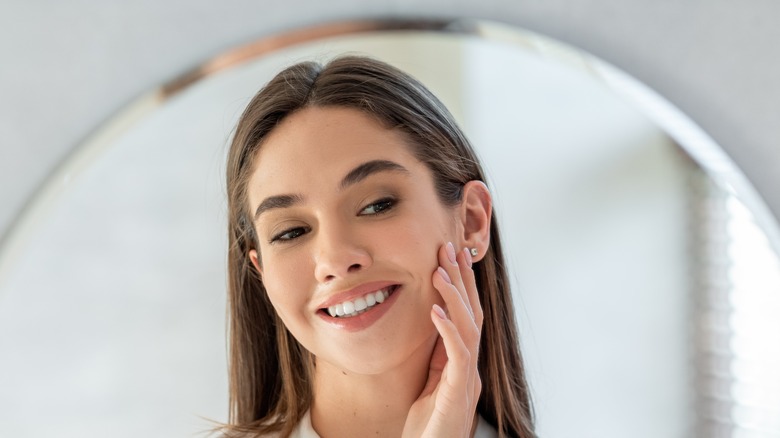 Prostock-studio/Shutterstock
If you have naturally dry skin or a condition like eczema, chances are, you're already a dedicated moisturizer. However, if your skin doesn't call out for moisturizer on a daily basis, it's easy to forget about it. According to skincare experts, though, taking the time to moisturize the whole body has its benefits.
"I recommend applying body lotion daily," said dermatologist Naissan O. Wesley to Who What Wear. "If recently showered, the best time to apply is within three to five minutes after a bath or shower to help trap moisture in and restore the skin barrier that may have been disrupted by soap or cleansers." 
In fact, it might even be beneficial for older people to moisturize twice a day. As she explained, moisturizing the body is a great way to prevent premature skin aging. "The skin often tends to appear more wrinkled when it's drier," Wesley said. Wesley went on to recommend moisturizing every inch of the body — including the often-forgotten legs.
Turning moisturizing into a self-care ritual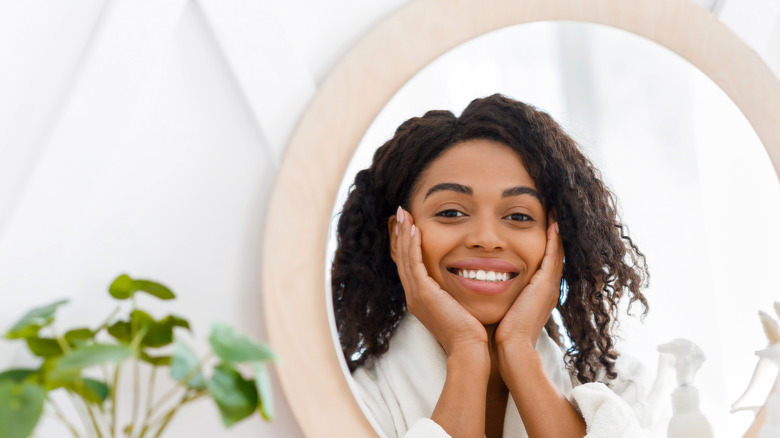 Prostock-studio/Shutterstock
While slathering on body lotion every day after your shower has aesthetic benefits, it also offers a few mental health benefits. As skincare writer Jenny Jin explained in an op-ed for PureWow, her daily moisturizing session has become something of a sacred ritual. She has developed a routine in which she mentally thanks her body as she moisturizes. "Today, my moisturizing time is also a time for me to slow down and actively show love to my gloriously imperfect body," she wrote. 
Another writer, Radhika Sanghani, echoed the same sentiments in Stylist, explaining that she had started practicing "mindful moisturizing." She wrote, "The best days are when everything is quiet, I slow down, and can focus fully on what I'm doing. That's when the stress and anxiety start to disappear, and I think of nothing bar the feeling and smell of the cream on my skin. It starts to become an act of meditation — and an act of self-love."
While it may sound far-fetched, there is actually scientific research that shows how a moisturizing routine can have a real impact on your state of mind as well as your skin health. A 2018 study, for instance, examined the effects of running lotion on the lower legs for two minutes. The study found that the practice helped to relax participants. Plus, if you use your moisturizing session as an opportunity to practice mindfulness, this can also reduce instances of anxiety and depression.