Jennifer Lopez's Kids Live An Insanely Lavish Life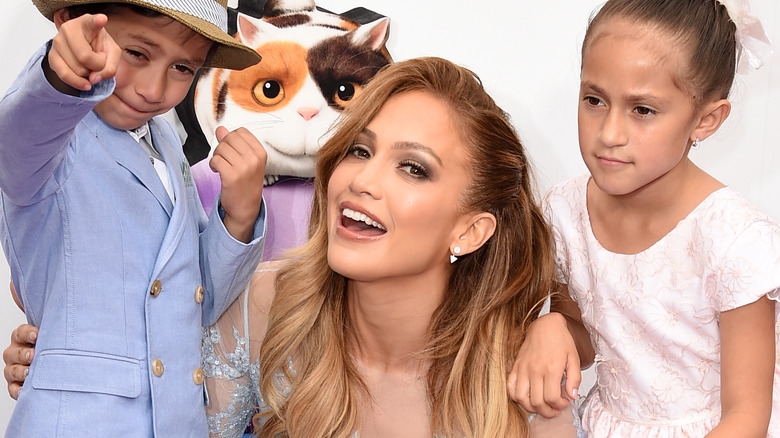 Steve Granitz/Getty Images
Jennifer Lopez is one of the biggest stars in the world — and a rich one, at that. With clothing lines, perfume brands, hit singles, and movies galore, Lopez has created her own empire. She's got many nicknames, from J.Lo to Jenny from the Block, but to her twins, Max and Emme Muñiz, she's simply mom. The songstress welcomed the pair back in 2008 while married to her then-husband, musician Marc Anthony. A lot has changed since the kids were born, but one thing has remained constant — just how much the Muñiz twins are doted on by their mom.
Regular parents do as much as they can for their kids, but there's always the small matter of a budget to contend with. When you're a multi-award-winning triple threat like Lopez, money is no object. The star has been photographed on multiple occasions over the past decade and a half treating her kids to the latest toys, buying them dinner at the hottest joints, and taking them on their very own private jet. This is just the tip of the iceberg. Try as she might to keep them humble, Jennifer Lopez's twins live a life that most of us could only dream of. 
Max and Emme Muñiz live very comfortably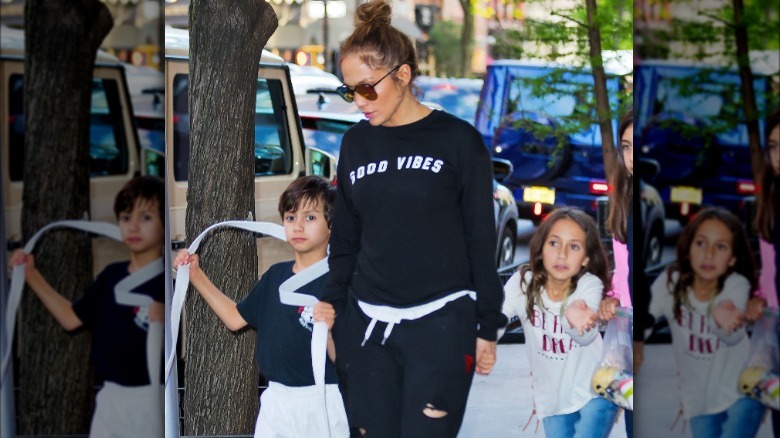 Gotham/Getty Images
Like many A-listers, Jennifer Lopez hasn't stayed settled in one home during the course of her career. Investing in real estate is one of the smartest ways to handle a multi-million-dollar fortune, and Lopez hasn't been afraid to sign on the dotted line and call the movers when she feels like it. As a result, Max and Emme Muñiz often split their time between multiple incredible estates. In March 2023, Lopez bought a brand new Pacific Palisades homestead alongside her superstar husband, Ben Affleck. According to the Daily Mail, the whopping property reportedly cost around $64 million.
Being able to call just one eight-bedroom wonderland would be more than enough for some, but the twins also have a famous dad, too. Not to be left in the dust by his superstar ex, Marc Anthony also has a slew of impressive abodes, including one in Casa de Campo, an exclusive area in the Dominican Republic. This particular property spans 10,000 square feet, so if the twins ever want to kick back and unwind in the sun, all they need to do is call dad and ask him if they can visit. If they feel like a change of pace and enjoying the city, they can ask their mom to take them to her swanky NYC penthouse that's worth around $24 million. Needless to say, these kids have their pick of some of the best pads in the world.
Emme Muñiz got the chance of a lifetime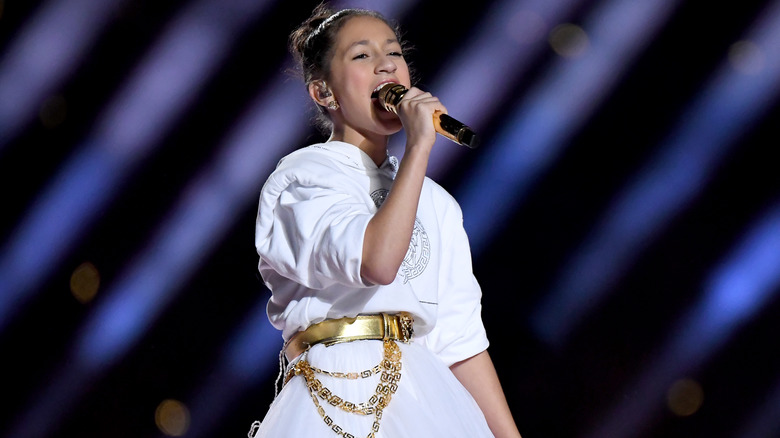 Jeff Kravitz/Getty Images
When it was announced that Jennifer Lopez would be playing the halftime show at Super Bowl LIV, fans were delighted. It's an honor to be asked, but also a huge responsibility, with hundreds of millions of viewers catching the performance. Lopez documented the experience in her Netflix documentary, "Halftime," detailing how she was determined to pull something spectacular out of the bag while sharing the stage with her co-headliner, Shakira. Part of the performance also included Emme Muñiz, who was just 11 years old, making this moment all the more special. 
Muñiz first appeared on stage alongside a group of children, before taking to the mic solo and belting out a portion of J.Lo's hit "Let's Get Loud" before transitioning into a version of the Bruce Springsteen smash "Born in the USA." While the stakes couldn't have been higher — again, the tween performed at the Super Bowl alongside two of the biggest pop stars of a generation — the entire segment went off without a hitch. Talk about a dream come true and a moment the family is likely never to forget. 
Fans and stars alike took to social media to share their thoughts, including Kim Kardashian. "Can we talk about how amazing @Jlo's daughter Emme sang and on such a huge stage like the Super Bowl," the reality star tweeted. And yes, we sure can talk about it.
Jennifer Lopez's kids got their first cars when they were toddlers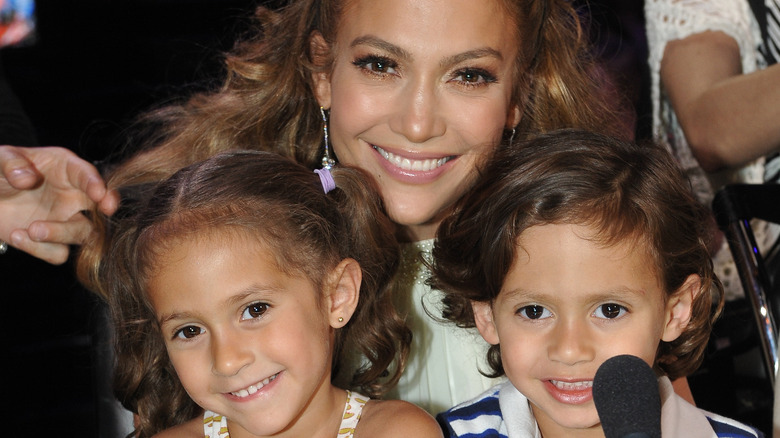 American Idol 2012/Getty Images
It's not unusual for kids of celebrities to get top-of-the-line cars when they turn 16. Most of us get stuck with a cheap rust bucket worth just a couple of hundred bucks when we pass our tests, but it's a totally different world for them. Believe it or not, Max and Emme Muñiz actually received the keys for their first rides when they were still toddlers — although, it's not exactly what you think. While they were indeed cars, they were actually just toy ones.
As the Daily Mail reported at the time, Jennifer Lopez and Marc Anthony were photographed buying the four-wheeled wonders back in 2010 during a trip to Toys R Us. Emme and Max's parents picked up a Tough Talking Jeep Wrangler and a pink Barbie Jammin' Jeep for their twins. Unlike some of the other hot cars in Hollywood, these little vehicles only cost a couple hundred dollars each and could hit a maximum speed of five miles an hour, making them perfect for pint-sized drivers. They may not have been the most expensive gifts Lopez ever bought her kids, but it's not nothing. When the two do get their licenses and it's time to drive real cars, we wouldn't be surprised if Lopez spared no expense. 
It's Dunkin' Donuts time all the time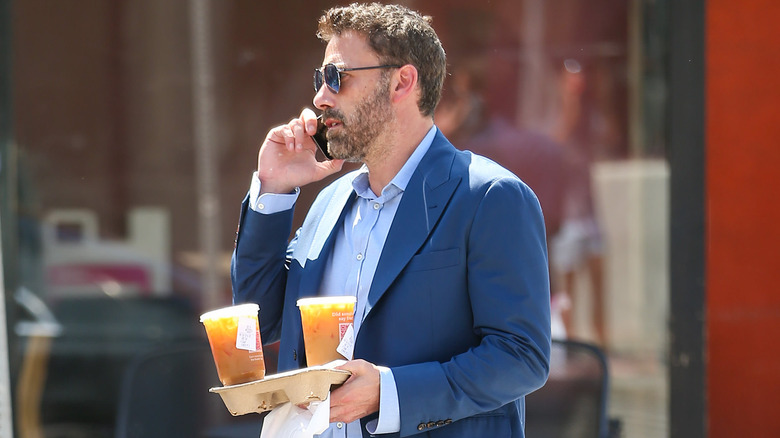 Bellocqimages/bauer-griffin/Getty Images
It's one thing to be a Dunkin' Donuts rewards cardholder. Max and Emme Muñiz call the unofficial king of Dunkin' their stepdad. Jennifer Lopez's fourth husband, Oscar winner Ben Affleck, happens to be a diehard fan of the donut chain and has been photographed carrying Dunkin coffees a number of times over the years. And it isn't a once in a blue moon treat, either. As he told Collider in 2019, "I have Dunkin Donuts everyday." When asked about Affleck's devotion to Dunkin', Lopez told Access Hollywood with a laugh, "We love Dunkin' Donuts, it's amazing. He's got me to be a lover of Dunkin' Donuts."
The lovebirds have also been photographed taking the twins to the donut establishment more than once, including in August 2022 and again in November. No, it isn't quite as fancy as Nobu, but you can't put a price on a frequent family outing that everyone can get behind. They're basically Dunkin' royalty. 
The family took this love affair with the brand one step further in 2023 when Affleck was asked to appear in a commercial for the donut chain alongside his wife, which he also directed. "I think I became kind of associated with it, and this sounded like a fun opportunity to kind of play with that association, and a chance to come back here to shoot it at home in Boston," the DC star told People. Needless to say, it's a slam dunkin' of a collaboration. 
At age 4, Emme Muñiz went to Paris Fashion Week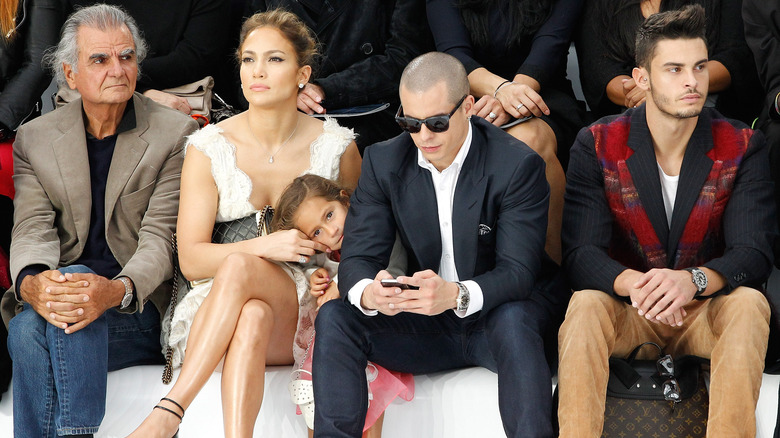 Bertrand Rindoff Petroff/Getty Images
Jennifer Lopez likes to keep her kids as involved in her life as possible, which can sometimes mean taking them to the glitziest events in town ... or rather, in Europe. When she was just four years old, Emme Muñiz got to attend the Chanel show at Paris Fashion Week alongside her mom and her then-boyfriend, Casper Smart. Lopez made sure her daughter looked every inch the fashionista, styling her with a teeny Chanel purse and a matching Chanel dress with the iconic double C logo. They didn't simply attend the show, either. They had the best seats in the house, getting to watch from the front row. As any fashionista will tell you, the front row is reserved for the biggest and most important guests — a category Lopez firmly falls into.
Even though Muñiz was still very young at the time, she managed to sit through the event without much fuss. Lopez took to Twitter to tell her followers about the excursion, writing, "Quick day hop to Paris!! Fashion week fun!" The fact that they ventured to Paris for just a single day speaks volumes about the jet-set life that Lopez and her children live. Hey, when you have access to a private jet, a short pit stop in the City of Lights is no big deal. 
They get to spend time in the best studios
Over the course of her decades-long career, Jennifer Lopez has proved that she is not a one-trick pony. She can act, she can dance, and she can sing her heart out and sell out stadiums across the world. With multiple smash hit albums under her belt, the star has spent a decent amount of her career recording — and she is not the only one who loves to spend time in the studio. In 2020, Lopez brought the twins along for the ride on what looked to be a really fun family day out.
Lopez shared snippets from the day on her Instagram Stories and wrote, "Bring your coconuts to work day." Emme Muñiz even hopped on the mic herself to belt out a tune or two, while her brother, Max Muñiz, was snapped eating lunch with mom. When most parents take their kids to work, the most exciting thing they have to look forward to is getting a treat from the vending machine (if they're lucky). When your mom is an A-list celebrity, you get to hit up all of the best recording studios. Given how busy Lopez is, we would take a wild guess and say it's not the first time the twins have tagged along to the studio ... and it probably won't be the last, either. If her daughter's Super Bowl performance was anything to go by, we might even see a duet at some point in the future.
Jennifer Lopez's twins do serious shopping
According to a survey conducted by the American Institute of Certified Public Accountants, the average allowance for a child in the United States in 2019 was around $30 a week. That may seem like a fairly decent chunk of change if you grew up in a typical household, but to Max and Emme Muñiz that's not much at all. There's no official word on what the twins get as an allowance, or if they even get one at all, but we do know one thing. They go shopping ... a lot.
Money is no object and Lopez isn't afraid to spend it on her kids. In 2014, during a trip to Paris Fashion Week, Lopez carved out time to take the twins, then age 6, on a shopping spree. As the Daily Mail reported at the time, the visited several stores in the French capital, with Lopez's daughter fawning over a toy swan in one shop window before eventually leaving with her arms wrapped around a giant stuffed bear. 
And they don't only go shopping when they're on vacation. Her twins are no stranger to the shops on Rodeo Drive, The Grove in Los Angeles, or specialty boutiques. In 2021, Lopez and husband Ben Affleck were spotted browsing stores in the Brentwood neighborhood of Los Angeles with Ben's son, Samuel Affleck, and Lopez's daughter. Fun for the whole family. 
Max and Emme Muñiz are real jet-setters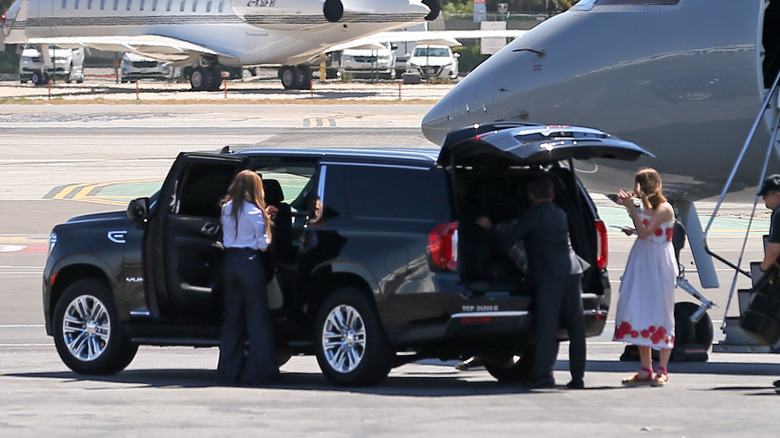 Mega/Getty Images
When you're a superstar as big as Jennifer Lopez, flying economy isn't an option. For a start, it's uncomfortable and you have too much luggage to check in, but most of the time it would be highly disruptive trying to get through security while fans hound you for your autograph. Like many other stars of the same stature, Lopez travels exclusively by private jet, which means her kids get to travel in style, too. Back in 2019, Lopez's then-fiance Alex Rodriguez shared a picture of the singer and her two children sitting on a private jet as they made their way to New York City.
It looked like a great setup, with a bed made up in the background and snacks in view. This wasn't a one-off treat as the family has been spotted boarding private planes multiple times over the years. In 2022, Lopez and Ben Affleck took to the skies in another private jet with some of their kids. It's not clear whether Lopez owns her own private jet or if she charters it, but regardless, travel likely costs her a lot of money per year. Private jet charters can cost as much as $11,000 per hour, which isn't peanuts. But hey, at least Max and Emme Muñiz don't have to deal with the hassle of baggage claim. 
Jennifer Lopez's twins eat at the best restaurants
We're sure Jennifer Lopez has had chicken nuggets from McDonald's at least once in her life, but you're more likely to hear about her dining at swanky restaurants across the globe. The songstress spends plenty of time without her kids while away on work trips, but when she can, she brings her kids along for the ride. In 2022, she was photographed dining at Malibu hotspot Nobu alongside husband Ben Affleck and the twins.
Nobu has been a popular A-list destination for many years, welcoming big names like Leonardo DiCaprio, Kylie Jenner, and Kaia Gerber, but it isn't the only restaurant the Lopez family likes to visit. Lopez and Ben Affleck took their kids for a nice Italian meal at Bar Enza in Massachusetts in April 2023. According to Page Six, they reportedly spared no expense, enjoying pasta, steak, and bottomless glasses of Diet Coke. When they're not dining out at the best restaurants in town, the teenage twins could be treated to elaborate meals at home created by Lopez's private chef, Kelvin Fernandez. One thing is for sure, Max and Emme Muñiz get to sample some of the best dishes in the world — and mom happily picks up the bill.
The twins' 13th birthday was a real treat
Emme and Max Muñiz turned 13 during the pandemic, but the circumstances meant that they couldn't have a huge party with plenty of guests like they may have had otherwise. Jennifer Lopez didn't let it ruin her kids' day though and made the most out of an unusual situation. The star took to her Instagram to share a clip of the twins getting an elaborate breakfast in bed along with their birthday cards. Talk about a chic and sweet way to kick off their first year as teenagers.
Of course, J.Lo's thrown her twins some big parties as well, including a 10th birthday gathering at Sugar Factory American Brasserie in Las Vegas that included individual birthday cakes. Photos from the event include giant sparkler birthday candles and what appears to be an enormous ice cream sundae. The service was so good that Lopez left a whopping $5,500 tip after racking up a bill in excess of $7,500 according to TMZ. A couple years before that, she took them to Disneyland to celebrate their eighth trip around the sun. 
Even so, Lopez doesn't go quite as big as some other celebs, such as the Kardashian-Jenner family. For example, in 2022, North West and some of her friends boarded a private jet and headed to Wyoming for a luxurious summer camp-themed birthday party extravaganza. 
A superstar actor for a stepdad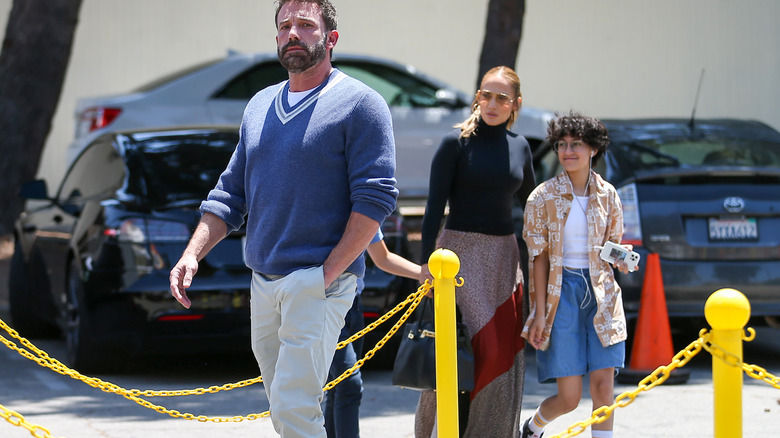 Bellocqimages/bauer-griffin/Getty Images
When Jennifer Lopez and Ben Affleck were together the first time around, they were an iconic couple the fans loved. Although the two planned to get married, the engagement was called off and they went their separate ways, going on to have children of their own with separate partners. Now they're back together and officially married, Affleck is a stepdad to Lopez's twins. Having one of the world's biggest actors as a father figure certainly has its perks, like spending days in Santa Monica spending cash in the stores and grabbing food, just like Affleck and Emme Muñiz did in 2023.
In the photos obtained by Metro, both the actor and his stepdaughter laugh and smile as they pop in and out of stores. While Max Muñiz stayed at home for this trip, the brother and sister duo are spotted out with Affleck frequently, whether it's catching dinner or going on yet another shopping spree. Sometimes, their step-siblings are in tow, making for the perfect blended family snapshot. With four kids between them, creating a new family dynamic could have been tricky for the couple, but if the photo evidence is anything to go by, the twins really enjoy having Batman as a stepdad. Who wouldn't?