Why Ryan Reynolds Doesn't Want His Kids In The Spotlight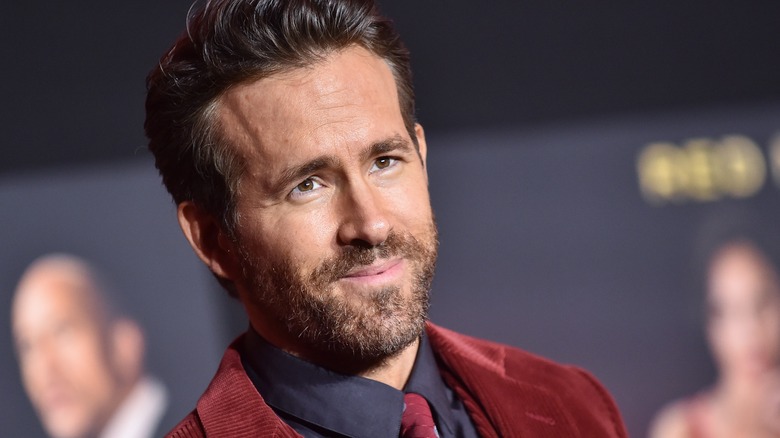 DFree/Shutterstock
Ryan Reynolds wasn't always a Marvel superhero. Before he made waves as Deadpool, the actor spent his teen years headlining a Canadian soap opera and featuring in TV movies like "My Name is Kate" and "Sabrina the Teenage Witch." By the 2000s, he was the unofficial king of romantic comedies, appearing in hits like "Just Friends," "Definitely, Maybe," and "The Proposal."
For Reynolds, it took decades to achieve the A-list status he now enjoys, a fact for which he's grateful. "I look at these young actors who come up and they have this overnight success, that's hard," he told E!' News, adding, "I've seen that brutalize people and I've seen people rise above it. So, I was fortunate that it all happened very, very slowly for me — and I feel like it's still happening very slowly." Now, he's making a fortune as an owner of and spokesperson for Mint Mobile. Plus, the "Free Guy" star has enjoyed a decade-long marriage to fellow actor Blake Lively. Despite his insanely-glamorous life, Reynolds is wary of his four children entering the industry too young.
Ryan Reynolds is making sure his kids explore other interests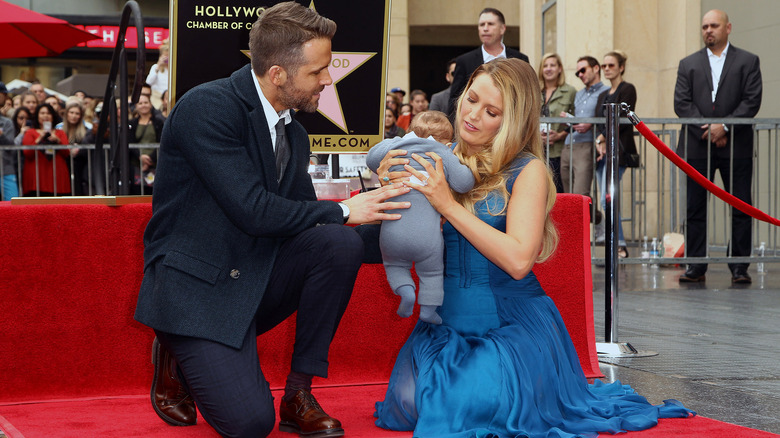 Tommaso Boddi/Getty Images
Ryan Reynolds and "Gossip Girl" star Blake Lively welcomed their fourth child in 2023. Since first becoming parents nearly a decade ago, the pair has made one thing pretty clear: Reynolds won't be asking his daughters to join him in front of the camera any time soon. "Putting a kid in a business like this, it's generally not about the kid," he explained to People, adding, "It's usually about the parents." That being said, he's open to them pursuing careers in Hollywood once they get older. In the meantime, he says, "Our job is to foster as much interest in as many different things as possible at this point." When he's not acting or promoting Mint Mobile, Reynolds likes to tweet about parenting. "Went to Disneyland because my daughter's obsessed with Mickey Mouse. She was so excited when I got home and told her," he joked in a 2017 post.
Like her husband, Lively got her start as a teenager in the industry. She achieved mainstream success with "The Sisterhood of the Traveling Pants" in 2005, and landed "Gossip Girl" not long after. These days, she's hyper-aware of what it means to be famous. As she explained to Vanity Fair, "[The media and the public] pick narratives for everyone. And narratives stick." For now, the "Green Lantern" co-stars have decided to keep their home life, including their children, out of the spotlight.
Ryan Reynolds' kids have a surprising connection to Taylor Swift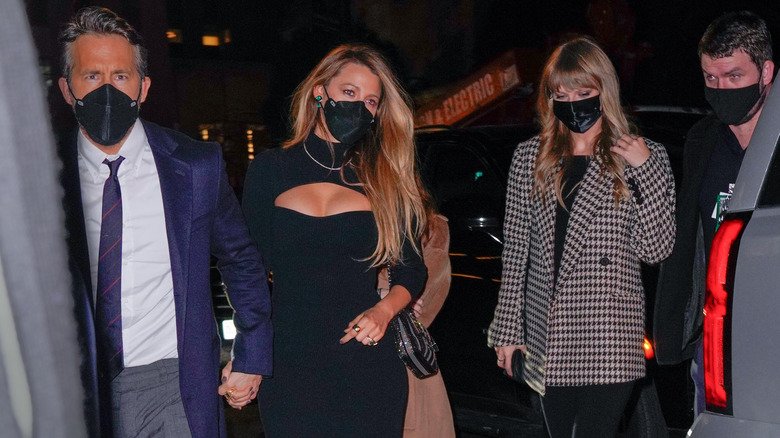 Gotham/Getty Images
Although Ryan Reynolds and Blake Lively aren't interested in putting their kids in front of a camera just yet, Taylor Swift shout-outs are a whole other story. The couple's first three children — James, Betty, and Inez — all received mentions on Swift's 2020 album, "Folklore." "The names are the names of our kids, but you know, we trust [Taylor Swift] implicitly," Reynolds told SiriusXM, continuing, "She's very sensitive to any of that stuff, and obviously the song has nothing to do with our kids other than our kids' names." According to the "Deadpool" actor, he and Lively didn't initially tell their daughters about the shout-out. "We surprised them with it." It's now been confirmed that James Reynolds, their firstborn, even had a starring role in Swift's 2017's album "Reputation," starting off the track "Gorgeous."
Now that a fourth child has entered the picture, fans speculate that Swift's newest album, "Midnights," could provide clues about the baby's name. Only time will tell whether more collaborations between the singer and the Lively-Reynolds family are in store.