Hallmark's Tamera Mowry-Housley Explains How Her Husband Got Her To Say 'Yes' To Their First Date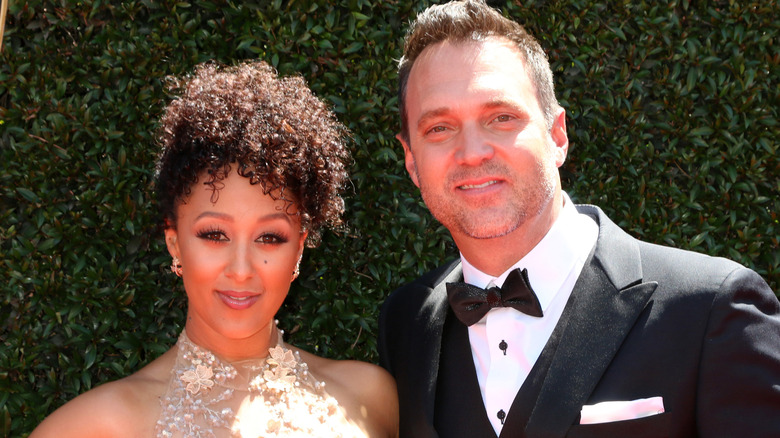 Kathy Hutchins/Shutterstock
Tamera Mowry-Housley is a beloved TV personality. Beyond her acting career, Tamera has established herself as a respected television host and presenter. And she has not only made a name for herself in the entertainment industry, but she's also been an inspiration when it comes to her relationship with her husband, Adam Housley. The couple, married for over a decade now, has stood the test of time.  
Despite controversies, Tamera admits that criticisms only made her relationship with her husband better.  Adam is her source of strength and support thanks to their incredible partnership. She told E! News, "It definitely made us stronger, because we know who we are as people. So you just turn inward and you focus on your love for each other and you focus on your circle of amazing supporters and people."
Over the years, they have demonstrated a strong bond built on trust, communication, and shared values. They met through a mutual acquaintance and quickly developed a deep connection. While they might seem like the perfect pair these days, Tamera apparently wasn't really keen on dating her now husband. The Hallmark star said that she wasn't supposed to say "yes" when Adam first asked her out.
An introductory email started a beautiful love story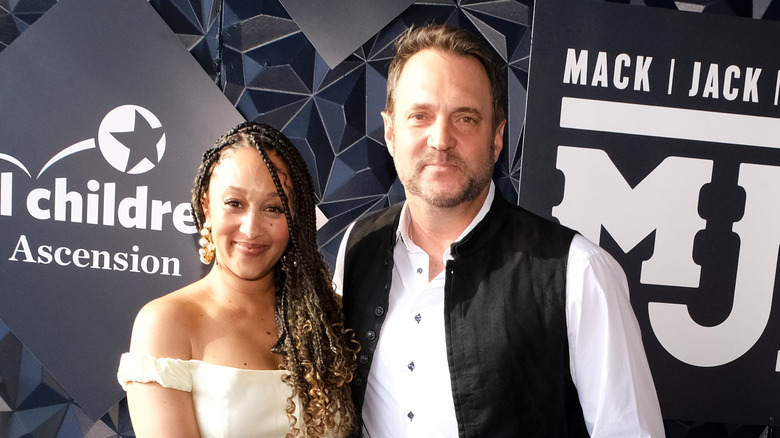 Hubert Vestil/Getty Images
Tamera Mowry-Housley's marriage started with an email. Tamera and Adam Housley were both students from Pepperdine University. Although they never attended the university at the same time, they both had classes under professor Robert Sexton. Upon visiting his alma mater, Adam also visited his favorite professor Sexton. During his visit, he saw Tamera's photo on the professor's wall of favorite students.
Adam didn't know Tamera was a celebrity, but he was indeed smitten by her charm in the picture displayed. He told Yahoo! Lifestyle, "I had no idea who the heck she was, I just thought she was pretty." The professor played matchmaker for the two, however Tamera didn't want a relationship at the time since she's pretty busy with her career. So she asked her professor to just give out her email instead of her phone number since it would be easier to turn Adam down.
Despite not wanting anything serious, Adam's email caught Tamera's attention and the next thing she knew, she was out on a date with him. Tamera explained, "I always say, 'He got me with his words.'"
The lovely couple took a break for a year before getting married
After Tamera Mowry-Housley agreed to have a date with Adam Housley, they set up their first date at P.F. Changs on New Year's Day in 2005. Although this was just their first meeting, Adam knew that he just met the woman he was going to marry. He said, "I really loved who she was and I'm like, 'This is someone I can see spending the rest of my life with.'"
Their relationship went well and was smooth sailing until they took a break in 2010, just before they got married. Tamera told Ebony in her 2012 interview, "Adam and I took a break from dating for about a year. We missed each other and something was drawing us together, but more than that, we wanted to make sure that this relationship was what God wanted for our lives."
The separation only made them want to be together more as Adam and Tamera found their way back to each other's arms and in January 2011, Adam decided to propose to the "Sister, Sister" cast member. They got married in May 2011and are still together to this day with two children.