This Former Co-Star Of Angelina Jolie That Hated Filming Intimate Scenes With Her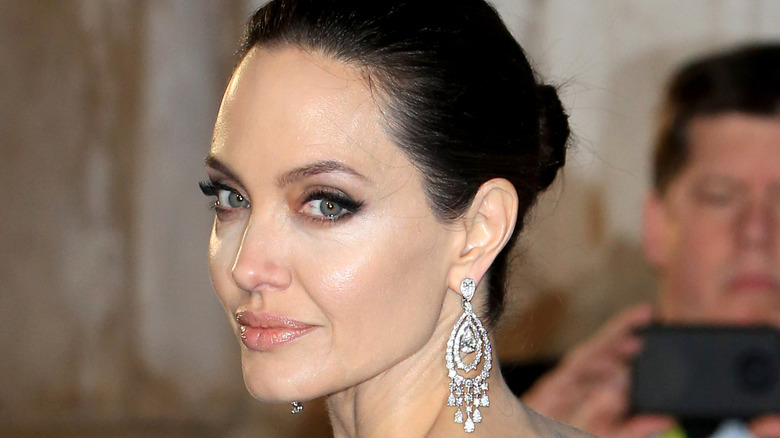 Fred Duval/Shutterstock
Angelina Jolie may be one of the most endearing women on the planet, but not everyone can handle a presence such as hers. In 2009, Jolie was dubbed the world's "Most Beautiful Woman" by Vanity Fair and has long been one of the most praised actresses in Hollywood. With such a timeless look and resume along with Jolie's powerful impact on her loyal fans, it's hard to believe that any of her male counterparts wouldn't enjoy sharing intimate scenes with her. However, that is precisely what one of her former co-stars admitted to.
Actor James McAvoy might have been praised for his performance in "Wanted" alongside Jolie, but that didn't mean he enjoyed every moment of the experience. In the thriller, McAvoy portrays the role of Wesley, a young man who finds out his deceased father was an assassin. Jolie's character, Fox, then recruits him into a secret society of assassins. This action-packed thriller offers several juicy moments between McAvoy and Jolie, so much so that it was once reported that Jolie's former husband, Brad Pitt, might've felt a bit uncomfortable — and he's not alone.
James McAvoy said the first on-set kiss was awkward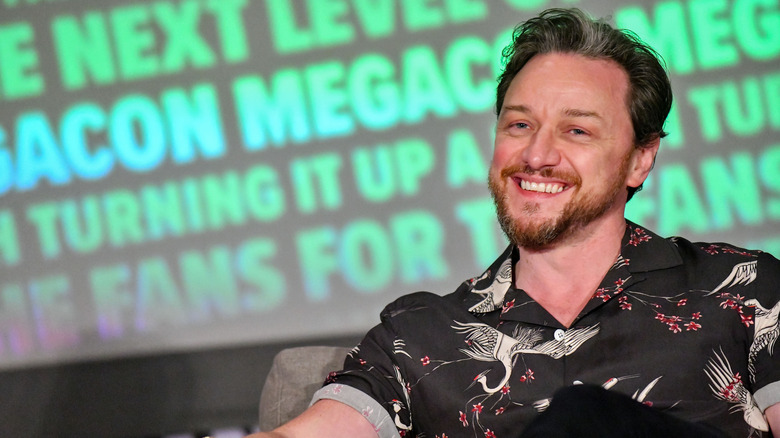 Gerardo Mora/Getty Images
Scottish star James McAvoy first met superstar Angelina Jolie in 2008 on the set of "Wanted." Ironically, it was during that very first meeting that the two had to share a kiss on camera, and the chemistry did not flow, according to McAvoy. When speaking with Parade shortly after the film debuted, McAvoy revealed the kiss was most remembered by him due to the sheer awkwardness. "It was our first day, and it was like, 'Hey, how you doing? Are you all right? Yeah?' 'Action.' 'Oh, no. Here we go.' So yeah, those things are always awkward," he shared.
This wasn't McAvoy first time kissing on screen, either. He shared with Parade that before his scene with Jolie, he'd recently done another sex scene with actress Keira Knightley for their separate movie, "Atonement." Speaking with the publication, he confessed that he was more concerned with whether or not his breath smelled not from his garlicky lunch than actually enjoying locking lips with one of the world's most beloved performers.
James McAvoy says intimate scenes with Angelina Jolie were 'sweaty and uncomfortable'
As if the kiss wasn't weird enough, "Wanted" star James McAvoy confessed that the hotter scenes with co-star Angelina Jolie were even worse. In a separate chat with The Daily Record, McAvoy said the intimate moments with Jolie were downright "sweaty and uncomfortable." Part of the reason for the extremely bizarre scenes is McAvoy's own paranoia about making his movie mate feel uneasy. He even admitted to having nightmares before sex scenes out of nervousness and the undesired stares from those on set, ensuring his female cast mates that the "daunting" task of it all does not make for stimulation during the act.
Despite McAvoy likely being scarred for the rest of his career by the strange on-camera intimacy with Jolie, he doesn't harbor any hard feelings toward her. He actually told Parade that he greatly respected the Academy Award winner and was relieved to discover that she was not at all like the rumors and stories he had read about her in the media.