Cholesterol Is Bad For Your Heart, But Great For Your Hair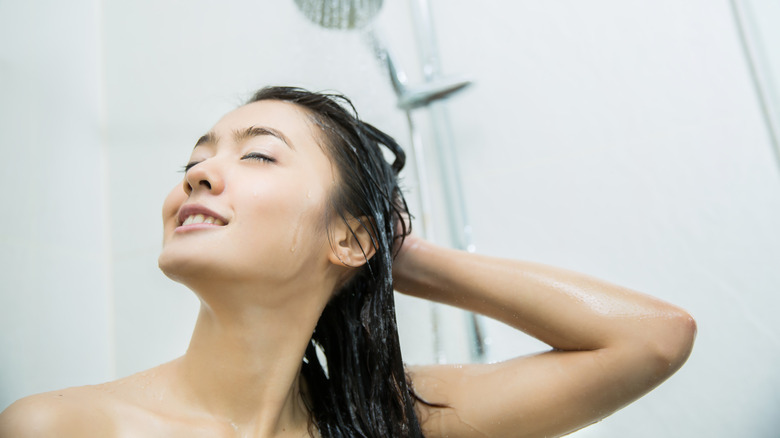 Torwai/Getty Images
While cholesterol is typically associated with grave heart health, it is much more complex than that. Yes, there are terrible foods for your cholesterol that can clog blood vessels, but there are also foods with good cholesterol that protect you from heart attacks and stroke. Your body needs that good cholesterol to build cell walls, make vitamins, and produce hormones.
Cholesterol is also vital for healthy skin and hair. The body creates all of this compound that we need, but topical application comes in handy when our hair suffers from damage caused by the environment and chemicals. If your regular shampoo, conditioner, and styling just aren't providing that healthy shine it once did, it is probably time for a hair treatment. So when you see "cholesterol" in the beauty supply store, do not run from it. This substance might be what your hair is missing to restore it to its former glory.
Cholesterol is a natural moisturizer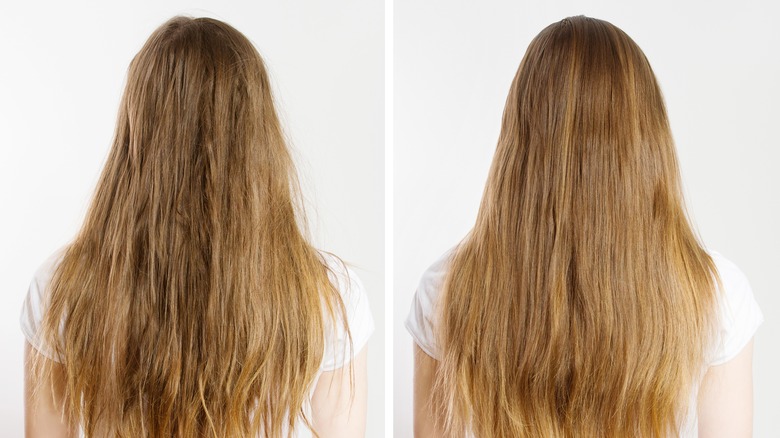 Zhur_Sa/Shutterstock
Cholesterol is a natural fat-like substance found in hair cells. Over time, the cholesterol that keeps hair strong and healthy naturally wanes. Topical cholesterol helps to restore that lost nutrients to your stands. Natural hair expert Brittney Ogike told Brydie, "A cholesterol hair treatment repairs, restores and moisturizes damaged hair." The BeautyBeez store founder and "Kinks 'n Beauty" podcast host says, "It can also strengthen and enhance hair structure." This ingredient coats hair strands in lipids locking in moisture. A cholesterol treatment can soften hair, improve curl definition, and control frizz.
Over-processed and damaged hair can reverse the stress on their locks with a cholesterol treatment. However, healthy strands can benefit too. If your mane struggles with dehydration, breakage, or frizz, cholesterol can increase the lipids and fats in your hair for a hydrated and glossy appearance. There are several ways to take advantage of this natural topical, including post-wash and homemade treatments.
How to incorporate cholesterol into your hair care routine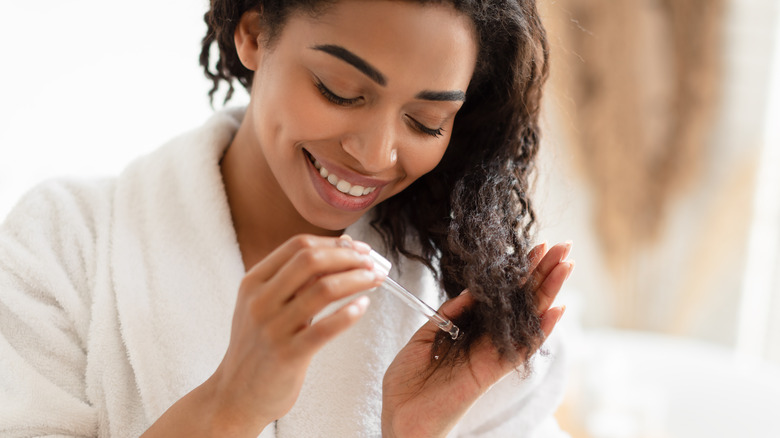 Prostock-studio/Shutterstock
When applied topically, cholesterol naturally replenishes moisture. You can find this ingredient in hair oils for a heat-activated remedy. Queen Helene's Cholesterol Hot Oil Treatment restores shine and moisture. To ready your treatment, simply place the tube in hot water for one minute. You'll want to use the oil on shampooed and towel-dried hair. Massage the cholesterol throughout your strands and scalp before covering it with a plastic shower cap or warm, damp towel. Leave it on for three minutes before rinsing. That's it.
While you can find creams and oil with cholesterol at the store, this fatty ingredient is probably already lurking in your kitchen. Mayo can help add cholesterol to your hair thanks to the egg yolks within the condiment. This kitchen item was part of Cardi B's easy DIY hair mask, so you know it's effective. The mayo will act as a pre-wash treatment. Slather the cholesterol-rich dressing on the length of your hair, cover your hair with a plastic cap, and let the treatment sit for at least 20 minutes. Afterward, rinse and follow up with your favorite shampoo and conditioner.