Jennifer Lopez's Daughter Emme Looks Just Like Her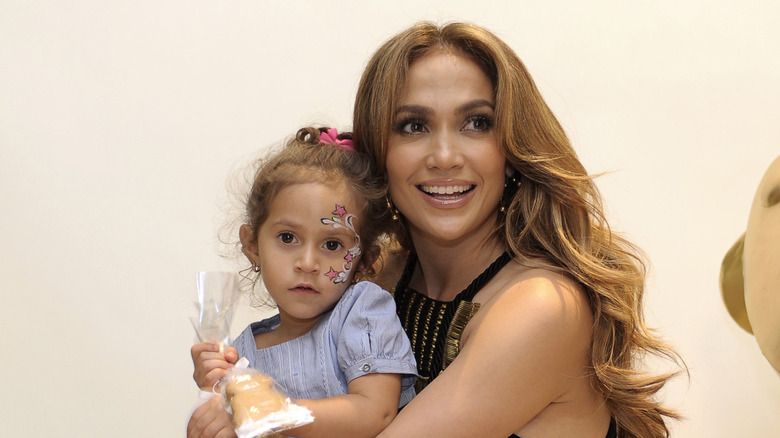 Stefanie Keenan/Getty Images
Jennifer Lopez is a global icon known for her hit films "Hustlers," "Maid in Manhattan," and "Selena." Lopez is also a pop star and of the most successful Latinas in the entertainment industry. But off stage, the "On The Floor" singer is the mother of two children, Max and Emme Muniz. Lopez shares the twins with her ex-husband and fellow singer, Marc Anthony. The pair announced their pregnancy on tour in 2007. Lopez later gave birth to the twins in February 2008. Shortly after their arrival, Lopez and Anthony gave People an exclusive story and photoshoot about their bundles of joy.
At the time, she told the publication, "I've been very career-oriented my whole life and very focused on my own world and my own life, and all of a sudden the focus just shifts. It's like, 'Whoosh!' I want to do everything for them." Lopez frequently shares photos of her children online and has openly discussed the highs and lows of motherhood. In February 2023, the twins, whom she affectionately refers to as her "coconuts," turned 15 years old. While Max strongly resembles Anthony, Emme, who goes by gender neutral pronouns, is the spitting image of Lopez.
Emme Muniz is celebrated for their sense of style
In their early childhood, Emme Muniz was often pictured wearing dresses and sporting long brown hair. As a teenager, Muniz developed a laid-back grunge-like style. Muniz has been pictured wearing graphic T-shirts, oversized sweaters, and loose jeans. They also wore a suit to Jennifer Lopez's 2022 wedding to Ben Affleck. Moreover, Muniz also changed their hair. Gone are the long locks; Muniz wears their dark curly hair short. This style makes Muniz look exactly as their mother did as a teenager. Before becoming a star, Lopez was a high school student at Preston High School in the Bronx.
Lopez's yearbook photos from 1986 and 1987 show her sporting a dark pixie cut. The resemblance between Lopez and Muniz is uncanny. Their likeness is also apparent in this 1990 video showing Lopez with short curly hair in an audition for "Living Color." In 2020, Muniz spoke about their very famous mother to Entertainment Tonight. Muniz, who was only 12 then, gushed about Lopez and said, "Well, my mom is just amazing." They added, "She's such a powerful human being. It's insane. I don't even know how to explain it. There are so many adjectives that can describe her in so many good ways."
They inherited their famous parents' talent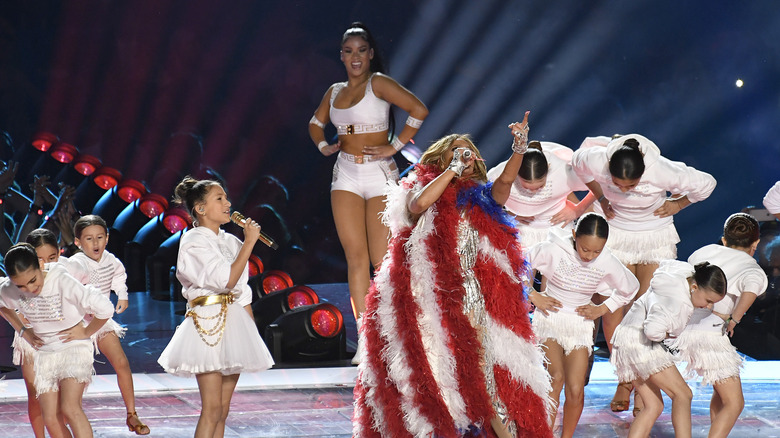 Focus On Sport/Getty Images
Emme Muniz may only be a teenager, but they are already a published author. In 2020, they released "Lord Help Me," a prayer book for children. Muniz has also performed on stage alongside their mother, Jennifer Lopez. They joined Lopez at the 2020 Super Bowl LIV Halftime Show. Muniz (pictured on the left with a microphone in hand) sang Lopez's song "Let's Get Loud" and "Born In the U.S.A." by Bruce Springsteen. In her Netflix documentary "Halftime," Lopez revealed that she chose to include Muniz over Springsteen in the performance.
 Muniz later talked about this experience to Entertainment Tonight. They said, "It was insane because ... it's hard to explain because it was like, 'Wow, I just did that.'" Muniz added, "I couldn't, like, comprehend what just happened."
Over two years later, they stole the show again at the Dodgers Foundation's Blue Diamond Gala. Muniz and Lopez sang "A Thousand Years" by Christina Perri at the event. This was also the first time Lopez publicly introduced Muniz by their they/them pronouns. Per Page Six, Lopez told the audience that she had a pricey special guest joining her on stage. She said, "They're worth every single penny because they're my favorite duet partner of all time."