Why You Won't See Brad Pitt And Tom Cruise Working Together Any Time Soon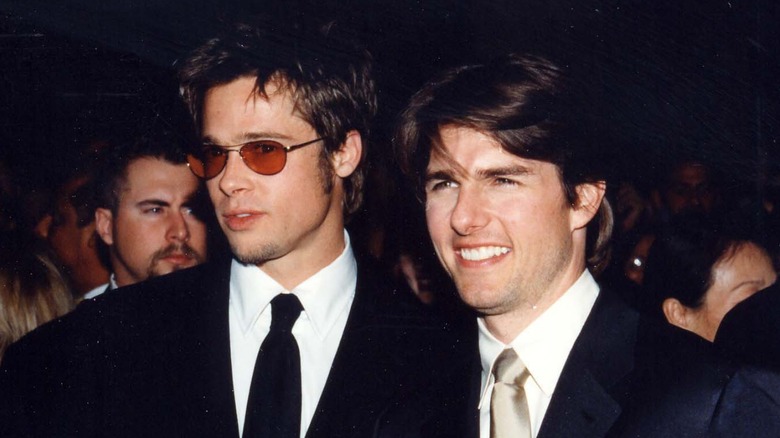 Jeff Kravitz/Getty Images
In a world where talented newcomers seem to pop up by the dozen, it's rare to see a star stand the test of time. But Tom Cruise and Brad Pitt have managed to do just that. Both actors made their big screen debuts decades ago but have managed to ride the wave and stay on top of the game to this day. Cruise's performance in the 2022 action flick, "Top Gun: Maverick," was lauded by critics while Pitt gave a memorable performance as Cliff Booth in Quentin Tarantino's "Once Upon a Time... in Hollywood" and was even credited as an executive producer on the Oscar-winning movie, "Minari." 
However, fame didn't come easy to either of them. Cruise went through a stunning transformation. Growing up, he was abused by his father. After his parents separated, their financial situation was dire and Cruise even told Playboy (via CNBC) that, to help his struggling family, "I've had paying jobs since I was about eight years old — cutting grass, raking leaves, paper routes, selling Easter cards and Christmas cards." However, the tides turned after his Hollywood debut in a minor role in 1981's "Endless Love." 
Pitt's story is remarkably similar. He, too, worked odd jobs, including acting as driver for strippers, and a chicken-costume-clad mascot for a restaurant. However, small parts on TV and in movies including the 1991 blockbuster "Thelma and Louise" set him up for success. Given all these similarities, it's odd to think the two actors aren't exactly BFFs. 
Tom Cruise and Brad Pitt have only appeared in one movie together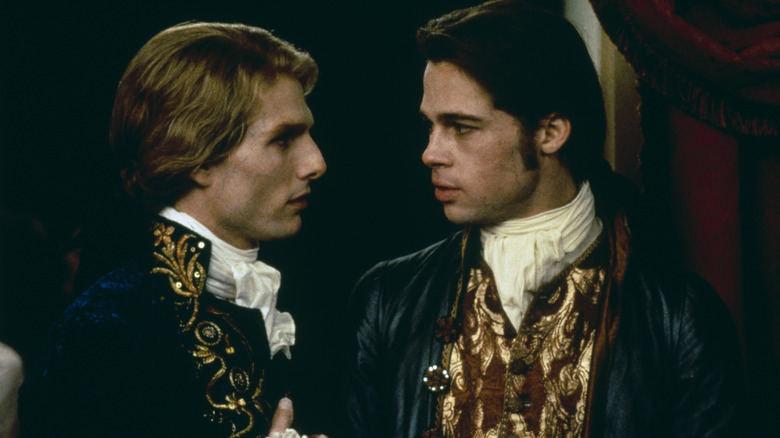 Francois Duhamel/Getty Images
Even though there's a slim chance we'll see Tom Cruise and Brad Pitt work together again, they already collaborated years ago in the 1994 gothic horror film, "Interview with the Vampire." The shoot apparently wasn't much fun. In an interview with Entertainment Weekly, Pitt shared he was "miserable" during it because large portions of his day were spent in darkness, accompanied by the dreary London winter chills. But that might not have been Pitt's only grievance with the movie. 
In a 1995 interview with Premiere magazine, he got candid about his experience working with Cruise, admitting, "You gotta understand, Tom and I are ... We walk in different directions." Pitt added, "He's North Pole. I'm South. He's coming at you with a handshake where I may bump into you, I may not, you know?" (via Simply Brad). Unsurprisingly, competition also played a part in keeping the two from forming a friendship.
"I always thought there was this underlying competition that got in the way of any real conversation," Pitt said. "It wasn't nasty by any means, not at all. But it was just there, and it bugged me a bit. But I'll tell you, he catches a lot of s**t because he's on top, but he's a good actor, and he advances in the film. He did it. I mean, you have to respect that." 
The A-list actors might still be feuding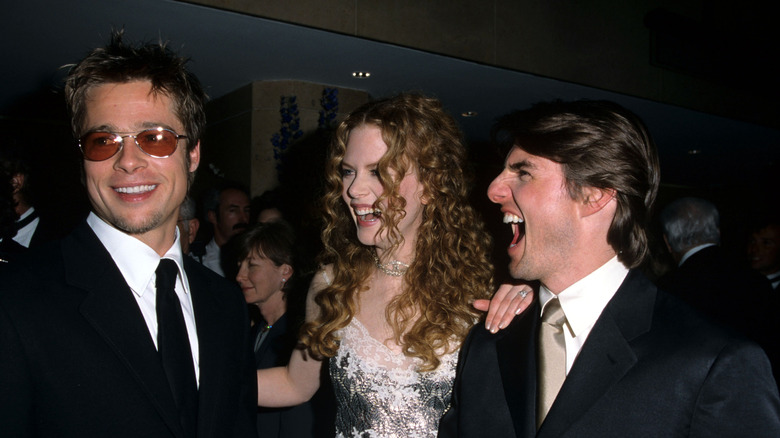 Steve.granitz/Getty Images
In 2009, Brad Pitt starred in Quentin Tarantino's World War II film, "Inglourious Basterds," while Tom Cruise played the lead in a war flick of his own, "Valkyrie," only a year prior. At the time, Pitt shared his thoughts about Cruise's movie with the German magazine Stern, describing it as "ridiculous." Later, his rep told People that the comment about "Valkyrie" was "inaccurate" because Pitt had never seen the film, per EW.
Pitt and Cruise almost graced the big screen together again nearly a decade later. The duo almost starred in the 2019 Oscar-winning sports drama, "Ford v Ferrari," but due to budgetary reasons, Pitt and Cruise ultimately couldn't get on board. Aaron Taylor-Johnson, Pitt's co-star in "Bullet Train," revealed to Variety that he has a list of "s***" actors he won't work with, and many have speculated that Cruise is on there. 
In 2023, Pitt secured the lead role in a Formula 1 film directed by Joseph Kosinski, who also helmed "Top Gun: Maverick." An insider apparently discussed Cruise's reaction to the news with New Idea: "I can imagine Tom's nose might be a bit out of joint over this." They also noted, "A lot of people don't realize this, but Brad and Tom competed for so many roles; it was actually ridiculous. Their rivalry is one of the industry's best-kept secrets."