Why Hallmark's Erin Krakow Never Gets Bored With When Calls The Heart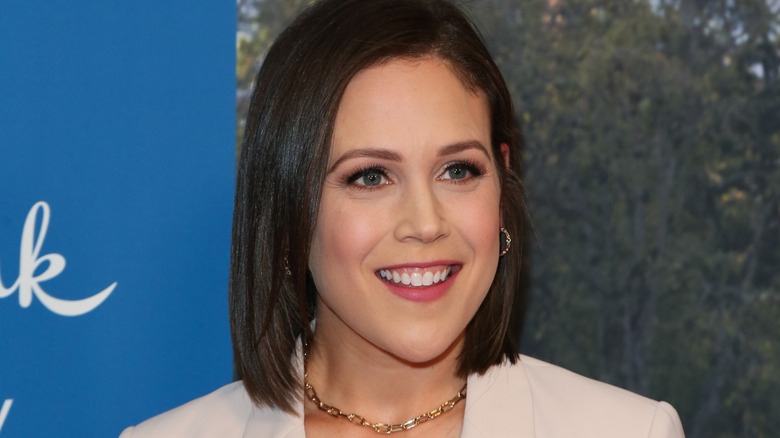 Paul Archuleta/Getty Images
One staple of the Hallmark Channel is its long-running period drama "When Calls the Heart." Set in the early 1900s, the show is based on the "Canadian West" series of books by author Janette Oke. In the TV series, Erin Krakow stars as Elizabeth, a schoolteacher from the city who moves to the mining town Coal Valley (eventually renamed Hope Valley). The show focuses on her life and the love she finds there, along with the lives of her friends and fellow townspeople.
"When Calls the Heart" has been running since 2014, and Season 10 is expected to begin in July 2023. Krakow has credited fans of "When Calls the Heart" for keeping the show on the air for such a long time, allowing her to keep on playing Elizabeth. "People have asked me over the years, do you ever get bored playing the same character on a show that has been around for this many seasons? And the answer is really no," she told TV Fanatic. "I mean, one because I just have a great time with our cast and crew. But, two, because Hallmark and our writers and showrunners over the years have given me a great gift in that Elizabeth has never become stagnant."
Krakow loves that Elizabeth's story is never 'repetitive'
In her interview with TV Fanatic, Krakow went on to say how it's hard for her to get bored when the writers keep things so fresh. "It isn't repetitive," she said of Elizabeth's character arc. "It's a real honest depiction of a woman going through these various chapters in her life. And sometimes those are grief-filled chapters; sometimes they're full of joy. But it's felt like every season, I've had an interesting new challenge or chapter to work through and that keeps me invested and challenged as an actor."
Acting is not the only skill Krakow brings to the table when working on "When Calls the Heart." She also serves as an executive producer, meaning the show takes up a lot of her time. She does get to play different roles every so often, and she relishes the opportunity, though going into a new environment where she doesn't have as much control isn't always easy. Speaking to CinemaBlend about her new Hallmark movie "The Wedding Cottage," Krakow said the project had been "refreshing and really challenging," adding: "It took a lot of surrendering, just going, 'Okay, no, I don't have any control over this. I don't have any say. I'm just going to show up, do the best I can, and then set it and forget it.'"
"When Calls the Heart" has already been renewed for Season 11 prior to the Season 10 premiere. Season 10 is gearing up to be an exciting (and romantic) one, since the previous season ended with a proposal for Elizabeth from her love interest Lucas. Whatever happens in Hope Valley, future seasons of "When Calls the Heart" are sure to have a great audience — Season 9 averaged 2.9 million viewers every week.