How The Little Mermaid Creators Knew Halle Bailey Was The Right Ariel From The Beginning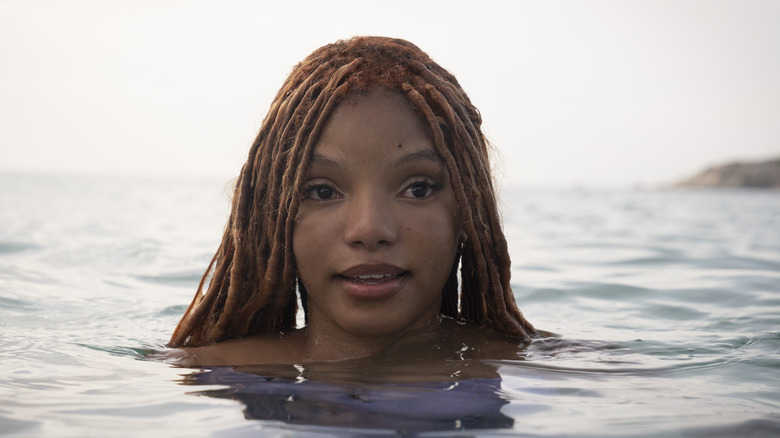 Giles Keyte/Disney
Disney's highly anticipated live-action remake of "The Little Mermaid" opens in theaters on May 26, with an all-new cast taking on the beloved roles of Ariel, Flounder, Sebastian, King Tritan, and more. You may know the film's lead from her past acting or musical work. Prior to becoming today's Ariel, Halle Bailey acted in the television series "Grown-ish" from 2018 to 2021. But she primarily rose to fame for her singing career. She and her older sister Chloe Bailey form the popular musical duo Chloe x Halle. Together, they've released two albums and been nominated for four Grammy Awards. 
Now, Halle has lent her acting and her voice to the role of Ariel in "The Little Mermaid." And her rendition of "Part of Your World" is one that her costar Melissa McCarthy said she's always moved to tears by.
With such an iconic role as Ariel, there was no shortage of talented actresses eager to take it on. Even so, the filmmakers were completely confident in their choice for the starring role. During a press conference for the film, director and producer Rob Marshall, producer John DeLuca, and world-famous composer Alan Menken opened up about the casting process and how they knew they'd found Ariel when they met Halle Bailey. Bailey herself shared her feelings after learning she'd landed the dream part.
They loved Bailey from her first audition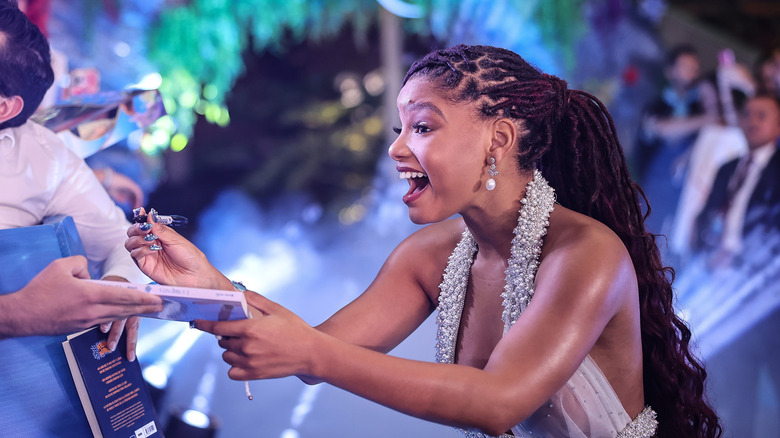 Hector Vivas/Getty Images
During the press conference, the filmmakers explained that Halle Bailey was actually the first actress they auditioned for the role of Ariel. They had her sing "Part of Your World" because they needed to make sure whoever they chose had the vocals to handle Ariel's most cherished song. Producer John DeLuca recalled that first performance, saying that he looked over to director Rob Marshall and saw he'd been moved to tears. 
Marshall described his emotions at that moment, saying, "She shut her eyes and started to sing the song. ... I couldn't believe what I was hearing. ... I thought, 'Oh my gosh, we've been doing this for five minutes. Have we found Ariel?' And we had." They didn't stop the search for Ariel then, though. Bailey came in for several more auditions, and Marshall said they also saw hundreds of other actresses. But they never encountered anyone who connected to and made the role their own the way Bailey did.
Alan Menken was the original composer for Disney's animated "The Little Mermaid" and returned to the story to create new music and recreate his classics. Speaking about Bailey's rendition of the song he composed, Menken said, "The emotion is right there on her face and in her voice. ... She's amazing [as] Ariel."
Bailey's reaction to getting cast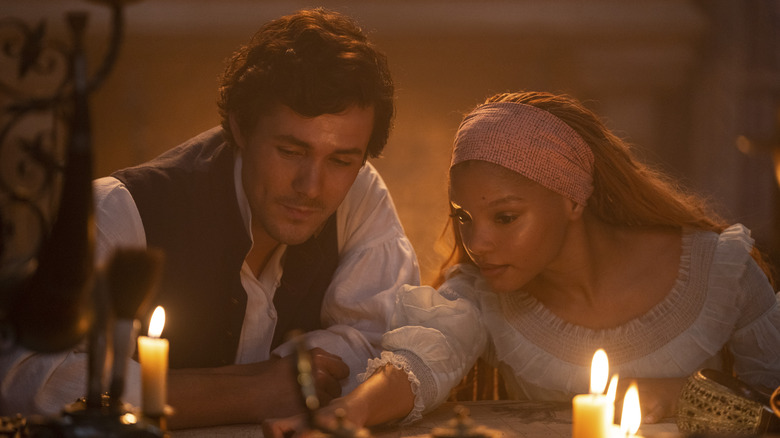 Giles Keyte/Disney
For Halle Bailey, playing Ariel was a dream come true. During the press conference, the singer and actress said she feels deeply connected to her character and that she learned a lot from Ariel's passion and drive while playing her. It's been several years now since Bailey first took on the role when she was only 18, but she distinctly recalled how emotional she was when she found out she was going to play the little mermaid.
Talking about that momentous day, Bailey said she and her family were busy getting back from a trip and unpacking. She saw a call coming in from an unknown number but didn't answer, assuming it would be nothing important. It wasn't until her little brother told her to answer that she picked up the call from the film's director. "Rob [Marshall] was like, 'Hello. I'm looking for Ariel,'" she said. After realizing she had the part, Bailey said, "My first reaction was just sobbing." She admitted she was crying tears of joy for the rest of the day.
"The Little Mermaid" opens exclusively in theaters on May 26.