Gwyneth Paltrow Once Rejected Leonardo DiCaprio's Romantic Advances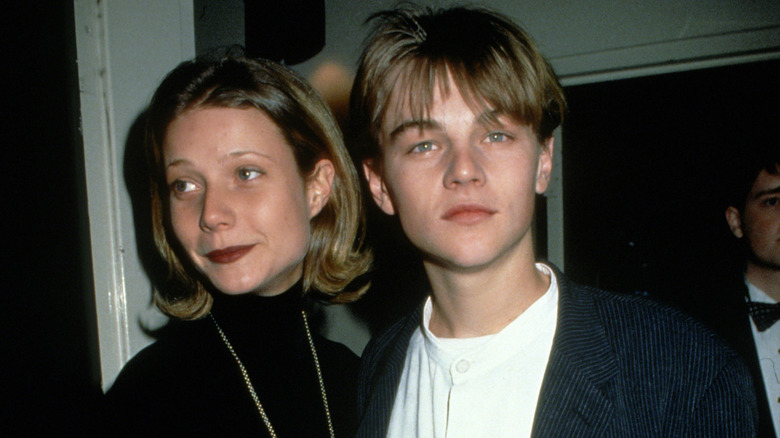 Images Press/Getty Images
From her work in films like "Shakespeare in Love" and "The Royal Tenenbaums" to launching the lifestyle brand Goop in 2008, Gwyneth Paltrow is a multifaceted A-lister. Born in 1972 to parents Blythe Danner and Bruce Paltrow, who themselves were prominent figures in the film industry, the "Iron Man" star started acting at a young age. Her big break came in the form of 1992's "Cruel Doubt," in which she played her real-life mother's on-screen daughter. 
"This was my first job, and I wanted to make my mark," Paltrow told The New York Times in a 1994 interview, adding, "I was 19 and living in L.A. and highly adolescent. I just felt: 'Oh, no. Now everyone's going to think I got the job because of you,' which was silly." In the decades since, Paltrow has won an Oscar, featured on a "Glee" cast album, and had several high-profile relationships. 
However, as the actor was quick to point out on an episode of the "Call Her Daddy" podcast, Leonardo DiCaprio is definitely not one of her famous exes for one major reason. 
Leonardo DiCaprio didn't win Gwyneth Paltrow over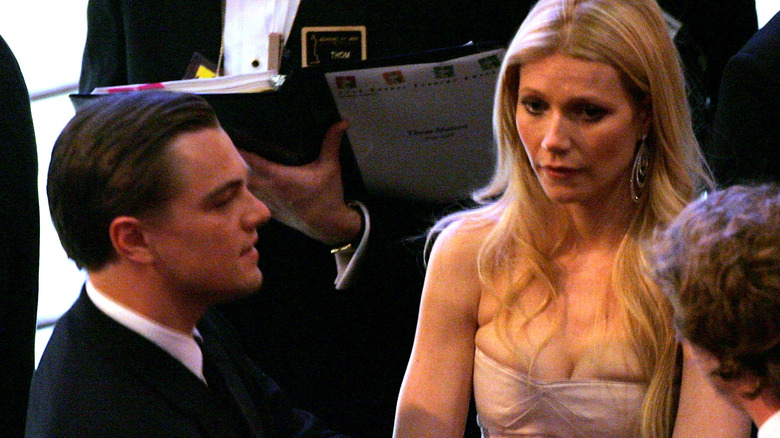 Kevin Winter/Getty Images
Gwyneth Paltrow and Leonardo DiCaprio both came up at the same time in the industry — DiCaprio was achieving widespread recognition for films like "Romeo + Juliet" and "Titanic," while Paltrow was being praised for her work in "Se7en" and "Emma," among many others. On an episode of the widely-popular "Call Her Daddy" podcast, Paltrow revealed she and DiCaprio never hit it off romantically — not for lack of effort on his part. 
"He tried back in the day," Paltrow told host Alex Cooper. "But he was already like, you know, he was very loose with the goods from when he was 19." At the time, DiCaprio was known for his romantic dalliances with models like Naomi Campbell, Kristen Zang, and Helena Christensen. Paltrow had no trouble finding love elsewhere. She dated Brad Pitt from 1994 to 1997 (the couple even got engaged) and Ben Affleck from 1997 to 2000. 
The actor was subsequently married to Coldplay singer Chris Martin from 2003 until their 2014 separation. Since 2018, she's found happiness again with "Glee" co-creator Brad Falchuk. They even stuck together through the pandemic, Paltrow's recent legal troubles, and all the public backlash surrounding her problematic brand, Goop. She also has two children from her marriage to Martin, the elder of which even reacted to Paltrow's "Call Her Daddy" interview in a viral TikTok.
Leonardo DiCaprio is known for his age-gap romances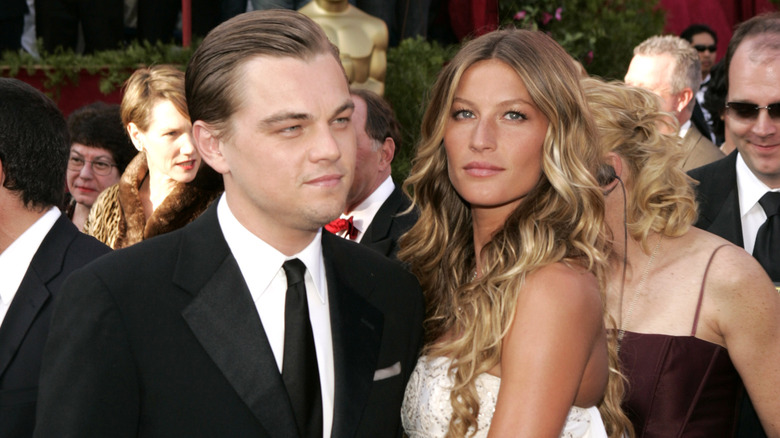 Christopher Polk/Getty Images
Since crushing on Gwyneth Paltrow, Leonardo DiCaprio's love interests, from Blake Lively to Camilla Morrone, have remained relatively young. In fact, not many of them have exceeded the age of 25, a fact famously charted in a viral infographic. The actor's clear preference has become awards show fodder, too. "Leo DiCaprio attended the premiere [of "Once Upon a Time... in Hollywood"] and by the end, his date was too old for him," quipped host Ricky Gervais during the 2020 Golden Globes (via YouTube). 
Elsewhere, comedian ​​Rohita Kadambi tweeted, "Leonardo DiCaprio's girlfriend is so young her high school experience was interrupted by COVID-19," referring to one of his more recent rumored flings. Despite public scrutiny, DiCaprio's career shows no signs of slowing down. He's set to appear in Martin Scorsese's "Killers of the Flower Moon," and is lined up to headline "Roosevelt," also directed by Scorsese, too. 
Meanwhile, Paltrow's life is similarly unaffected by the controversy surrounding her dubious wellness brand. Praised for her entrepreneurial status, she appeared on "Shark Tank" as a guest shark in early 2023. According to Cosmopolitan, Goop is now worth a staggering $250 million. So, grab your $100 eye masks while they're still in stock.