Melania Trump Left Out Of Donald's Fiery Mother's Day Post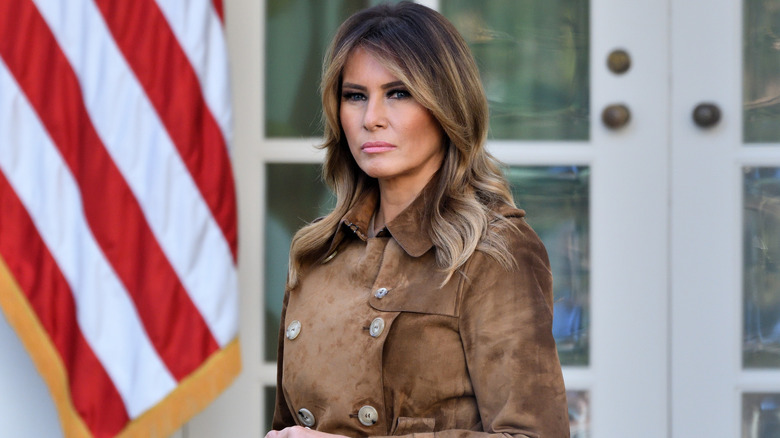 Evan El-Amin/Shutterstock
In yet another fiery online rant, Donald Trump has seemingly left his wife, Melania Trump, out of his Mother's Day message and opted instead to send out a politically-fueled message to his rivals.
In a bizarre message posted to his Truth Social platform, Trump wrote, "Happy Mother's Day to ALL, in particular the Mothers, Wives and Lovers of the Radical Left Fascists, Marxists, and Communists who are doing everything within their power to destroy and obliterate our once great Country." He then pleaded with the public, writing, "Please make these complete Lunatics and Maniacs Kinder, Gentler, Softer and, most importantly, Smarter, so that we can, quickly, MAKE AMERICA GREAT AGAIN!!!"
The former president shared no sentiment toward his wife, Melania Trump, to whom he has been married for 18 years since tying the knot in 2005. Trump has five children from three different marriages, but did not mention any of them in his Mother's Day message. His former wives include his first wife, Ivana Trump, and Marla Maples, who he married in 1993 (via Daily Mail). 
Ivanka Trump shared a sweet sentiment to her late mother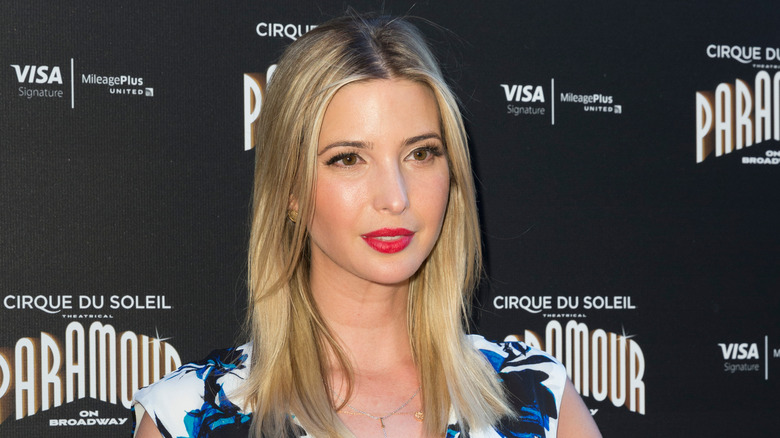 lev radin/Shutterstock
Meanwhile, Donald Trump's daughter, Ivanka Trump, shared a touching tribute on Twitter for Mother's Day to her late mother, Ivana Trump, writing, "On the first Mother's Day following my mother's passing, I hold space for the beautiful memories of my mom while cherishing the privilege of being a mother to my three amazing kids: Arabella, Joseph, and Theo. Sending so much love to all you superhuman mamas out there! Happy Mother's Day!" 
Trump's adversary, Obama, also took a different approach to the holiday and instead, shared appreciation for mothers and his wife, Michelle Obama. Obama shared a heartfelt message on his Twitter that said, "Happy Mother's Day! I hope you take a moment to appreciate all the moms and mother-figures in your life and be there for people who may be missing theirs. To [Michelle], thanks for being such an amazing mom to our beautiful girls. You set an incredible example for all of us." 
Donald Trump has used holidays to share his beliefs before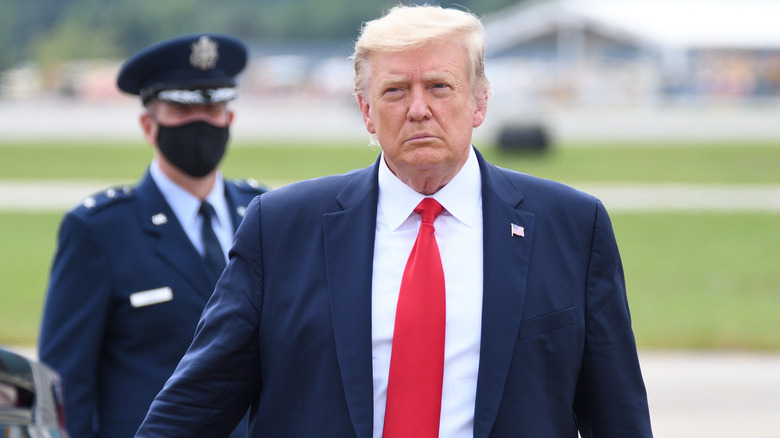 Evan El-Amin/Shutterstock
Donald Trump's aggrieved and resentful rant was far from being the first of its kind. The former president of the United States has previously used Mother's Day as an occasion to post a disparaging message. According to the New York Post, last Mother's Day. Trump shared a similar message he posted on his Truth Social platform excluding wife Melania Trump, writing, "Happy Mother's Day to all, including Racist, Vicious, Highly Partisan, Politically Motivated, and Very Unfair Radical Left Democrat Judges."
Along with Mother's Day, Trump has used other celebrated holidays to send political messages to his rivals including Christmas and Father's Day. Last month on Easter, Donald Trump posted an anger-fueled message to his Truth Social platform, wishing a "Happy Easter to all, including those that dream endlessly of destroying our country because they are incapable of dreaming about anything else" (via Daily Mail).