Everything You Need To Know About Florence Pugh's Friendship With Zendaya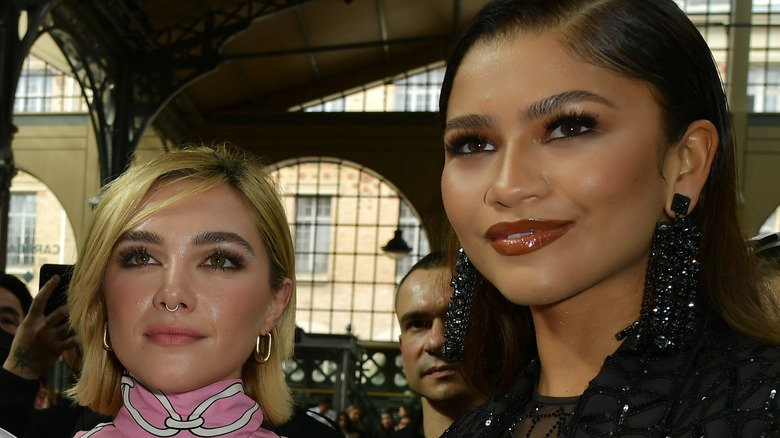 Dominique Charriau/Getty Images
Zendaya and Florence Pugh are two of Hollywood's most in-demand young stars. Zendaya, born Zendaya Maree Stoermer Coleman, got her start on the Disney Channel show, "Shake It Up." The series ran from 2010-2013, over which time Zendaya signed with Hollywood Records. From here, Zendaya underwent a stunning transformation.  She competed in Season 16 of "Dancing With the Stars," taking the second place trophy. Before being cast in 2017's "Spider-Man: Homecoming," Zendaya established herself as a style icon. Her decision to wear her hair in locs at the 2015 Oscars even lead Mattel to design a Barbie in her likeness — and this was all before she turned 20. These days, she's the star of two major film franchises and leads HBO's "Euphoria." Pretty impressive.
Meanwhile, Florence Pugh rose to fame at the tail end of the 2010s, starring in "Little Women" (which began her long-standing friendship with Greta Gerwig) and "Midsommar" back to back. Although she didn't grow up in the industry like Zendaya, Pugh's talents quickly set her apart. "For someone who is not classically trained, she has formidable instincts," "Midsommar" director Ari Aster told The New York Times, adding, "I think she can play anything." As time goes on, this sentiment only grows more apparent.
Considering their shared talents (and undeniable style), it only makes sense that Zendaya and Florence Pugh have become close friends.
The actors bonded on the set of Dune: Part Two
The A-list actresses collaborated for the first time on "Dune: Part Two." In a 2023 conversation with Vanity Fair, Florence Pugh spoke about what it was like to work with Zendaya (as well as co-stars Timothée Chalamet and Austin Butler) on this newest "Dune" installment. "I'm now lucky enough to call them all my friends, which is super exciting," she said, adding, "For me to be able to work with the "young Hollywood" of the moment, and them being beautiful people, and then have them on my phone when I want to text them — to see that that's the direction in which our industry is going is such a wonderful feeling."
Off-screen, Pugh and Zendaya have even developed quite the Instagram repertoire. In an April 2023 post, Pugh announced her collaboration with Valentino on their Rockstud collection, writing, "Truly an honour to continue creating art with my family at Valentino." Always there to support her friend, Zendaya dropped a few smiling heart-eye emojis in the comments. The "Don't Worry Darling" star was quick to respond, asking, "When am I seeing you?!" 
Way back in September 2020, before the actors teamed up on "Dune," Florence Pugh publicly praised Zendaya for her work on "Euphoria." "GO @zendaya !!!!!!So deserving, so exciting ... SO WELL DONE!" she wrote on Instagram.
Timothée Chalamet loves his Dune co-stars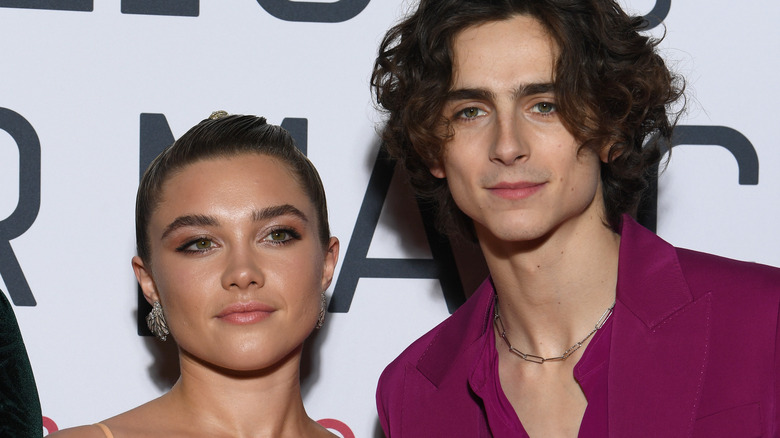 Pascal Le Segretain/Getty Images
"Dune: Part Two" marks Timothée Chalamet's second time teaming up with Florence Pugh, the first being on the set of Greta Gerwig's "Little Women." Pugh is set to play Princess Irulan, and Chalamet will reprise his role as Paul Atreides. "Florence is really special," Chalamet told Variety. "She's an incredible actor. She was incredible in 'Dune' — seriously incredible."
He's also quick to sing Zendaya's praises. Although she briefly appeared as Chani in "Dune: Part One," she'll have a much, much bigger part in the second. "She's bringing exactly what she brought to the first one — which was incredible — but in greater abundance. And she's really become a sister," said Chalamet, adding that he considers her a friend.
Given his current success, it seems the only thing Chalamet hasn't done is join Zendaya and Florence Pugh in the MCU. Although the actresses have both taken on memorable roles — Michelle "MJ" Jones in "Spider-Man" and Yelena Belova in "Black Widow," respectively — their characters have yet to cross paths. Who knows, maybe the new friends will get the chance to work together again in the multiverse.