What Coconut Oil Can Do For Your Curls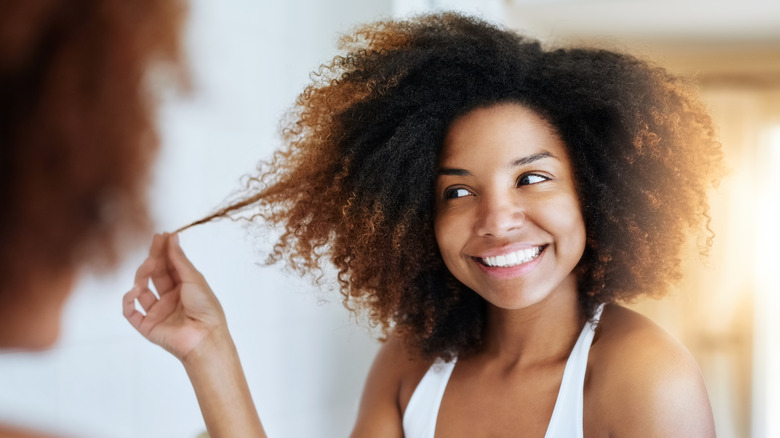 Peopleimages/Getty Images
Those with curly hair know the energy and effort wash day requires. The process to getting healthy, shiny, and defined curls can be a long one filled with various products promising results. Figuring out what works best for your hair can be a time consuming and costly endeavor, and yet, it's an essential one if hair care is a priority. Coconut oil could be a new, game-changing addition to your routine.
You've probably heard a long list of oils that people use for their hair, each with its own purpose and instructions on how to apply it. Coconut oil stands out for a variety of reasons, but one of the biggest is that coconut oil can do a lot for your hair. It's a great moisturizer, it helps to ensure your hair is frizz-free, it protects your scalp from bacteria, and more. Figuring out what type of coconut oil and when to apply it is important for reaping the best results, and using it can have your hair looking and feeling healthy and gorgeous.
Coconut oil benefits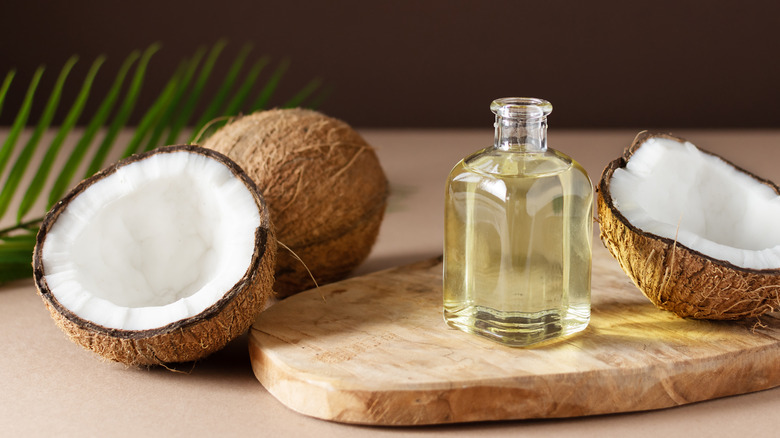 Inna Dodor/Shutterstock
Coconut oil is popular for its ability to moisturize hair. Lauric acid, a naturally occurring fatty acid, enables hair to absorb the coconut oil at the root instead of just remaining on the surface like some other oils do. This creates lasting moisture and can even help heal protein loss. People with dry hair can especially benefit from coconut oil. Additionally, coconut oil is great for preventing frizz and detangling curls. Those with kinky, coily, and curly hair understand the potentially time-consuming struggle of detangling their hair, but coconut oil can help make the process faster and, quite literally, much smoother.
When you use coconut oil regularly, you improve your hair's overall health, including your scalp. Its high saturated fat content enables it to soothe irritation in the scalp. Coconut oil coats, serving as a natural barrier to protect your hair and scalp from bacteria. As for the hair itself, coconut oil can add shine and soften it.
Not all coconut oils are the same. You have organic and nonorganic, and refined and unrefined selections. When choosing one, always go for the organic and unrefined option. While the refining process clears out impurities, it also removes many of the nutrients that could otherwise be absorbed. The unrefined version is safe and full of nutrients that will help your hair.
Application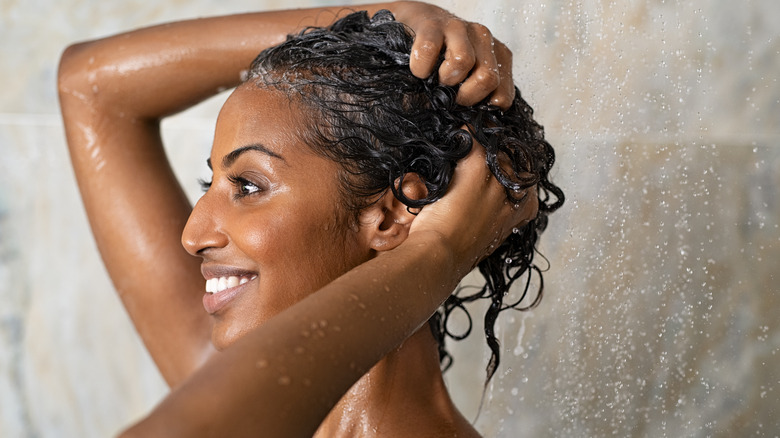 There are different ways to apply coconut oil that depend on how you want to use it. If you're looking to moisturize your hair with it, integrating it as a pre-shampoo step is an effective option. One way to get the most benefits is to do so overnight. Massage melted coconut oil into your scalp before applying it in sections to the rest of your hair. Wrap your hair up using a towel or bonnet. The next day, you can add shampoo and wash it out before continuing with your normal hair routine. This method prevents the shampoo from stripping the hair of moisture and instead locks it in.
You can also use coconut oil to enhance your curls' shine. This method is simple: add coconut oil to your daily moisturizer or leave-in-conditioner, then apply it to your hair. Using coconut oil as a detangler is just as easy: add some water to your hair then apply the coconut oil. You can use either your fingers or a wide-toothed comb to detangle the curls from ends to roots.
To prevent frizz, you can add coconut oil to your tresses as the very last step in your routine. So after the moisturizer or leave-in conditioner is applied and your curls are styled to your liking, rub a small amount of coconut oil onto your hands and add it to your curls.