Why Zendaya And Tom Holland Want To See Timothée Chalamet In A Future Spider-Man Movie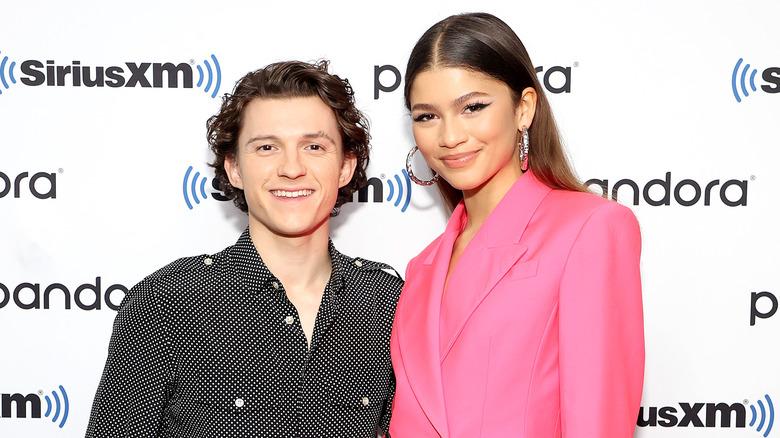 Cindy Ord/Getty Images
While Zendaya and Tom Holland first began playing love interests in the 2017 movie "Spider-Man: Homecoming," it wasn't until 2021 that the two confirmed their IRL relationship. Since then, the public has eaten up details about their life together, including their dynamics with other actors.
Specifically, much has been speculated about the relationship between Timothée Chalamet and the Hollywood couple, with some rumors alleging that Holland and Chalamet are at odds over Zendaya. These whispers began after Chalamet and Zendaya were cast as co-stars in the modern adaptation of the sci-fi epic "Dune," the first installment of which debuted in October of 2021.
Despite talk of tension between the trio, the stars have only ever had positive things to say about one another. In fact, in a press interview for "Spider-Man: No Way Home," Zendaya and Holland actually brainstormed with co-star Jacob Batalon about what "Spider-Man" role Chalamet would best embody.
The couple thinks Timothée Chalamet would be a great villain
Tom Holland, Zendaya, and Jacob Batalon discussed Timothée Chalamet as a potential addition to the "Spider-Man" cast in an interview with Associated Press. Holland stars in the Marvel franchise as Peter Parker/Spider-Man, while Zendaya plays love interest MJ and Batalon plays best friend Ned.
Zendaya began the discussion by mentioning that audiences want Chalamet to play Harry Osborn/Green Goblin, an antagonist that has appeared in the last two film renditions of the "Spider-Man" comics. "I think it'd be good to bring him in as a [friend of Spider-Man] and then he kind of becomes bad," Holland says. "Because he'd be a good villain."
"I think so, too, which is funny because he's so nice," Zendaya says in response. All three co-stars agree that the friend-to-enemy storyline would be fun for Chalamet, with Holland even theorizing that his character could potentially put the moves on MJ to spark his removal from the friend group and subsequent villain storyline.
Everyone loves Timothée Chalamet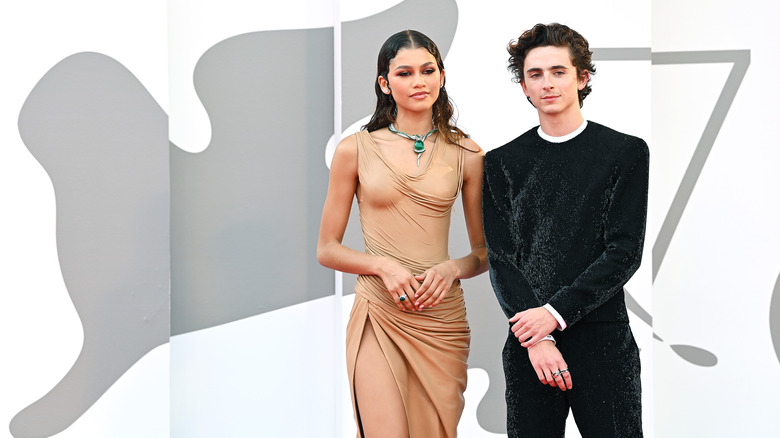 Daniele Venturelli/Getty Images
Zendaya and Chalamet have also talked about their positive relationship in past interviews, so it makes sense that the actress wouldn't mind working with him again through the Marvel franchise. "I'm just so, you know, so grateful that this experience has been with this guy because [he's] massively talented," Zendaya told People about her "Dune" co-star. "I'm so glad that you're a good person. That worked out for me, you know? So, we've been able to have fun and become great friends."
Zendaya isn't the only one who's on good terms with the "Call Me By Your Name" actor, as Tom Holland showed off his friendly relationship with Chalamet during a 2022 BBC Radio 1 appearance. In a game of "Sit Down, Stand Up" with host Greg James, in which both players have to guess if the person they're calling is going be sitting down or standing when they pick up, Holland phones Chalamet.
After the "Spider-Man" star correctly guesses that Chalamet is sitting down, the two briefly catch up, with Holland inviting him to lunch while they're both in London. Despite rumors posing the two against each other, Holland and Chalamet seem to have quite a friendly relationship, one we'd love to see transfer to the "Spider-Man" screen.