Royal Insider Sees No End In Sight For Prince William And Prince Harry's Bitter Feud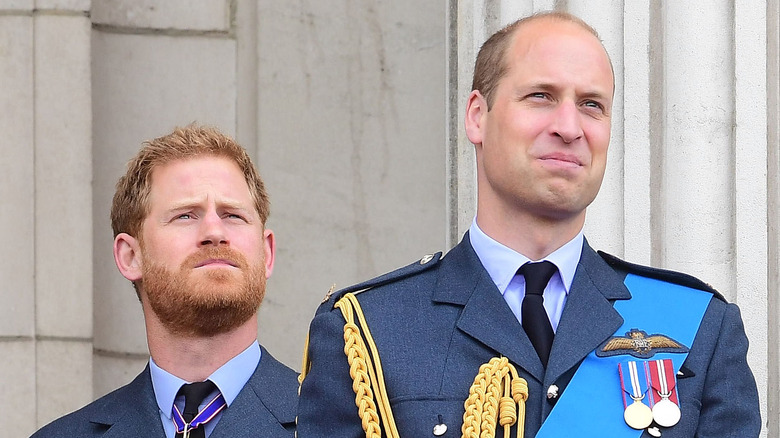 Wpa Pool/Getty Images
Prince William and Prince Harry may have been close in childhood, but the men have grown apart over the years. While the royal brothers were in high school, William reportedly told his younger sibling to stay away from him. Then, in early 2019, the men got into an argument near Harry's cottage at Kensington Palace over alleged inaccurate statements made in the media about Harry's wife Meghan Markle. In his memoir "Spare," Harry says that during the shouting match, his brother shoved him, causing him to fall into a dog bowl.
Needless to say, these two have been at odds for quite some time and Harry's marriage to Markle only seemed to solidify their feud. Then in January 2020 when Harry announced he was taking a step back from his royal family due to racism towards Markle and a lack of support from the palace, the brothers were only further pushed apart. Now an insider is reporting that the men will likely remain at odds for years to come.
Prince William and Prince Harry did not speak during King Charles' coronation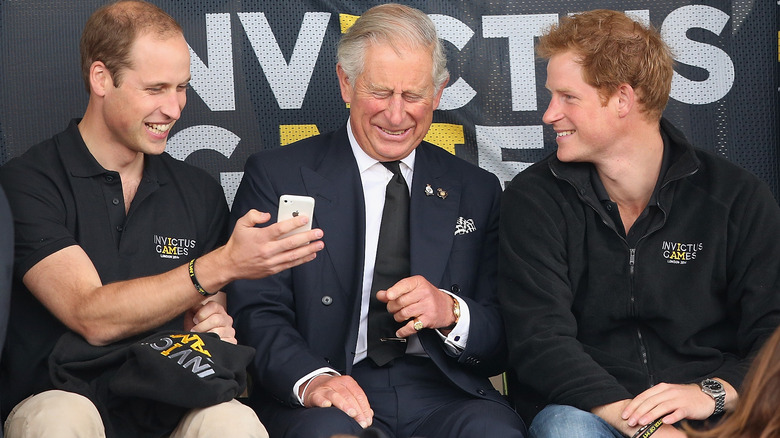 Chris Jackson/Getty Images
King Charles' coronation took place on May 6 at Westminster Abbey. He was anointed the king, while his wife Camilla was appointed as queen. The beautiful event, which attracted over 2,000 attendees, should have brought Prince William and Prince Harry together. Instead, it was widely reported that the men did not acknowledge one another on their father's big day. Harry did not stick around after the event, returning to California just hours after the coronation.
Speaking with The Daily Beast, the unidentified source, who is reportedly close to the situation, confirmed that it is William who has no desire to be close with his brother or Meghan Markle, the Duchess of Sussex. The insider shared that both William and his wife Catherine Middleton, Princess of Wales, are "extremely important members of the institution." As William's role has changed through the years, his views on the distant relatives will be taken into account regarding how the palace interacts with the couple.
Their wives have not spoken since Queen Elizabeth II's funeral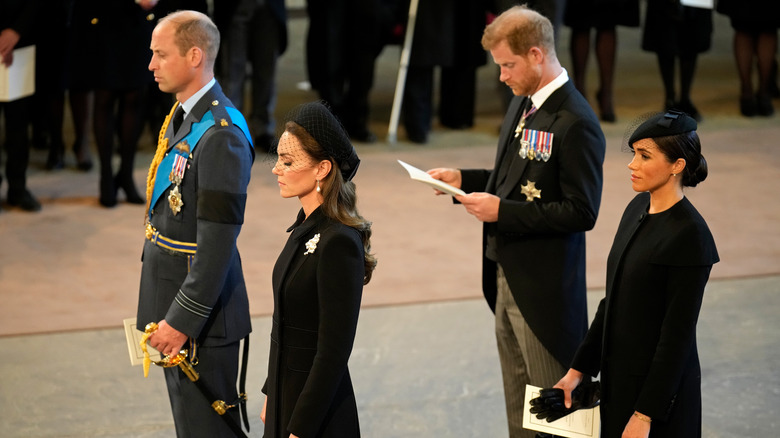 Christopher Furlong/Getty Images
With Prince William and Prince Harry at odds, it can only be expected that their wives are as well. After the death of Queen Elizabeth II on September 8, 2022, many believed that would restore the strained relationship. Unfortunately, it did not. Though the princes, Meghan Markle, and Kate Middleton were photographed together during the Queen's funeral services, very little was said. Since then, the women have not had any contact.
In the early stages of Harry and Markle's relationship, it appeared that Middleton was growing close to her sister-in-law. In February 2018, they were all smiles at the inaugural Royal Foundation Forum in London. The first sign of trouble with the ladies was in May 2018, when rumors swirled that Middleton and Markle had a falling out over Princess Charlotte's flower girl dress for the royal wedding. 
The anonymous source also pointed out to The Daily Beast that King Charles feels a bit betrayed by Harry's depiction of the family in the media. However, it appears he is no longer focused on reconciling with his son and daughter-in-law, at least not at the moment. Instead, his focus seems to be on his new role in the kingdom. "The opportunity that was there for Harry to sort this out with the king is gone for now," the source reported. Sadly, it will probably be years before Prince Harry reunites with his family.