The Touching Song Joe Jonas Wrote About Wife Sophie Turner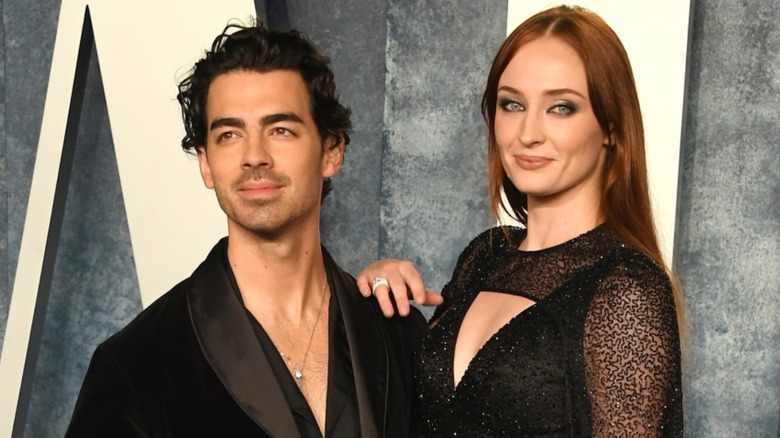 Steve Granitz/Getty
The Jonas Brothers' new album — titled "The Album" — was released on May 12, 2023. One of the songs on the album, "Little Bird," is a heartfelt tribute to Kevin, Joe, and Nick Jonas' daughters and the brothers' roles as fathers.
However, this is not the first (and will likely not be the last) Jonas Brothers song devoted to a cherished family member. In 2019, almost six years after the Jonas Brothers called it quits in October 2013, they released the album "Happiness Begins." One of the songs on that album, titled "Hesitate," was written by Joe about his relationship with then-fiancée, now-wife Sophie Turner.
Joe and Turner "met" for the first time on Instagram, when Joe sent her a message on the platform. They got engaged in 2017 and married in 2019, shortly before the release of "Happiness Begins." The song "Hesitate" is track 12 on the album and the song's lyrics reveal the deep love Joe has for Turner, and how he will be by her side through tough times.
Hesitate demonstrates Joe's support amid Sophie's struggles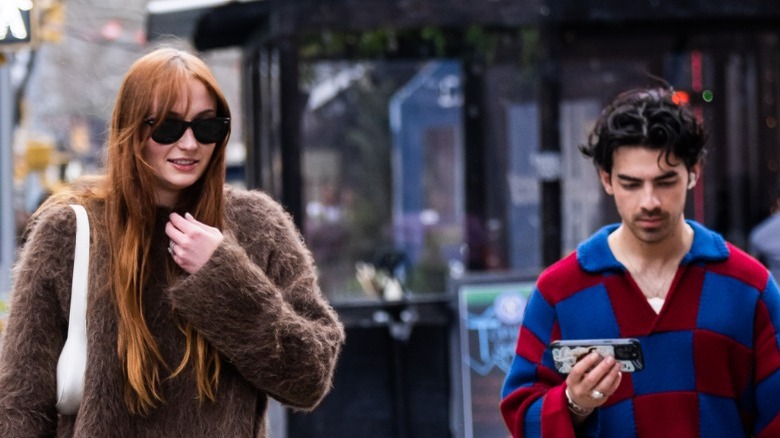 Gotham/Getty
Nick Jonas calls "Hesitate" a "love letter" from Joe Jonas to Sophie Turner (via Billboard). One of the repeating lines in the pre-chorus is, "Time, time only heals if we work through it now. And I promise we'll figure this out." In the chorus, the boys also sing: "I will take your pain and put it on my heart. I won't hesitate. [...] I won't hesitate for you." The emotional promise in the lyrics is most likely related to Turner's struggles with depression.
Turner has gone on record to share that being in the spotlight because of "Game of Thrones" caused her a lot of strife and affected her mental health and self-esteem. In addition to depression, she has also dealt with an eating disorder. Turner told The Sunday Times that around the time she and Joe met, she was in a dark place mentally, and he told her that he could not be in a relationship with her until she could show herself the love she showed him. This helped spur Sophie on her healing journey, and she even said that Joe, " kind of saved my life, in a way."
Joe and Sophie's relationship is filled with happiness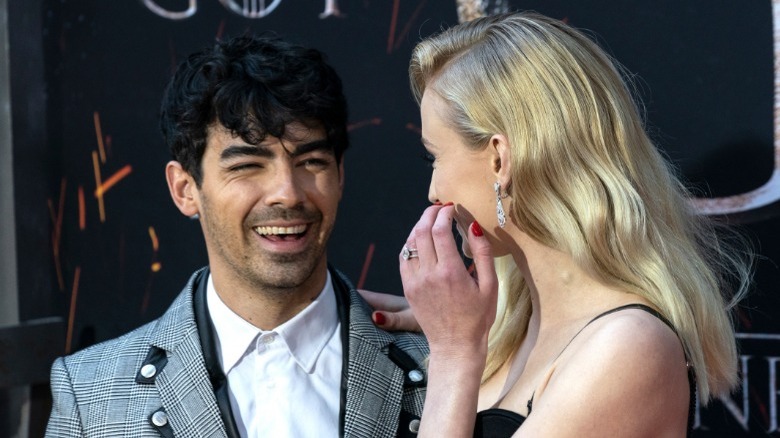 lev radin/Shutterstock
When she and her "Game of Thrones" costar Maisie Williams were interviewed by Glamour UK, Sophie Turner mentioned how being with Joe Jonas (and loving him) has increased her happiness. She said, "A lot of [my happiness now] is to do with being with a person I've fallen in love with, who loves me more than he loves himself, and who wants to see me find my own happiness."
Another line in the chorus of "Hesitate" is, "You saved me once and now I'll save you too." While Jonas has been a supportive, loving force for Turner, she has been there for him as well — and even inadvertently helped him mend things with Nick and Kevin Jonas. Turner has two older brothers, and Joe told Harper's Bazaar that watching her with them made him want to fix things with his own (literal) band of brothers.
Since their first meeting, Turner and Joe have gotten married in Vegas, gotten married again in France, and had two daughters. It's not a stretch to think that the songs "Hesitate" and "Little Bird" will be played often in their household.