Princess Eugenie And Princess Beatrice's Best Coordinated Looks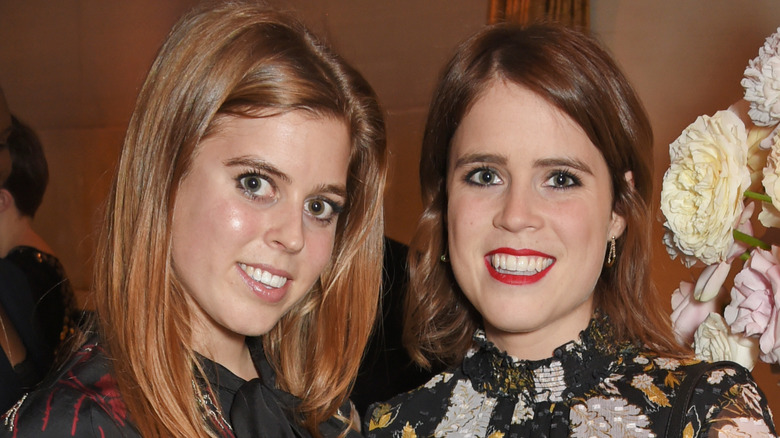 David M. Benett/Getty Images
Princess Beatrice and Princess Eugenie, the daughters of Prince Andrew and Sarah Ferguson, have gracefully emerged as style icons over the years. The British Royal family has a long history of serving looks — from Princess Diana's iconic "revenge dress" to Princess Catherine's elegant Alexander McQueen wedding gown – but in more recent years, it's the York sisters who are serving as our style inspiration. Radiating sophistication and poise, the royal women have become known for their uncanny ability to effortlessly coordinate their outfits while still maintaining their individual sense of style — that, and their love of statement-making headpieces, of course.
As children, the pair were often spotted wearing adorable identical outfits. (Their matching blue velvet gloves and hats on Christmas Day in 1996 come to mind). As they've grown up in the public eye, we've seen a significant shift in their sartorial choices from literal replicas to more subtle complementary looks. They often opt for harmonious colors, patterns, and themes, using their royal fashion choices as a show of their unity and close bond.
One well-known beauty rule is that eyebrows should be sisters, not twins. It seems Eugenie and Beatrice take the same approach when it comes to their coordinated looks.
Checkered coats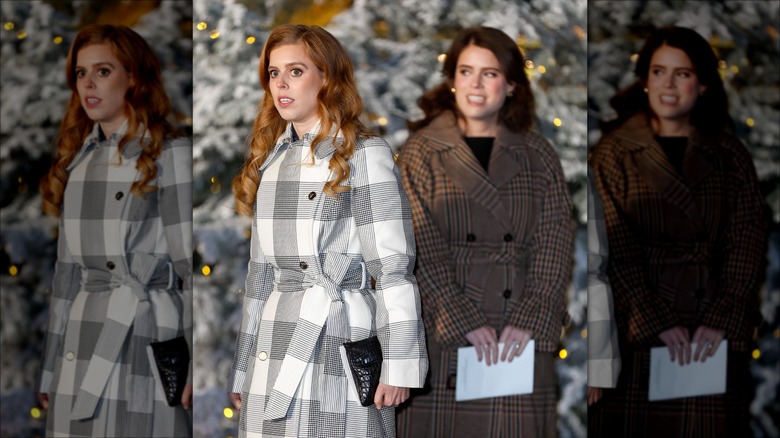 Max Mumby/indigo/Getty Images
Is there anything more quintessentially British than a checkered trench? Princesses Eugenie and Beatrice were the pinnacles of sophistication in similar checkered coats at the annual Together at Christmas carol service in 2022.
Older sister Beatrice stunned in a cream and gray plaid coat with subtle houndstooth patterning, which was belted at the waist, by British brand Temperley London. The asymmetrical arrangement of gold buttons added a unique twist to the elegant coat, showing off her keen eye for detail. She elevated the look with black suede stiletto boots and a crocodile clutch, while her auburn hair flowed in loose curls down her shoulders.
Meanwhile, Eugenie wore a camel-colored tweed coat featuring a houndstooth pattern by Weekend Max Mara. It featured double-breasted buttons, cuffed sleeves, a waist belt, and a unique frayed hem. Just like her sister, she styled the coat with black boots, a clutch, and her hair in loose curls. Both rocked the iconic British staple in their own way, while still demonstrating a show of unity through their harmonious fashion choices — same, same, but different. Excuse us while we scour the web for dupes of these timeless coats.
Shades of beige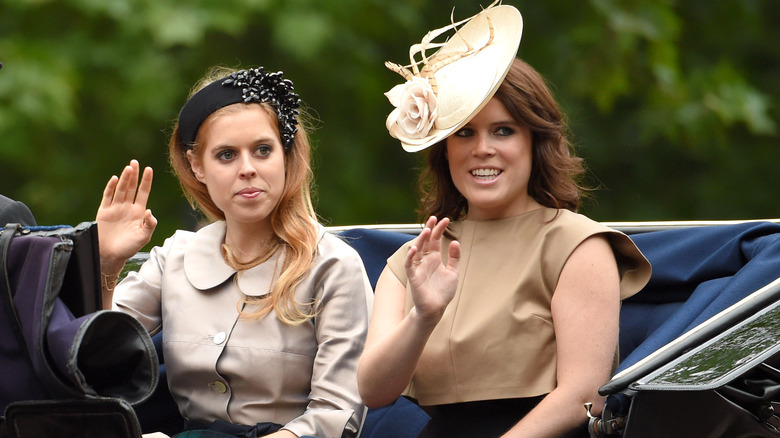 Karwai Tang/Getty Images
The Trooping of the Colour is an annual parade celebrating the official birthday of the British sovereign, but it is more widely known as a royal fashion spectacle. The star of the show? The headwear, of course.
Princesses Eugenie and Beatrice set the bar high back in 2015 when they donned classic dresses in muted colors, offset by attention-grabbing headpieces. These coordinated looks are a perfect example of how the royal sisters manage to wear outfits that complement each other without being too similar.
With understated yet elegant dresses, the sisters let their hats do all the talking. Eugenie accessorized her black and tan dress with a dramatic, cream-colored saucer hat, adorned with a rose. Beatrice wore a silk coat dress with a black belt and matching headband bejeweled with sparkly beads. Our Instagram feeds may be flooded with the Old Money aesthetic these days thanks to Sofia Richie, but the York sisters have been channeling sophisticated elegance since way back when.
Pretty in pink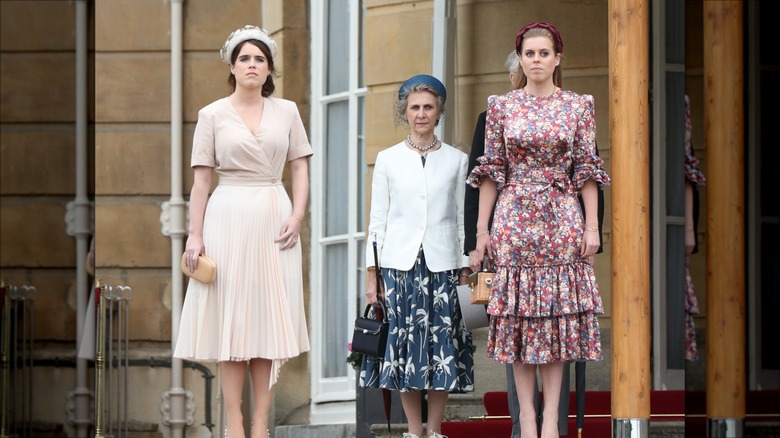 Wpa Pool/Getty Images
The royal sisters stunned in shades of pink at the Queen's 2019 closing Garden Party at Buckingham Palace, matching the monarch herself who donned an all-pink look, umbrella included.
Princess Beatrice was the picture of spring in a maroon floral dress by The Vampire's Wife, featuring a belted waist and ruffled hem and sleeves. She completed the look with a maroon headband, wicker clutch, and black pumps. Princess Eugenie, on the other hand, looked ethereal in a monochromatic pastel pink look, wearing a Sandro Paris wrap dress with a pleated skirt and cinched waist. She accessorized the look with silver heels and a white headband, very similar to her sister's, just in different hues.
Once again, the York sisters prove you don't need to be literally twinning to coordinate your looks. With mirroring silhouettes and accessories, plus complimentary color schemes, the duo showed off their personal styles while still looking great alongside each other. It's safe to say these chic coordinated looks will be on our spring Pinterest boards for years to come.
Royal blue
Chris Jackson/Getty Images
If we had to guess the sisters' favorite color, our money would be on blue. Princesses Eugenie and Beatrice are often spotted in the regal hue, and it was no different when they coordinated for a day at the races back in 2019. The Royal Ascot is perhaps the most exciting display of royal fashion, despite the strict dress code, and wearing outlandish fascinators is almost a prerequisite (not that the duo ever needs a reason to wear their signature headpieces).
Eugenie donned a Calvin Klein turquoise dress with a high neckline and pleated skirt. She added a pop of color to the look with a yellow fascinator that matched the yellow panel in her skirt and accessorized with a beige clutch. Beatrice went with a pastel blue hue, wearing a collared lace dress by the brand Maje. The dress was synched at the waist with a sash tied in a bow. Her matching wide-brimmed hat also had a pop of color with a multi-colored tassel. Like her sister, she styled her look with a nude clutch. Both sisters also wore studded coordinating studded heels.
Summer florals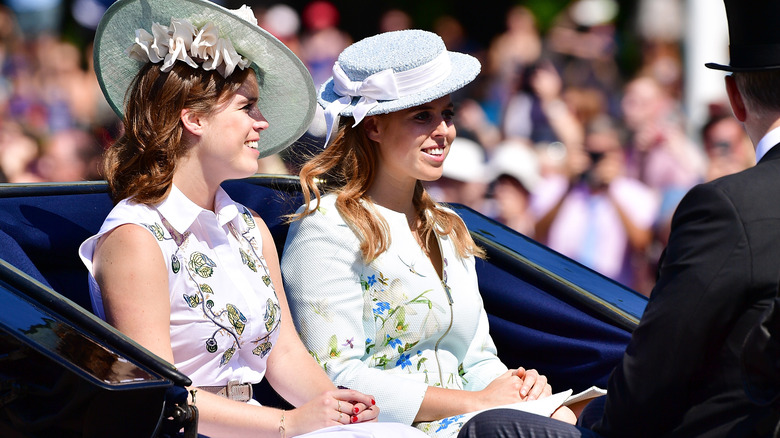 James Devaney/Getty Images
Nothing signifies the start of summer like the Trooping of the Colour parade. In 2017, the sun was shining — and so was our favorite style duo. Princesses Eugenie and Beatrice were twinning in light-colored dresses with floral motifs and statement-making hats at the annual celebration.
Eugenie brought major "I Love Lucy" vibes, rocking the classic button-down shirtwaist dress popularized in the 1950s, but with a modern edge. She belted the white cotton dress at the waist with a beige belt and chose a pale blue hat adorned with roses that perfectly complemented the floral detail on her dress. Beatrice wore a pale blue zip-front coat dress with three-quarter sleeves (it may be summer but it's still London). She chose a less extravagant hat than her sister, opting for a textured boater hat with an elegant white bow. Interestingly, Beatrice's hat matched the color of her sister's dress perfectly, and vice versa.
Moody florals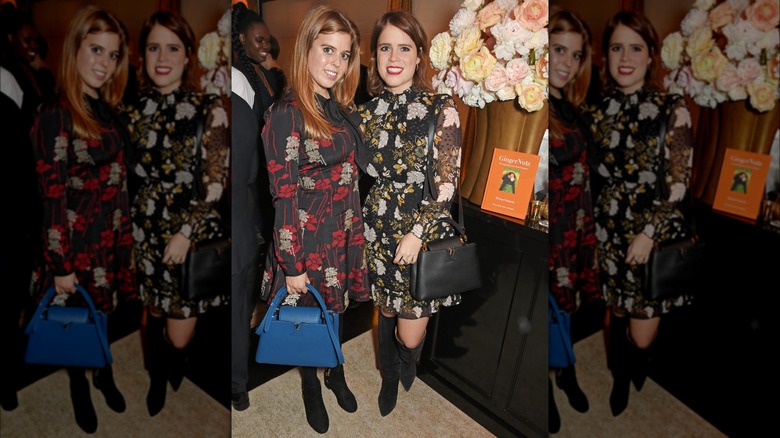 David M. Benett/Getty Images
In 2017, Princesses Eugenie and Beatrice dialed it up a notch for British Vogue's Celebration of GingerNutz event at the Louis Vuitton store in Mayfair. They both turned heads in dark, long-sleeved floral dresses with black knee-high boots — the perfect blend of classy yet edgy. Who says royal fashion can't be sultry too?
Beatrice wore a black tea dress with red and silver florals and a pussybow collar. Eugenie's tea dress featured yellow and white florals and sheer sleeves with polka dot detailing. It made sense that both sisters completed their looks with Louis Vuitton bags. Beatrice added a pop of color with bright blue, while Eugenie went with classic black.
It's not often we see the royal sisters wearing bold makeup looks, but both opted for subtle smokey eyes for this event. Eugenie added a red lip in the same shade as her sister's dress. While the room was filled with high-profile fashion icons, including supermodel Kate Moss, our vote for best-dressed goes to the royal duo.
Flower power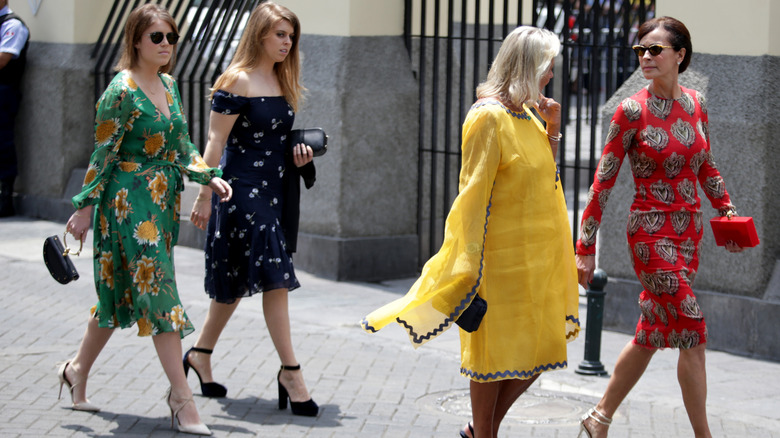 Raul Sifuentes/Getty Images
These royal sisters love florals — and florals love them. Princesses Beatrice and Eugenie stunned in coordinated knee-length floral frocks when attending the 2018 royal wedding of Alessandra de Osma and Prince Christian of Hanover in Lima, Peru.
Beatrice looked whimsical in an off-the-shoulder navy blue dress featuring tiny pale blue flowers. Eugenie opted for an Alice + Olivia green chiffon wrap dress with large yellow flowers and semi-sheer balloon sleeves. She completed the look with sunglasses, nude heels, and a black Chloé clutch, while her sister accessorized with black pumps and a black clutch.
This isn't the first time we've seen Eugenie rock this particular floral dress — she wore it for the first time in 2017 when she attended a book launch at the House of Lords. In 2019, at an event at Westminster Abbey, she donned the ensemble for a third time. It's refreshing to see Eugenie break the modern-day stigma that re-wearing an outfit is a faux pax. If royals can be outfitter repeaters, so can we.
Complimentary contrasts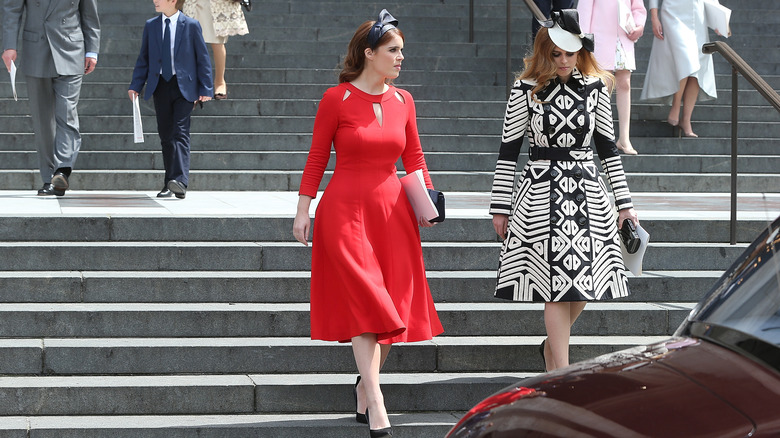 Danny Martindale/Getty Images
When Princess Eugenie and Beatrice attended a national service of thanksgiving at St Paul's Cathedral in 2016 to mark the Queen's 90th birthday, you may not have initially thought their looks were coordinated. Eugenie went with a bright red number, while Beatrice went with a black-and-white dress. Eugenie's dress is monochromatic, while Beatrice opted for a geometric pattern.
However, it's how well these colors and patterns complement each other that makes it coordinated. The busy pattern of Beatrice's dress is tempered by Eugenie's monochromatic one, while the cutouts in Beatrice's dress mirror the shapes in Eugenie's. Their contrasting color palettes of red, black, and white actually look great when viewed side by side. The sisters also donned similar silhouettes, with both dresses featuring long sleeves and cinched waists that flow into A-line skirts.
It's these subtle nods to each other's outfits that make these sisters the Queens of Coordination (if this nickname sticks, you read it here first.)
Blue hues and subtle fascinators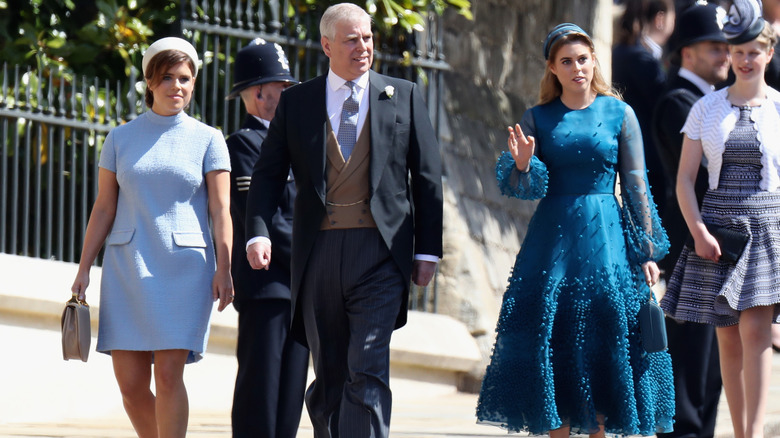 Chris Jackson/Getty Images
The sisters looked regal in different shades of blue yet again when they attended the royal wedding of Prince Harry and Meghan Markle at Windsor Castle in 2018. Princess Eugenie was the picture of elegance as she channeled her inner First Lady in a 60s-inspired baby blue dress by Gainsbourg and a pillbox hat by Fiona Graham. Jackie O, is that you? She accessorized the look with silver Valentino heels and a nude clutch. Meanwhile, Beatrice brought the wow factor in a bespoke teal dress by designer Roksanda and a matching custom headband by Stephen Jones. Featuring sheer mesh sleeves and a voluminous skirt, the entire dress was embellished with tiny beads.
While their choice of color wasn't surprising, their choice of headwear certainly was. We all remember the avant-garde Philip Treacy hats they wore to the royal wedding of Prince William and Catherine, Princess of Wales. This time around, the headpieces they chose were far more subtle and refined, showcasing how their style has evolved.
Christmas coats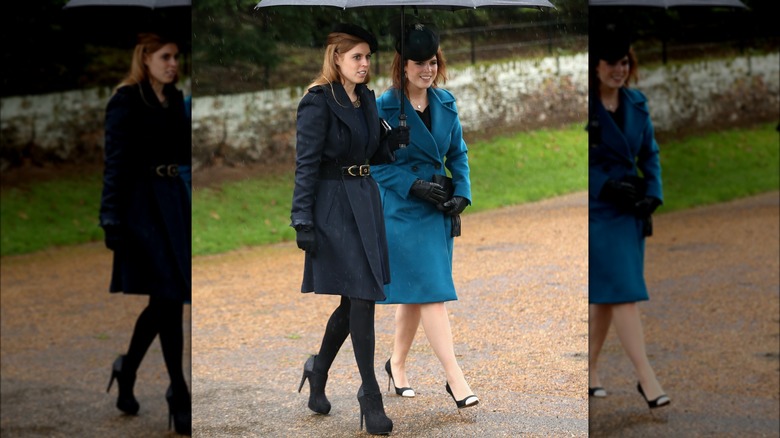 Chris Jackson/Getty Images
For most people, Christmas Day is synonymous with twinkling lights, unwrapping gifts, and the smell of gingerbread. For royal and fashion enthusiasts alike, it's all about the fabulous coats the royals wear to the Christmas Day church service. We've oohed and aahed over Princess Diana, Princess Catherine, and Meghan Markle's show-stopping coats, but no one does it quite like Princesses Eugenie and Beatrice. In 2015 they both wore sophisticated coats in — you guessed it — shades of blue.
Eugenie stood out in a topaz coat with large lapels and black buttons, matching her black tasseled clutch. Her black mesh-trimmed fascinator featured a sparkly embellishment, adding a playful touch to the refined headpiece. She accessorized the look with a dainty Van Cleef & Arpels pendant, black leather gloves, and black pump heels with cream toes. Beatrice opted for a navy coat belted at the waist with dark tights, gloves, booties, and headpiece. The gold beaded neckline of her dress peaked out from behind the coat, matching her gold belt buckle, which elevated her overall aesthetic. 
Identical silhouettes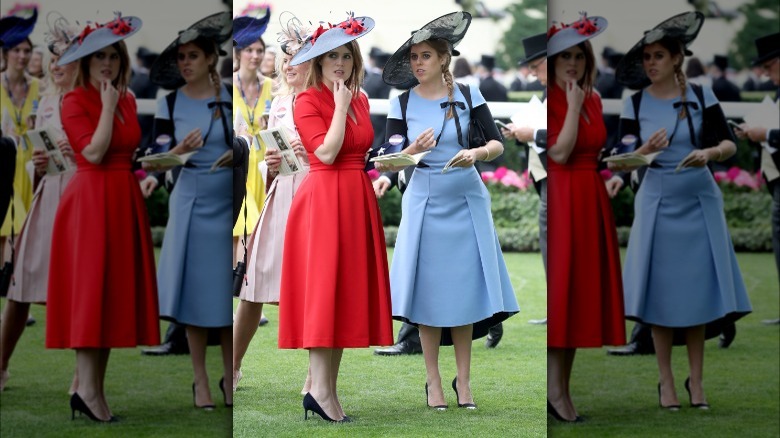 Chris Jackson/Getty Images
Day 3 of the Royal Ascot is known as Ladies' Day, in which women are encouraged to dress to the nines — and these royal ladies sure brought their A-game in 2017. As the Royal Ascot is synonymous with extravagant fascinators, it was no surprise to see that Princess Beatrice and Princess Eugenie's hats commanded attention during the event.
The royal sisters opted for identical silhouettes — long A-line dresses cinched at the waist with half-bell sleeves and large, off-set, wide-brimmed hats. Beatrice wore a black and blue block dress, while Eugenie rocked red. Beatrice's black straw hat, designed by Nerida Fraiman, was adorned with white rose applique. Meanwhile, Eugenie's blue hat featured red flowers to match her own dress. Beatrice wore a side braid fastened with black ribbon fashioned into an adorable bow, while Eugenie wore her hair down. Both sisters wore black heel pumps, with Beatrice's featuring a cream toe.
The royal sisters were the picture of poise and sophistication, and they showed us why they deserve their spot in the Fashion Hall of Fame.
Black and white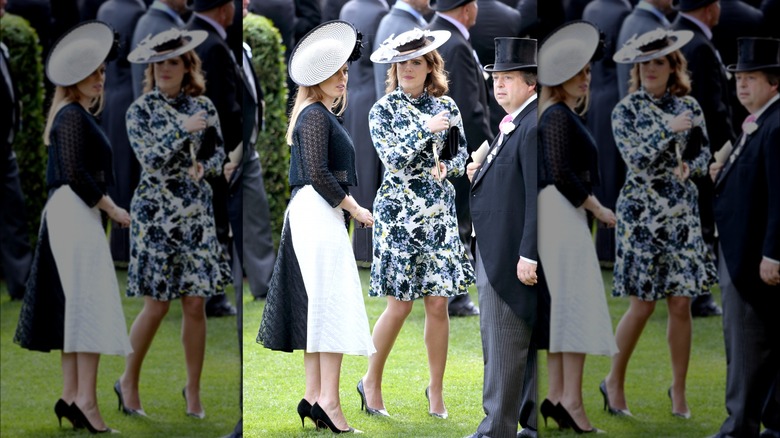 Karwai Tang/Getty Images
Another Royal Ascot, another style win for the York sisters. In 2018, the royal sisters once again opted for more subtly coordinated looks, captivating the fashion world with their uncanny ability to showcase their individual senses of style while still blending well together.
Beatrice exuded elegance in a black lace dress crafted by New York fashion designer Jonathan Simkhai paired with a matching semi-sheer lace jacket. The skirt featured white panels on either side. She topped the look off with a white woven Sally-Ann Provan saucer hat with black trim, adorned with an extravagant arrangement of black roses. She once again rocked her favorite cream-toe black heels.
Beatrice followed suit with the black and white color scheme, wearing a silk floral dress by Erdem Moralioglu with hints of blue and green. Look familiar? The designer took inspiration from a floral frock worn by Eugenie's grandmother, Queen Elizabeth, in the 1950s. The similar print, high neckline, and frilled hem paid homage to the royal lineage through fashion. We love a sweet style tribute! She accessorized with a black boater hat topped with white flowers (also by milliner Sally-Ann Provan) and black pointed-toe heels lined with studs.