Proof That Kate And Pippa Middleton Have Very Similar Style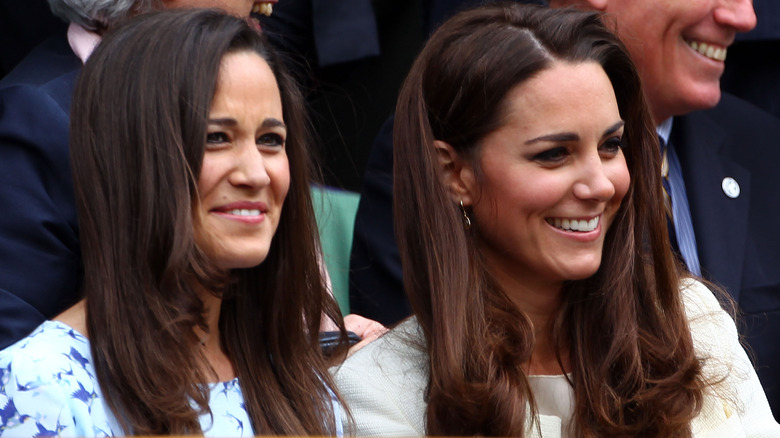 Clive Brunskill/Getty Images
Catherine, Princess of Wales, is certainly no lightweight when it comes to her style influence around the world. She can sell out an item in minutes, and her outfits routinely create global sensations. She's not alone. Her sister, Pippa Middleton, has the same knack for fashion. In fact, the sisters often seem to inspire each other.
We've seen countless occasions in which they copy each other's looks in classic sibling style. However, there are slight differences. Personal stylist Melissa Lund told Daily Express, "Kate and Pippa are both classic dressers. I'd say that Pippa's style often appears sportier while Kate's is more dramatic." This makes perfect sense since Catherine is a senior member of the royal family — she's constantly being photographed and needs to dress the part. Pippa's looks, in contrast, aren't as heavily scrutinized. Sometimes, though, they look so similar that we are forced to do a double-take.
They both love the cut of Alessandra Rich dresses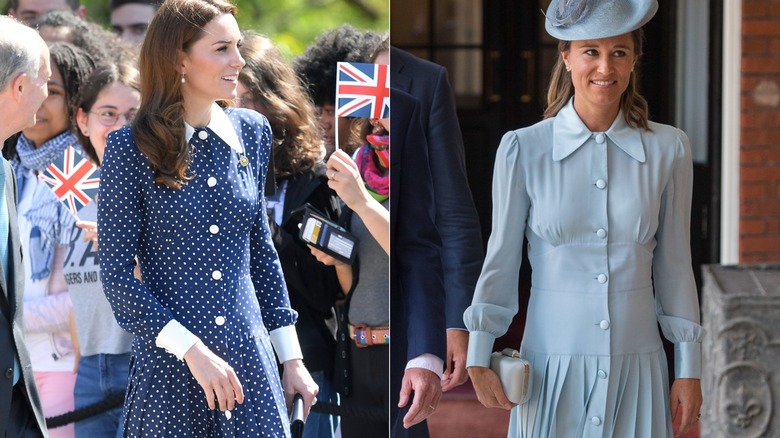 Karwai Tang & Wpa Pool/Getty
Princess Catherine seems to have found a favorite designer in Alessandra Rich. We've seen her wear dresses by this designer numerous times. What makes the looks so distinct is that Alessandra Rich dresses, at least the ones that Catherine wears, tend to feature an interesting drop waist, giving us vintage vibes.
In May 2019, while at Bletchley Park, Catherine wore a navy and polka dot dress by the designer, which featured a form-fitting drop waist, high neckline, and white wrist cuffs. Two years later, she wore a red and plaid dress by Alessandra Rich in a similar style when visiting the Victoria & Albert Museum.
Pippa Middleton, like her sister, is also a fan of Alessandra Rich. For the 2018 baptism of her nephew, Prince Louis, Pippa arrived in a pale blue Alessandra Rich dress featuring the familiar drop waist. The dress also featured a high neckline and long sleeves. The cuts of dresses chosen by both Catherine and Pippa are decidedly conservative, which makes sense considering both the events and their public personals. But what makes this so charming is that Rich herself spoke with The Telegraph and admitted that she likes to secretly spice things up in her garments. "All my pieces are like this — they cover the arms or the legs but there's always a split somewhere, or a body chain underneath," Rich explained. "It is good to be a bit naughty." 
Their makeup routines were very similar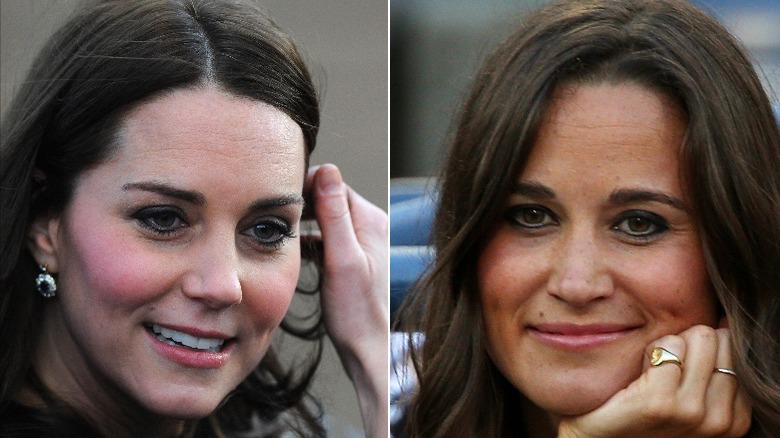 Clive Brunskill/Getty & Eamonn Mccormack/Getty Images
It's unsurprising that sisters would swap makeup tips, and the same obviously goes for Princess Catherine and Pippa Middleton. Back when Catherine was new to the spotlight, she sported heavy eyeliner on both her upper and lower lash lines.
"Kate was known for wearing heavy black eye liner which she would apply all around the inner of her lower eye lid," makeup expert Laura Kay told the Daily Mail. "This was trendy in the early noughties but when applying her own make up Kate still preferred this make up look well into her thirties." Eventually, Catherine phased this out and opted for softer eye makeup, which has been a great move.
Just like her sister, Pippa also wore dark eyeliner. Glamour dubbed their twinning eyeliner taste an "official family makeup move." Although Catherine has changed up her routine, Pippa continues to favor darker and heavier liner.
Catherine and Pippa wore matching Christmas coats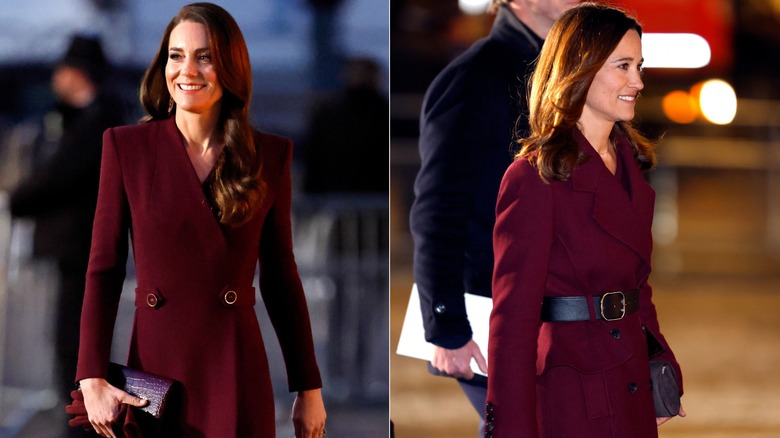 Max Mumby/indigo & Max Mumby/indigo/Getty
Both Catherine, Princess of Wales, and her sister, Pippa Middleton, appear to love burgundy coats so much that they wore them to the same event.
At the 2022 Together at Christmas carol service in Westminster Abbey, Catherine arrived wearing a midlength deep burgundy coat dress by Eponine. She went monochromatic with burgundy pumps by Gianvito Rossi, burgundy gloves, and a matching clutch. Pippa arrived at the event wearing a coat by Karen Millen that was virtually the same hue. However, Pippa's look featured a black leather belt and black buttons. She wore brown boots and accessorized with a brown clutch. Both Pippa and Catherine wore their hair in loose, long curls, looking much like twins.
Interestingly, Zara Phillips also wore a long burgundy coat to the event. Was there some text thread between the three women to coordinate? As Who What Wear reported, the event came shortly after the "Harry & Meghan" docuseries aired on Netflix, in which Meghan Markle claimed that she could never wear the same color as another member of the royal family. This was, as she explained, the reason for her neutral palette as a royal. Perhaps Catherine, Pippa, and Zara decided to nip this theory in the bud by wearing coordinating outfits to show that Meghan's statement isn't always the case.
Pippa and Catherine both have a thing for yellow lace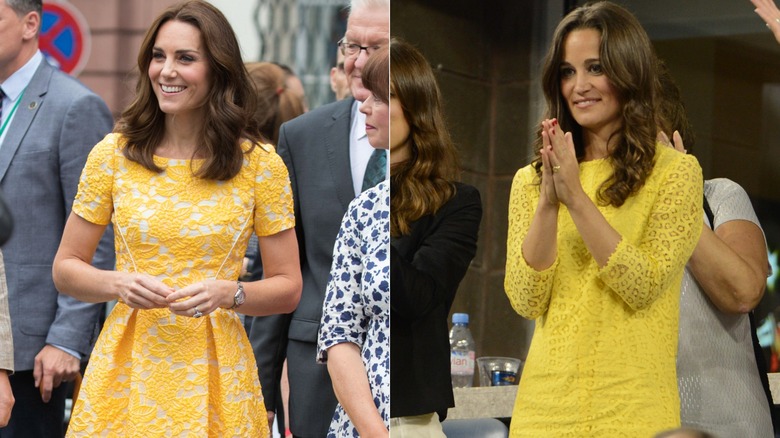 Pool/samir Hussein & Uri Schanker/Getty
In 2017, when Catherine, Princess of Wales, visited Germany, she went for a notably colorful palette. She wore a yellow lace dress by one of her favorite designers, Jenny Packham. She paired the dress with oatmeal colored wedges by Monsoon and a similar toned clutch. Catherine's look was cheerful and colorful. The general vibe was also more playful, as she sported a shorter haircut too. 
Pippa Middleton wore a very similar outfit a few years prior. In 2012, she attended the U.S. Open for her 29th birthday wearing a yellow lace shift by Phase Eight. Much like her sister did later, Pippa paired the look with nude wedges by Russell and Bromley Coco Pop.
While Catherine wore wedges by a different label with her yellow lace dress, she's also a fan of Russell and Bromley wedges.In 2020, Catherine wore wedges by the designer when gardening at The Nook.
Even Pippa dons the famous coat dress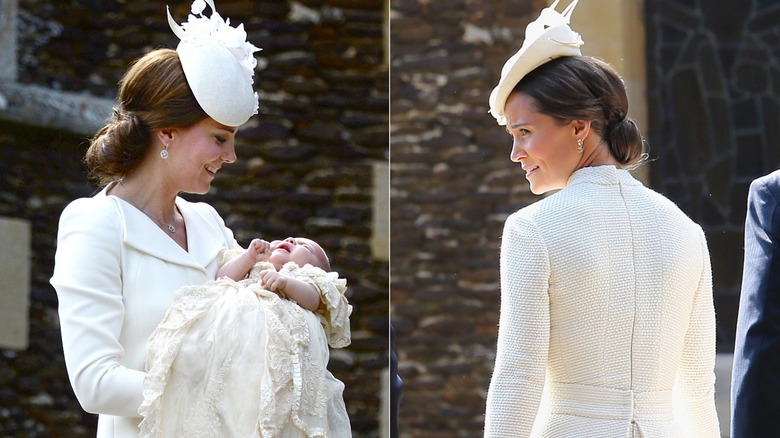 Wpa Pool & Chris Jackson/Getty
There's no doubt that Catherine, Princess of Wales, loves her coat dresses. She's worn that particular style so many times that it's almost become her official uniform. However, she wasn't the only royal to embrace the trend – Princess Diana popularized the look. The late princess worked with designer Catherine Walker, who helped her come up with the right balance of elegance and warmth, as she needed something that worked both indoors and out. Because the act of disrobing goes against royal protocol, royal women don't take their coats off in public settings.When Catherine became a working royal, she started wearing practical coat dresses made by the same designer.
While Pippa Middleton isn't a royal and can take her coat off whenever she pleases, she still opts for a coat dress every now and again. At the christening of Princess Charlotte in 2015, Pippa and Catherine looked like twins in their coordinating outfits. Pippa chose a cream dress by Emilia Wickstead and paired the look with a cream-colored fascinator. Meanwhile, Catherine wore a cream coat dress by Alexander McQueen with a matching fascinator. Both sisters wore nude pumps. Catherine ended up loving her coat dress so much that she's recycled it many times since.
Both sisters have a soft spot for bright red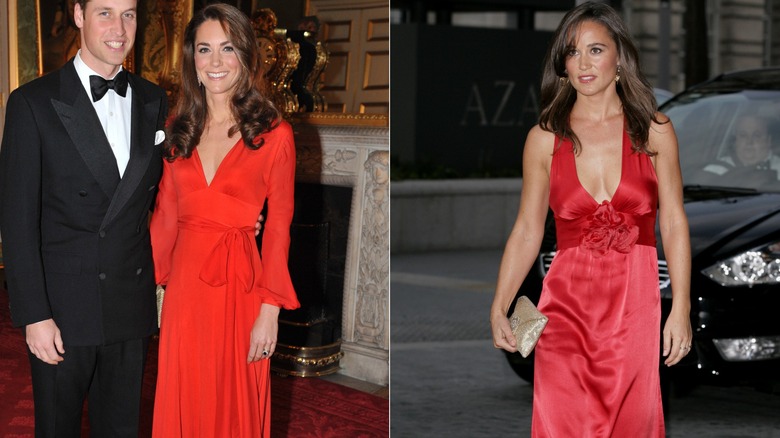 Handout & Max Mumby/indigo/Getty
Both Catherine, Princess of Wales, and Pippa Middleton have rocked red gowns. In 2011, Pippa wore a low-cut, red gown by Temperley when she attended the Boodles Boxing Ball at London's Park Plaza Hotel. She paired the gown with a gold clutch and gold heels. That same year, Catherine wore a red gown by Beulah London when she attended the 100 Women in Hedge Funds event at St James's Palace in London alongside Prince William. The gowns were decidedly different in cut — Pippa's was sleeveless with a plunging neckline while Catherine's had a higher neckline and full sleeves. It certainly goes to show the different protocols for royal women. 
The sisters have also opted for red dresses in more casual settings, too. In 2020, Catherine wore a red, floral tea dress by Beulah London, clearly a favorite designer of hers, when she and William visited several locations in London. Meanwhile, we've seen Pippa wear a red floral wrap dress by Ralph Lauren to the French Open in 2018 with her husband, James Matthews. 
Skinny jean solidarity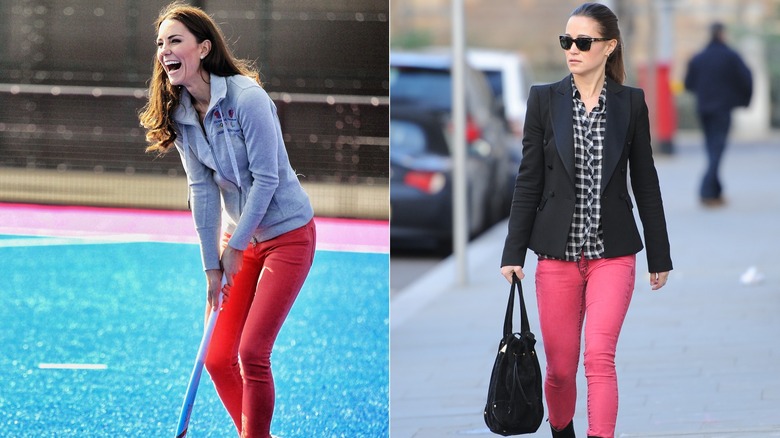 Chris Jackson/Getty & Alex Moss/Getty Images
Princess Catherine Pippa Middleton prove that for some, skinny jeans will never go out of style. That's right — no matter how many times Gen Z cancels skinny jeans, Catherine and Pippa are forging ahead.
In 2014, Pippa was photographed walking around London in black skinny jeans, proving that she knows how to rock a casual look. A few years later, Pippa was again spotted running errands in blue denim skinny jeans. While you'll typically see Catherine in skirts and dresses, skinny jeans are a major part of her off-duty look. In her 2022 family Christmas photo, Catherine rocked a pair of dark blue skinny jeans while walking with her children and Prince William. The Middleton sisters aren't retiring this look anytime soon. 
Catherine and Pippa have also rocked colorful skinny jeans — coral in particular. It was Pippa who led the way with this look. In January 2012, Pippa paired coral skinny jeans with a black blazer and boots. Catherine obviously liked the look because just two months later, she wore a pair to meet with the U.K.'s Olympic team in London to play field hockey. Catherine kept the look sporty with a grey hoodie and grey sneakers. Even with coral jeans, the "Kate effect" was evident. Express reported shortly after that the demand for colorful denim went up 88% on George.com. That's some serious sway! 
They're not shy to sport big fur hats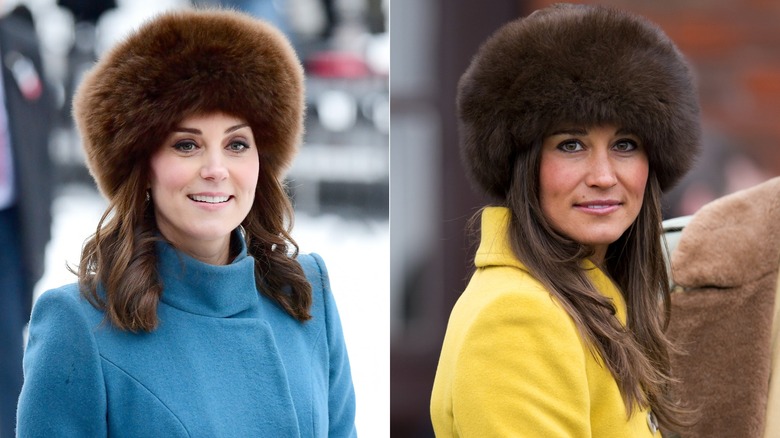 Samir Hussein & Max Mumby/indigo/Getty
The Middleton sisters love wearing big, fur hats. In fact, Princess Catherine has been rocking one for nearly two decades. In 2006, she arrived at the Cheltenham Festival, a horse race in London, wearing the number with a Katherine Hooker coat. In 2013, Pippa Middleton showed up at the Cheltenham Festival twinning with Catherine's previous look. She wore a large fur hat and a yellow coat by Katherine Hooker.  Pippa, however, hasn't rocked the look as many times as her older sister.
In 2018, Catherine wore the Lacorine hat while visiting Norway with Prince William. While fur can be a controversial choice, the fur for these hats comes from alpacas in Peru who died of natural causes instead of animals who were hunted or bred exclusively for their pelts. Catherine has worn the classic hat in black and brown several times over the years, including a service on Christmas Day in 2017 at Sandringham. 
They've both worn Self-Portrait dresses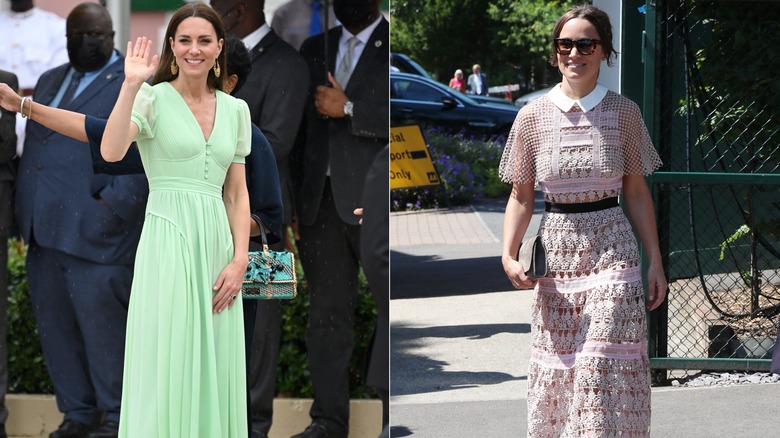 Neil Mockford/Getty & Karwai Tang/Getty Images
Catherine, Princess of Wales, and her sister, Pippa Middleton, clearly share favorite brands. We've seen the sisters find a favorite in the brand Self-Portrait, a label famous for its fresh take on feminine dresses. At Wimbledon in 2017, Pippa donned a pink lace Self-Portrait dress. The dress featured some sheer components with a white Peter Pan collar and a black ribbon at the waist as well as cape sleeves. She paired the look with grey heels and oversized sunglasses, and swept her hair back into a ponytail. Considering the nature of the event, Pippa did a great job pairing sophisticated style with sporty elements.
Catherine has also worn Self-Portrait ensembles on a few occasions. In 2016, she wore a white gown by the brand to the premiere of "A Street Cat Named Bob" in London. The dress featured architectured lace on the top and a thigh-high slit. She paired the look with a red brooch, red pumps, and a red clutch. In April 2022, while touring the Caribbean, Catherine wore a flowy mint green dress by Self-Portrait. The dress was midi-length with a bustier-like top and puffed short sleeves. She paired the look with white Jimmy Choo heels and parted her hair down the middle for a more contemporary look. 
The sisters love plaid coats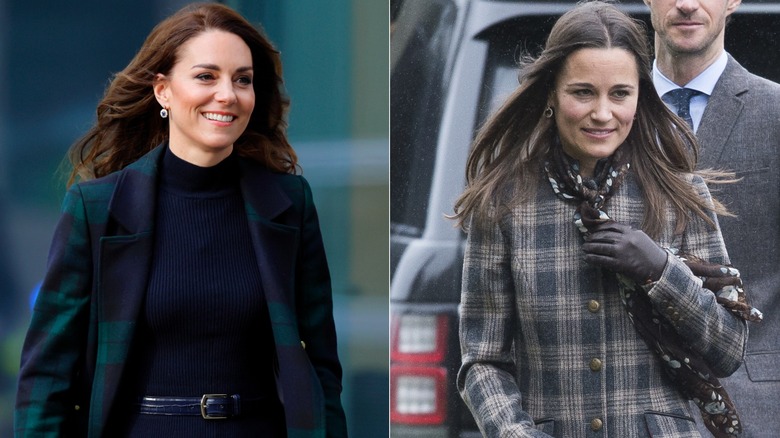 Max Mumby/indigo & Samir Hussein/Getty
Plaid coats are a go-to staple for both Catherine, Princess of Wales, and Pippa Middleton. The sisters frequently lean into plaid during the winter months. For Christmas 2016, the sisters celebrated the day with the Middleton family and attended a service in Bucklebury, which was a departure for Catherine and Prince William, who usually celebrate the holidays with the royal family. Pippa arrived in a gray and green plaid coat, pairing the look with brown tights and brown suede boots. 
In December 2022, when planting a tree at Westminster, Catherine donned a classic tartan coat by Holland Cooper. The planting was to honor the late Queen Elizabeth II, and Catherine's palette was appropriately muted and somber. She wore a green turtle neck and skirt under her plaid coat and paired the look with navy, suede boots. Catherine wore the plaid coat again in January 2023, when she paired it with a navy belted dress and matching heels. 
Espadrilles are clearly a family favorite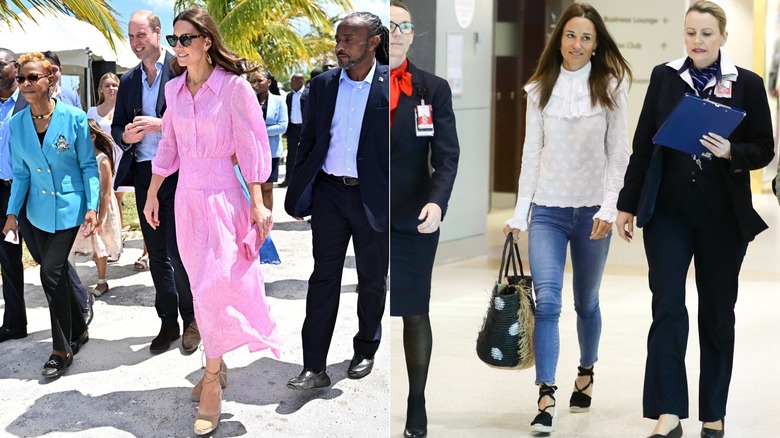 Samir Hussein/Getty & Matrix/Getty Images
Catherine, Princess of Wales, and Pippa Middleton love wearing espadrilles. Catherine has been photographed in wedged shoes so many times, particularly while she's traveling abroad, that there were rumors stating the late Queen Elizabeth II tried to ban them from her wardrobe. A source told Vanity Fair, "The Queen isn't a fan of wedged shoes. She really doesn't like them and it's well known among the women in the family."
Nevertheless, Catherine continues to wear espadrilles, favoring brands like Castaner Carina. While in the Caribbean, Catherine paired a bubblegum pink shirt dress by Rixo with nude espadrilles for a polished yet comfortable look. 
Thankfully for Pippa, her love of espadrilles has never angered the queen. In 2018, Pippa attended Wimbledon wearing a striped shirt dress by Polo Ralph Lauren and a pair of black espadrilles. She's also sported the shoe with skinny jeans — another go-to item in her and her sister's wardrobes. 
Striped shirts for the Middleton sisters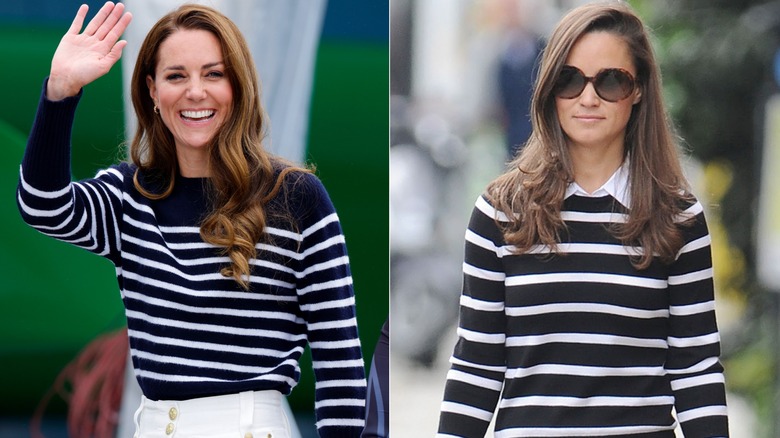 Toe/bauer-griffin & Max Mumby/indigo/Getty
The Middleton sisters know how to rock a striped top. We've seen Catherine in a navy and white striped top several times. In fact, according to the Daily Mail, Catherine owns three different versions of the classic Breton shirt. "Kate has to remain fairly neutral with her dress code — it's a Palace requirement — hence all the muted [colors]," fashion expert Simon Glazin told the outlet. "A stripe is a brilliant way of making an understated statement."
In July 2022, Catherine visited the Great Britain Sail Grand Prix in Plymouth, England, wearing a navy and white version by Erdem and paired it with high-waisted white shorts by Holland Cooper and white sneakers by Superga. She kept jewelry to a minimum, wearing simple, gold hoops. In February 2023, she wore stripes again when she visiting St. John's Primary School in East London, proving that the look works well for royal duty as well.
Pippa has also sported the striped sweater look, wearing a black and white version of the famous Breton style while shopping in London. She paired the top with a white collared shirt underneath and black skinny jeans, looking every bit like her older sister.
Even their maternity style is similar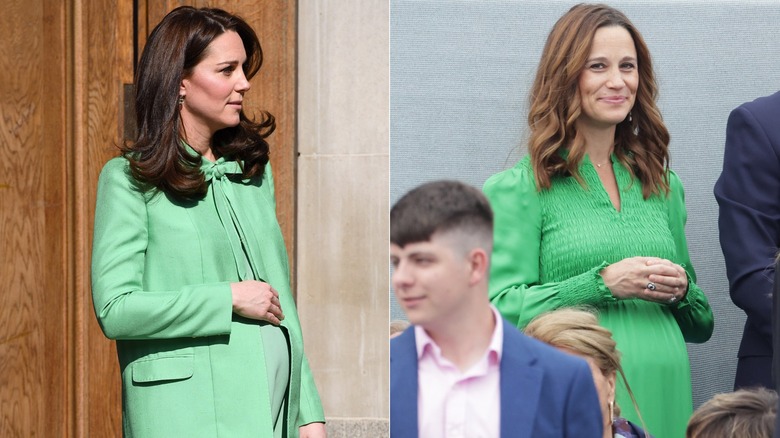 Karwai Tang & Chris Jackson/Getty
In 2018, when Princess Catherine was pregnant with her third child, Prince Louis, she stepped out in a green dress and coat by Jenny Packham. She paired the look with nude heels by Gianvito Rossi. The event marked one of the last royal engagements that Catherine performed before giving birth to her son. She was attending an event that focused on early mental health in children, made all the more fitting by the fact that her due date was right around the corner. Her sister, Pippa Middleton, also favored green during her pregnancy. In 2022, when Pippa was pregnant with her third child, she attended Queen Elizabeth II's Platinum Jubilee wearing a green maxi dress by ME+EM. 
In addition to wearing green during their respective pregnancies, Catherine and Pippa also favored Séraphine maternity clothing. Pippa wore a black dress with white flowers by the brand while pregnant, while Catherine wore the Florrie Printed Woven Maternity Dress.