Bruce Willis Guest Starred In Friends Because Of A Bet He Made With Matthew Perry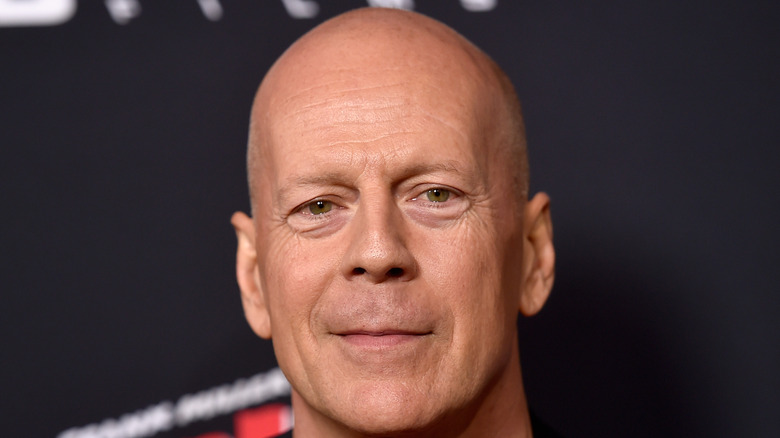 Frazer Harrison/Getty Images
Bruce Willis is one of the best-known actors in Hollywood. He's starred in huge blockbuster films such as "Pulp Fiction," "Die Hard," "The Sixth Sense," "Armageddon," "Unbreakable," and many more. Over the years, Willis has wowed fans with his acting ability across several genres such as action and adventure. He's also been known for his celebrity friendships with the likes of Sylvester Stallone and others. It was actually one of his celebrity pals, Matthew Perry, who got him his iconic guest-starring role on the fan-favorite TV series "Friends." However, the story behind the casting may surprise some fans.
Willis and Perry met when they both starred in the 2000 comedy film "The Whole Nine Yards." The two hit it off, and even though Perry says he was struggling with addiction at the time, he and Willis bonded. "There was a big difference between Bruce and me," Perry wrote in his book, "Friends, Lovers, and the Big Terrible Thing" (via Yahoo). Perry added, "Bruce was a partier; I was an addict. Bruce has an on-off button. He can party like crazy, then get a script like 'The Sixth Sense' and stop the partying and nail the movie sober. He doesn't have the gene — he's not an addict."
Despite the friendship between Perry and Willis, the movie is also the reason why the action star opted to team up with Perry again for a three-episode arc on "Friends."
Bruce Willis lost a bet to Matthew Perry before appearing on Friends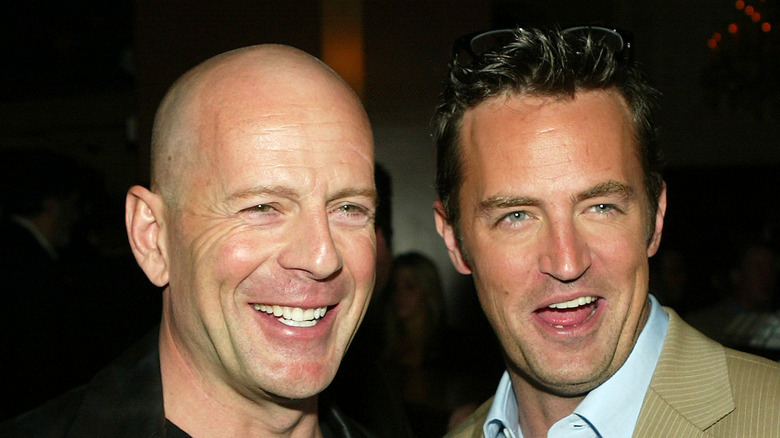 Kevin Winter/Getty Images
While filming "The Whole Nine Yards," Matthew Perry revealed that his co-star Bruce Willis was a bit worried about how the film would be received by audiences. While Willis worried about the fate of the film, Perry was confident that fans would enjoy the movie. So, the two pals made a bet. "Bruce hadn't been sure the film would work at all, and I'd bet him it would — if he lost, he had to do a guest spot on 'Friends.'" Of course, it was Perry who ended up being triumphant in the situation. "Despite the partying, we were all pros on that movie and managed to turn out a huge crowd pleaser," the actor said in his book, revealing exactly why Willis was cast on the popular TV series.
As "The Whole Nine Yards" went on to become the number-one film in the United States for three straight weeks, it was clear that Willis was going to have to pay up. The movie star was eventually cast in the role of Paul, the father of Ross' young college-aged girlfriend, Elizabeth. While Ross dated Elizabeth, Rachel (Jennifer Aniston) found herself drawn to Paul and the two also dated — making things awkward for exes Ross and Rachel.
Willis only appeared in three episodes as Paul. However, his performance was enough to earn him an Emmy award for Outstanding Guest Actor in a Comedy Series.
Bruce Willis refused to kiss Jennifer Aniston on Friends
Despite the fact that Bruce Willis was cast to play the love interest of Jennifer Aniston's character Rachel Green on "Friends," fans didn't see many romantic scenes between the two actors — and for good reason. Willis didn't want to kiss Aniston because he was close friends to her then-husband, actor Brad Pitt. However, the lack of Willis and Aniston kissing wasn't because of the absence of attraction. Willis later told Marca that he would have gladly kissed the TV star during her guest stint on the popular show, and it was only out of respect for Pitt that he didn't do so. "I would have loved to kiss her, but Brad was my friend and Jennifer was his wife. It didn't seem appropriate to me, but she's a hottie," Willis confessed.
Willis' guest appearances on "Friends" are iconic among fans. Of course, "Friends" had many iconic guest appearances over the years, with everyone from Charlie Sheen, Danny Devito, Paul Rudd, Alec Baldwin, Robin Williams, and more dropping by to make an appearance on the pop culture phenomenon.
However, Willis' character will forever be remembered by fans, especially due to the hilarious nature of the character. Oh, and a certain bedroom mirror scene where he sang "Love Machine" as Ross hid under the bed.