Hallmark's Alison Sweeney Sets The Scene For A Brand-New Hannah Swensen Flick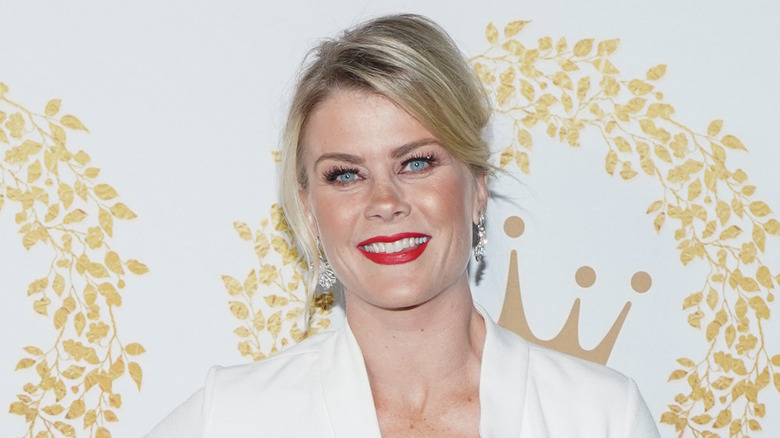 Rachel Luna/Getty Images
While we're all on the edge of our seats watching the new "Hannah Swensen Mystery" movie "Carrot Cake Murder" on Hallmark Movies & Mysteries on Friday, May 19, it's good to know that when it's over, there will be more baking and sleuthing to come.
From the first "Murder, She Baked: A Chocolate Chip Cookie Mystery," Alison Sweeney has turned baker and part-time detective Hannah Swensen into a fan favorite. Four more "Murder, She Baked" movies followed, ending with "Just Desserts" in 2017. Lucky for us, though, Hallmark decided to bring back the popular characters with the "Hannah Swensen Mystery" movies, starting with "Sweet Revenge" and "Carrot Cake Murder." 
And now Sweeney has been teasing more Hannah Swensen movies. "I want to encourage the fans to remember there are thirty books in Joanne Fluke's series," the actress told MediaVillage, referencing the book series on which the movies are based. "I don't think there's any end in sight. We all feel we've been given such a gift by Joanne to share these characters she created." In fact, Sweeney revealed there's already another movie in the works.
The new Hannah Swensen movie will have more romance
Alison Sweeney not only stars as Hannah in the movies, but she's also an executive producer for the series and has the inside scoop on what's next for the curious baker. The next movie is inspired by "A Zest for Death: A Hannah Swensen Mystery," she explained to Variety. "I love this book ... because the mystery really leans into Hannah's family dynamics, her sleuthing skills, and her romantic relationships."
She revealed even more in TV Insider, saying, "I always imagined it would really be so cool to use the mysteries to help further the romance, the way that they tie together. ... And I think we're finally going to work it into the next one. I think the romantic mystery fans will love it."
Sweeney also gave a little insight into Hannah. "She just has a way about her really picking up on the little details, the nuances," she said. "And I think this next mystery is going to have some fun elements like that that are there for the audience to notice, too, if you pay attention."