Taylor Swift Sings About April 29th On Midnights - Here's What She Was Doing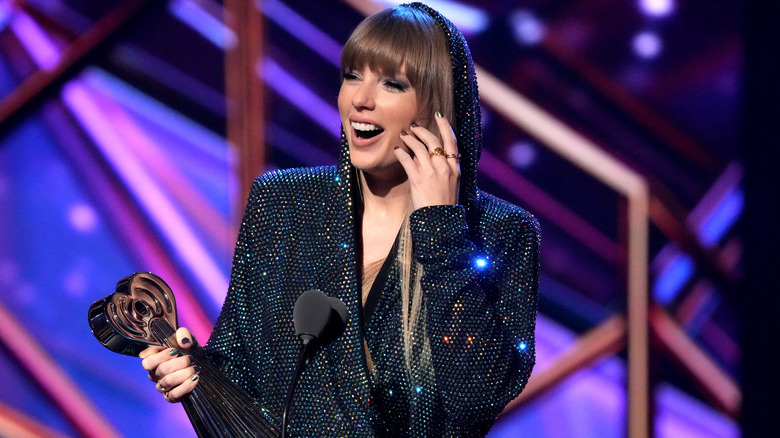 Jeff Kravitz/Getty Images
Taylor Swift is known for dropping codes in her music and art for her fans, nicknamed Swifties, to decipher. She also famously and unabashedly injects personal life events into her lyrics with such clarity that it makes it possible to pinpoint who or what she's singing about. Whether it's random strings of capitalized letters hidden in plain sight on her album covers, or lyrical clues about a time or a place, her fans don't rest until they've satisfied themselves with the truth, or a version of it. At the end of the day, whether or not they get all of her references is immaterial. According to her, she's only "cryptic and Machiavellian" because she cares about us.
When the "Me!" singer dropped another juicy Easter egg among many hidden meanings on her hit album "Midnights," Swifties wasted no time scouring the past to find out what Taylor was referring to. It was October 21, 2022, when Taylor Swift released her critically acclaimed album "Midnights" and 3 a.m. on the same day when she released the "3am Edition" which contains the song "High Infidelity."
Numerous TikTok videos of fan theories have emerged with speculations about which April 29 the "Blank Space" crooner could have been referring to. Although Swift has had some pretty interesting April 29ths, none come as close to fulfilling the Easter eggs in "High Infidelity" as the events of 2016.
Taylor hints at cheating scandal in 'High Fidelity'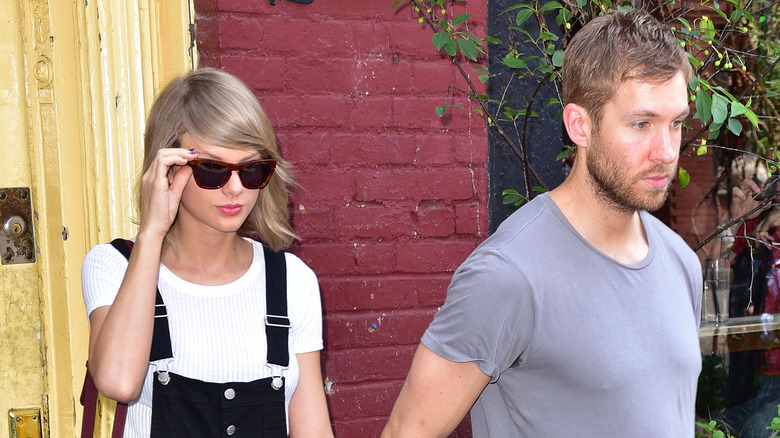 James Devaney/Getty Images
In "High Fidelity," Swift choruses, "Do you really want to know where I was April 29th?" The following lyrics then alternate between, "Do I really have to chart the constellations in his eyes / Do I really have to tell you how he brought me back to life?" We don't need Einstein to tell us that this sounds a lot like T-Swift telling us she cheated on a past partner with someone who "brought her back to life."
Armed with these clues, Swifties went to work rehashing every single April 29 in the yesteryears to find out what exactly the singer was up to and revel in the discovery. Per Cosmopolitan, the general consensus is that the April 29 in question has to do with Taylor Swift's past relationship with DJ and record producer Calvin Harris. The couple started publicly seeing each other in March 2015 and dated for over a year.
Around this time, the couple penned a song together called "This Is What You Came For." However, Swift decided to use a pseudonym named Nils Sjöberg so that her celebrity wouldn't hijack the song's glory. "I think, when a pseudonym comes in is when you still have a love for making the work and you don't want the work to become overshadowed by this thing that's been built around you," she told Rolling Stone in a 2020 interview. The song was eventually produced by Harris, and given to Rihanna instead.
Taylor allegedly met future boyfriend on April 29
On April 29, 2016, "This Is What You Came For" was released and was an instant hit. However, when Calvin Harris was asked if he would ever work with Taylor Swift in a same-day interview with On Air With Ryan Seacrest, he responded by saying, "I can't see it happening though. No. She's about to take a long break."
Apparently, this didn't sit well with Swift. News broke via TMZ that she felt affronted which led to her revealing that she indeed penned the hit and if it's one thing the songstress does better, it's revenge. Her whereabouts on April 29, 2016, were quickly unearthed and she was revealed to have been at her best friend Gigi Hadid's birthday party the night before on April 28 and left the premises early the next day. Case closed . . . right?
Well, just a few days later on May 3, the "Shake It Off" singer was sighted dancing with actor Tom Hiddleston who later became her boyfriend. But the story doesn't quite end there. While Swift and Hiddleston did go on to date for the briefest of moments, it is rumored that she actually met her longtime boyfriend, Joe Alwyn, at Hadid's party, and they went on to date for six years, marking her longest relationship yet. April 29 has quickly become a sort of inside joke among the Swifties with fans taking to social media on April 29, 2023, to celebrate the newfound holiday.