Here's When We Can Expect To Watch Shiny Happy People: Duggar Family Secrets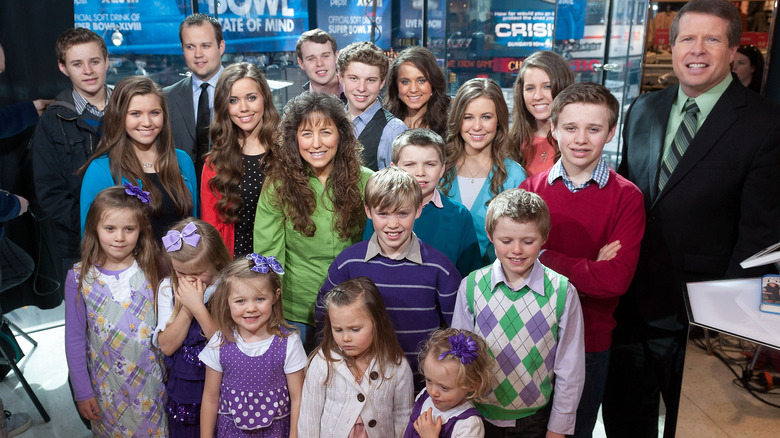 D Dipasupil/Getty Images
The following article contains references to the sexual abuse of children.
A family with 19 children whose house doesn't resemble a total trainwreck? Where the kids do their chores without arguing, eat dinner with no complaints, and play violin and piano instead of watching TV for hours on end? That seemingly idyllic lifestyle was the reason viewers tuned in by the millions to "19 Kids & Counting," the popular TLC reality series about the Duggar family. The huge Arkansas clan seemed to have it all together, thanks to their strong faith in God and dedication to living a wholesome life. 
And if certain things seemed a little odd — like the Duggar family dress code, which required long skirts for girls and a minimum of exposed skin — it was easy to write them off as merely quirky. Parents Jim Bob and Michelle Duggar were raising a houseful of respectful, devout, service-oriented kids; so what if they weren't keen on jeans or the Jonas Brothers? But, a few years ago, the cracks in their happy façade began to show. 
Eldest son Josh Duggar is currently doing time for possession of child sexual abuse material, and it was revealed he had molested several of his own sisters as well. Jill Duggar Dillard quit the show and is on chilly terms with her father while Jinger Duggar Vuolo wrote a book slamming their upbringing. Now, a new documentary coming soon from Amazon Prime may change more minds about the supposed wholesomeness of the family. 
The docuseries could destroy the Duggar family's reputation
"Shiny Happy People: Duggar Family Secrets" is a limited docuseries streaming from June 2, 2023, on Amazon Prime. The show promises to reveal the grim truth behind the Institute in Basic Life Principles (IBLP), an ultra-conservative Christian church to which the Duggar family belongs. Bill Gothard, the group's founder, preached that the way to earn a place in heaven was to stay away from worldly influences such as TV, movies, non-religious music, and public school. 
Men are the authorities both at church and at home, while women are counseled to dress modestly, marry young, bear plenty of children, and make themselves "joyfully available" to their husband's sexual needs at all times to keep them from straying (as Michelle Duggar famously put it). Although Gothard himself is no longer affiliated with the group — he resigned in 2014 following numerous sexual harassment allegations against him — his church and teachings live on and are still embraced by members such as Jim Bob and Michelle Duggar, and the Bates family of "Bringing Up Bates" fame.
Jinger Duggar Vuolo addressed the church's shortcomings in her recent memoir, "Becoming Free Indeed." However, despite her assertions that the IBLP's harsh rules left her feeling guilty and fearful of not being found worthy of God's love, she refused to blame her parents for raising her in such a restrictive faith. Another family member who appears in the documentary may not feel as charitable, however.
One family member's interview could change everything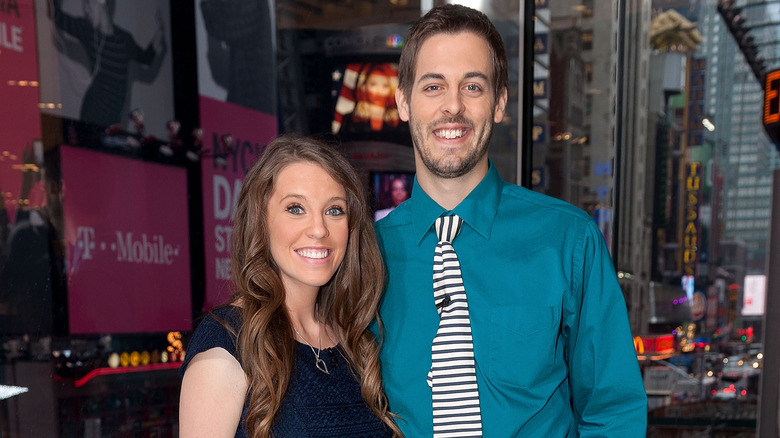 D Dipasupil/Getty Images
The official trailer for "Shiny Happy People," which dropped on May 18, shows a number of ex-church members speaking out against the group and its founder. "Bill Gothard turned every father into a cult leader and every home into an island," one interviewee intones ominously. Others accuse the church of creating a culture of sexual predators. Worse still, they claim the IBLP's ultimate goal is to infiltrate Congress and ensure their brand of extreme Christianity becomes the law of the land.
The real draw of the documentary, however, is Jill Duggar Dillard and her husband, Derick Dillard, who appear poised to speak out fully for the first time. "There's a story that's going to be told, and I'd rather be the one telling it," Jill says in the trailer (the interview appears to have been filmed in 2022 when she was expecting her third baby). As the Dillards once explained to People, they're on the outs with Jim Bob Duggar over his control of their TV money and the restrictions placed on their life plans by the show. 
Derick has also accused his father-in-law of coaching Jill to downplay the abuse she suffered at her brother's hands when she was interviewed by Fox's Megyn Kelly. Long-time followers of the Duggars will definitely be tuning in on June 2 to hear the story Jill is finally ready to tell.

If you or anyone you know has been a victim of sexual assault, help is available. Visit the Rape, Abuse & Incest National Network website or contact RAINN's National Helpline at 1-800-656-HOPE (4673).