How Eminem Indirectly Helped Ed Sheeran Get His Stutter Under Control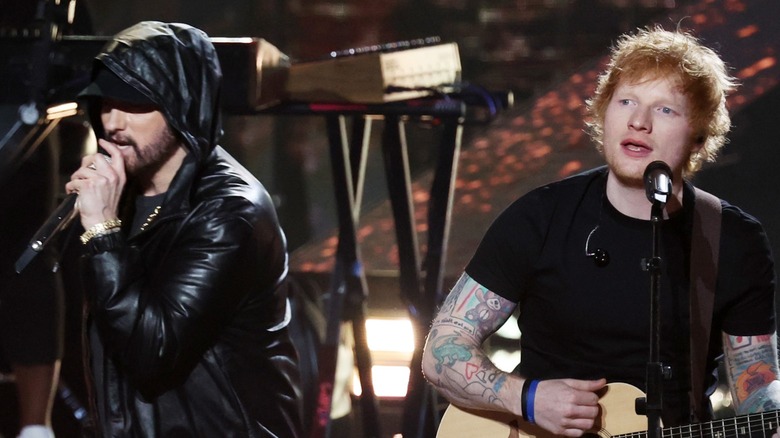 Kevin Kane/Getty
Many celebrities, including Emily Blunt and Steve Harvey, have had to overcome a childhood stutter. Another well-known celebrity who struggled with a stutter in their youth is singer Ed Sheeran. Sheeran has credited the rapper Eminem — also known as Marshall Mathers — for helping him conquer his stutter.
In an interview with Sheeran on The Howard Stern Show to promote his new album "Subtract" (stylized as "-"), Stern brings up the stuttering with a story from Sheeran's "The Sum Of It All" documentary on Disney+. As a child, Sheeran had a birthmark on his face. However, during a procedure to remove the birthmark, Sheeran was not given anesthesia. Sheeran tells Stern that he believes this experience affected his nervous system, as his stuttering began afterward.
Following this experience, Sheeran's uncle gifted nine-year-old Sheeran a copy of Eminem's "The Marshall Mathers LP." Sheeran listened to the album religiously and said, "By learning that record and by rapping it back, to back, to back, to back, it cured my stutter."
Sheeran and Eminem have now made songs together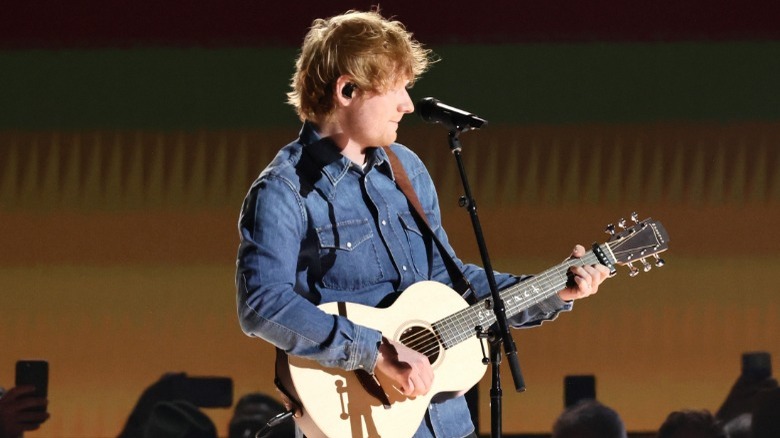 Theo Wargo/Getty
Ed Sheeran has famous friends that double as collaborators, an example being his friendship with Taylor Swift. Since his childhood as a fan of Eminem, Sheeran has been able to meet him — and add him to his roster of collaborators, too. In 2017, Sheeran was invited to Eminem's studio in Detroit, and the duo met for the first time. However, they spent their time discussing Marvel instead of working on a new song. Sheeran tells "The Rebecca Judd Show" in a 2021 interview that if he had asked Eminem for a selfie upon meeting him, the vibes of their interaction would've been different (via Billboard).
This first collaboration between Sheeran and Eminem brought forth the Eminem song "River." Sheeran has also worked on the Eminem song "Those Kinda Nights," and Eminem has worked on Sheeran's "Remember the Name."
In the recent Howard Stern interview, Sheeran also says that he and Eminem have performed together twice since their professional relationship began and that he has told Eminem the story about how rapping along to "The Marshall Mathers LP" cured his stutter.
Sheeran attended the American Institute for Stuttering's gala in 2015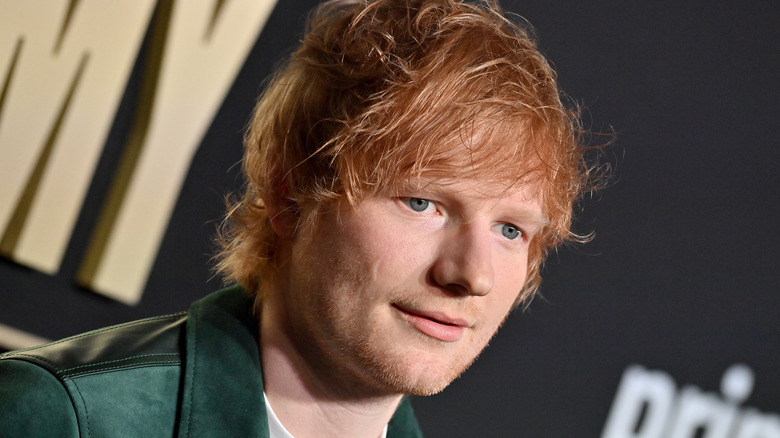 Axelle/bauer-griffin/Getty Images
Ed Sheeran was asked to speak at the American Institute for Stuttering's Freeing Voices Changing Lives Benefit Gala in 2015. In his speech, he says, "The thing I found most difficult was knowing what to say but not really being able to express it the right way" (via The Hollywood Reporter). Sheeran told the crowd how rapping helped him overcome the stutter and went on to stress that the most important thing is to always be yourself.
"From a stuttering point of view," Sheeran added, "don't treat it as an issue. Work through it and get the treatment you want to get, but don't ever see it as a plight on your life. Carry on pushing forward."
Sheeran definitely did just that. His new album, "Subtract," is his sixth top 10 album on the Billboard 200 chart. "Subtract" was started a decade ago, but Sheeran completely revamped it in 2022 with brand-new songs about the recent struggles in his personal life. In a TikTok video announcing the new album from March 2023, Sheeran says, "For the first time, I'm not trying to craft an album people will like. I'm merely putting something out that's honest and true to where I am in my adult life."