Why Natalie Wood Married Robert Wagner Twice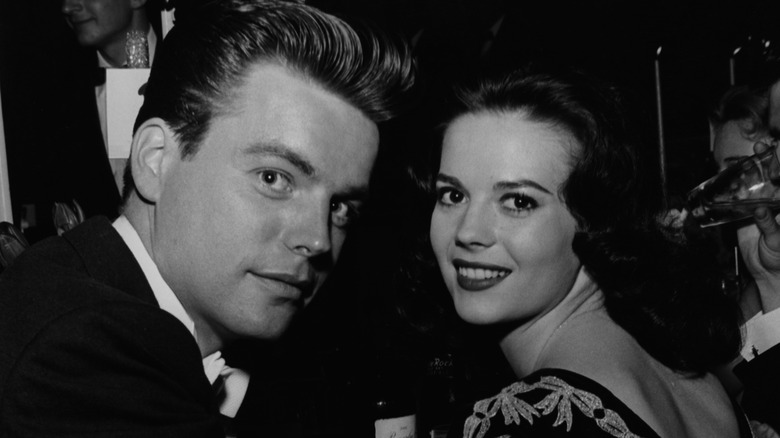 Darlene Hammond/Getty Images
Natalie Wood is one of the most iconic Hollywood stars of all time. She came to fame when she was just 8 years old because of her adorable portrayal of Susan Walker in the classic Christmas film "Miracle on 34th Street." As a teenager, the California-born actor had already bagged her first Oscar nomination for best actress in a supporting role for her work alongside James Dean in "Rebel Without a Cause." However, the part wouldn't come easily to Wood. Many speculated that the film's middle-aged director, Nicholas Ray, had exploited young Wood into sexual relations to make him believe she was right for the role, according to the Hollywood Reporter. Wood apparently even got into a car accident before getting the role. When the doctor called her a "goddamn juvenile delinquent" during Ray's visit, Wood replied, "Did you hear what he called me, Nick?! He called me a goddamn juvenile delinquent! NOW do I get the part?!"
A few years after "Rebel Without a Cause," Wood went on to play Wilma in "Splendor in the Grass" and Maria in "West Side Story." As for her personal life, Wood was married three times, but two of her marriages were to the same man: Robert Wagner. After their first marriage, both parties had matured enough to be able to try again a second time.
Natalie Wood and Robert Wagner might have rushed into things at first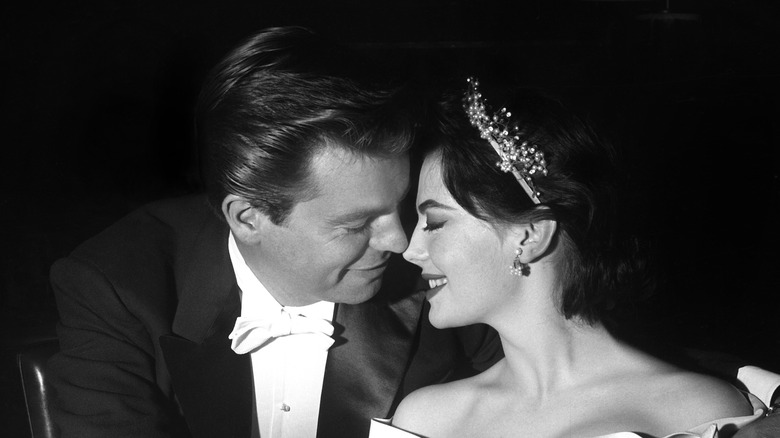 Michael Ochs Archives/Getty Images
In a 1976 interview with People, Natalie Wood reminisced about the first time she saw Robert Wagner when she was 10 and he was 18. "I turned to my mother and said, 'I'm going to marry him.'" Their paths officially crossed in 1956 when 20th Century Fox set them up for a publicity date. In the very next year, Wagner proposed to Wood in a rather traditional way by dropping a diamond ring engraved with the words "marry me" into her champagne glass.
The stars tied the knot soon after on December 28, 1957, but abruptly divorced after nearly five years of marriage. Many speculated that the marriage ended because Wood caught Wagner cheating on her with another man. Even Wood's sister Lana seemed to confirm these allegations, according to News.com.au. But that wasn't the end for the high-profile pair. The couple remarried in 1972, a decade after the divorce. 
In the book, "Natalie Wood: Reflections on a Legendary Life," an unreleased essay written by the star possibly shared some insights into the reconciliation, according to People. "If you love someone and make a commitment to them, the love does not vanish because you have signed a legal document called a divorce paper," she penned. "The failure of all your hopes, promises and dreams gives you one more thing in common — mutual sadness."
The couple changed for the better after ending things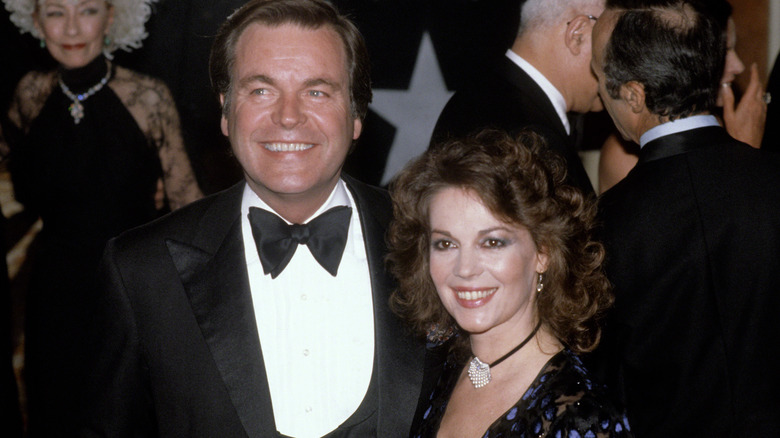 Images Press/Getty Images
In the time that Natalie Wood and Richard Wagner were apart, Wood had a daughter named Natasha with her second husband, producer-screenwriter Richard Gregson. Wagner, meanwhile, married actress Marion Marshall, and the pair had a daughter named Katie. He was also famously engaged to Tina Sinatra, Frank Sinatra's daughter.
Apparently, Wood and Wagner had stayed in touch, and Wagner had called Wood over to his California home in January 1972. The two got to talking about their marriage and Wood saw that Wagner had matured from boy to man. According to Mamamia, in the book, "The Star-Crossed Love Affair of Natalie Wood and Robert Wagner," Wood is quoted as saying, "When R.J. and I were married [the first time] we were like two children acting out a studio script. We deliberately hid our weaknesses from each other. Now we found that we could really talk to each other. We were not afraid to be ourselves. But we realized that we needed those years apart to reach that understanding." 
Two years after their second wedding, Wood and Wagner had a daughter, Courtney. The two remained married until Wood's fatal drowning in 1981 at age 43. Wagner was initially deemed a person of interest in the case, but in 2022, it was declared a cold case.