Paul Rudd's Kids Didn't Know He Was An Actor (And Were Unimpressed When They Found Out)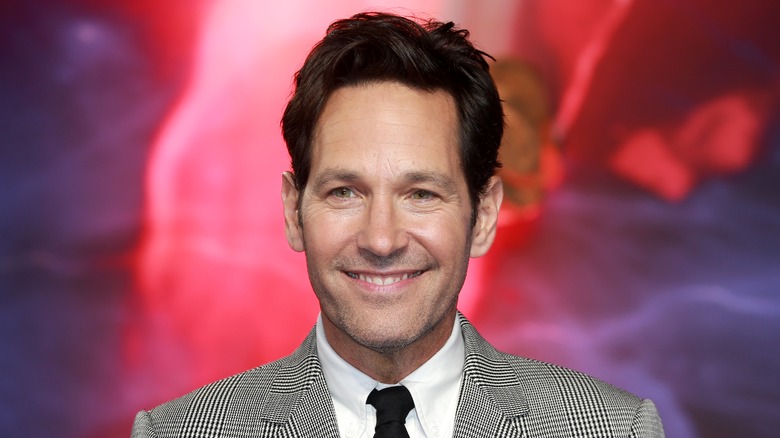 Fred Duval/Shutterstock
Raising children while balancing a career in Hollywood can prove to be a challenge. Many of the film industry's most illustrious stars do their best to keep swarming paparazzi away from their kids. Some celebs have kids that nobody knows much about, and for a while, actor Paul Rudd seemed to be on that list.  The stunning transformation of Paul Rudd from his childhood days in Kansas to being named People's 2021 Sexiest Man Alive is a fascinating story on its own. But the wholesome family life that he managed to balance with his growing career has somehow made us even more obsessed. 
While keeping the public gaze away from your family life is one thing, Rudd has somehow figured out how to take living a normal life to a whole other level. The family has stayed out of the limelight through the years, and Rudd stays away from social media, though he has spoken more about his kids now that they are a bit older. Here is how he managed to keep the fact that he was a movie star and Hollywood celeb from his kids.
How Paul Rudd's kids figured out their dad was famous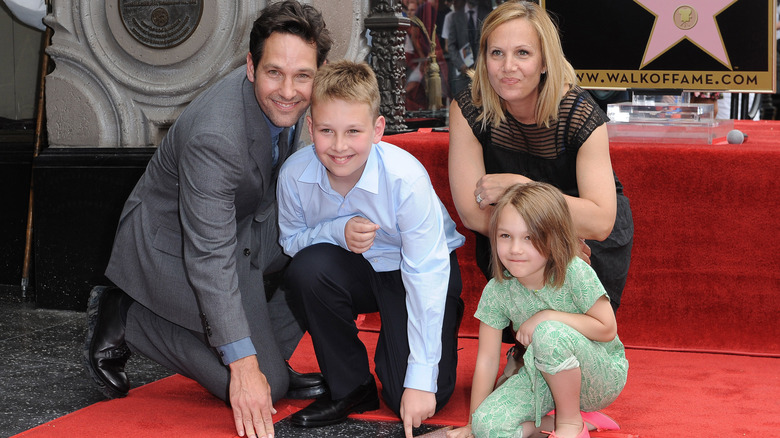 Axelle/bauer-griffin/Getty Images
Just imagine that your dad is Paul Rudd. That fantasy seems pretty epic on the surface, but in real life, Rudd's children with his wife Julie Yaeger knew little about the actor's superstar career. Rudd, who has scored roles in Marvel hits like "Ant-Man" and "Avengers: Endgame" as well as classic comedies, met his future wife right before "Clueless" hit theaters in 1995. The couple has two kids, a son named Jack Sullivan Rudd in 2006 and a daughter named Darby Rudd in 2010. And until he was 15, Jack Rudd apparently did not know his dad was a famous actor. 
The actor said that he did not force his kids to watch his movies when they were young, instead focusing on his role as a parent off-screen more than his roles on-screen. Jack first assumed his dad worked at a movie theater at "about 4 or 5" years old, Rudd told People. "We were all going [to the movies], and there was a movie poster that I was on that was in the lobby. So they all just thought that I worked at the movie theater, which I thought was very cute." Over the years, Rudd "never corrected him" until Jack figured it out on their own. "And then, a few years later, I think when he was 15, he finally put it all together," said Rudd.
Paul Rudd's kids poke fun at their father
As for Paul Rudd's daughter, Darby Rudd loves "Friends" but wasn't impressed her father was on the TV show. When Darby was 13, she began watching the '90s sitcom, but her father didn't tell her he was a guest star, as he told Insider. Rudd recalled that once Darby saw him on the show, "the first thing she said is, 'What was going on with your hair?' and then, like, 'Ew, that sweater.'" She seemed less than charmed that her dad played Phoebe Buffay's love interest opposite Lisa Kudrow. "It's your kids, right," Rudd said. "She loves the show. It was almost like a disassociation. She was not interested in me being a part of it. She didn't ask me questions about it."
Though his kids are not the most devoted fans of Rudd's acting career, their family dynamic seems like an ideal wholesome balance that keeps the A-lister connected to what matters most. His son Jack Rudd has amassed over 200,000 followers on TikTok, where he pokes fun at his famous father by doing such things as imagining a more "perfect" version of his dad as Ryan Reynolds. In another video, he jokes about his dad's role in "Clueless," writing in a caption: "When your dad makes fun of you in front of your friends but he was the one who dated his own step-sister..." Jack has playfully fought off commenters who doubt that he really is the actor's son; though, we think the two look quite alike.