Reese Witherspoon Once Explained The Entire Plot Of 'How Do You Know' To A Plane Full Of Passengers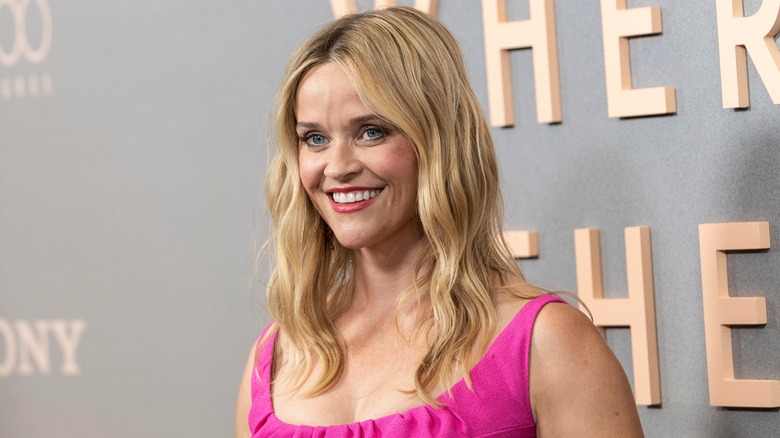 Lev radin/Shutterstock
Being on a long flight is bad enough without the in-flight entertainment acting up. However, this is exactly what happened on a flight back when airplanes only featured one movie for its passengers. (Hard to imagine right? Thank goodness we've come a long way since then). Even if you've watched the movie a hundred times, one of the things you would probably never do on an airplane is stand up and tell your fellow passengers what happens in the rest of the movie. 
But the film's lead actress Reese Witherspoon, who happened to be on the same flight, didn't feel the same way. She apparently saved the day by taking flyers through the entire plot, step-by-step. The 47-year-old actress and producer was on "Late Night with Seth Meyers" promoting her 2023 film, "Your Place or Mine," starring Ashton Kutcher, when the host brought up the flying incident from years ago. 
The movie in question was her 2010 film with Paul Rudd, "How Do You Know," and Witherspoon recalled the experience, "It was like a five-hour flight and I walk in and they're like, 'And the movie today is gonna be, 'How Do You Know' starring Reese Witherspoon.' I was like, 'Oh my god. I have nowhere to hide. This is so embarrassing.'" As if things couldn't get any worse for her, about ten minutes into the romantic comedy, the movie stopped playing. 
Reese Witherspoon quickly took matters into her own hands
When the movie abruptly cut out, Witherspoon remembered that everyone started looking her way. The actress then proceeded to the front of the plane and asked the flight attendant if she could talk on the microphone. 
Into the mic, she said, "Hi, guys. I don't think the movie's coming back, so I'm just gonna walk you, beat by beat, [through] what happened." Nothing like seeing the star from a movie you were just watching come up to the front of a plane to tell you of its contents — probably a pleasant reminder of what Reese Witherspoon is like in real life. 
The actress then went on to explain the entire plot of "How Do You Know" to the plane's passengers. "So, first of all, I'm going out with Owen Wilson. It's not going well. And he's a professional baseball player, and you know that's gonna go south," she continued. "So, I have this crazy great date with Paul Rudd, but his dad is asking him to go to jail for him because he's committed a crime." She even ended the recounting by leaving the airplane's occupants guessing, "Guys, I don't know what's gonna happen! Am I gonna go with Owen Wilson? Am I gonna go with Paul Rudd? What's gonna happen?"
Witherspoon: 'It was actually so fun'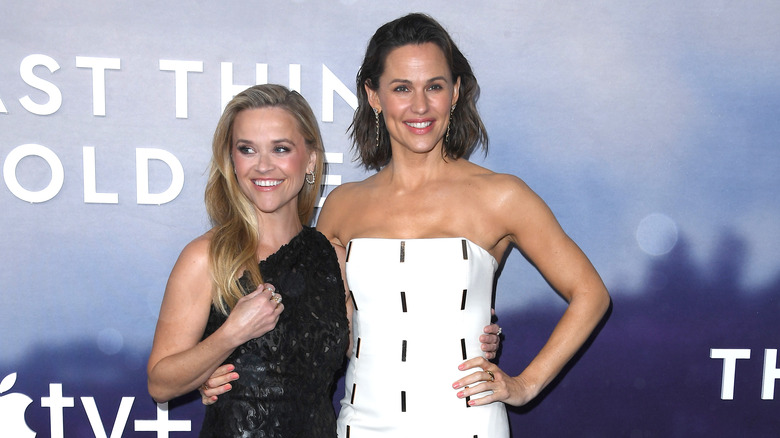 Steve Granitz/Getty Images
The entire experience could've been nerve-racking and awkward for some but the "Legally Blonde" star seemed to have enjoyed herself. She told Seth Meyers, "It was actually so fun and funny to get to tell people the entire plot of my movie in like three minutes."
Reese Witherspoon's fun-loving and down-to-earth nature is hard to miss. It's probably one of the reasons people love following her on Instagram. The actress who split from her husband Jim Toth in March 2023, has one son with him – Tennessee James Toth (10) — and two more children — Ava Phillippe (23) and Deacon Phillippe (19) — with her former husband Ryan Phillippe. 
She recently took to Instagram with her friend and fellow actress Jennifer Garner while promoting the Apple TV+ series "The Last Thing He Told Me," starring Garner and executive produced by both Garner and Witherspoon, to share a funny story from a dance class they took together. "One time we were doing a dance class, and I literally hurt my foot in the middle of it and I was like, 'Jen needs me to be here right now. So I'm just gonna keep going.' [...] My busted old lady hip. My foot. I was like, 'Let's go girl. Let's go. We're gonna dance it out,'" she recalled.