All Of Nick Jonas' Best Songs About Priyanka Chopra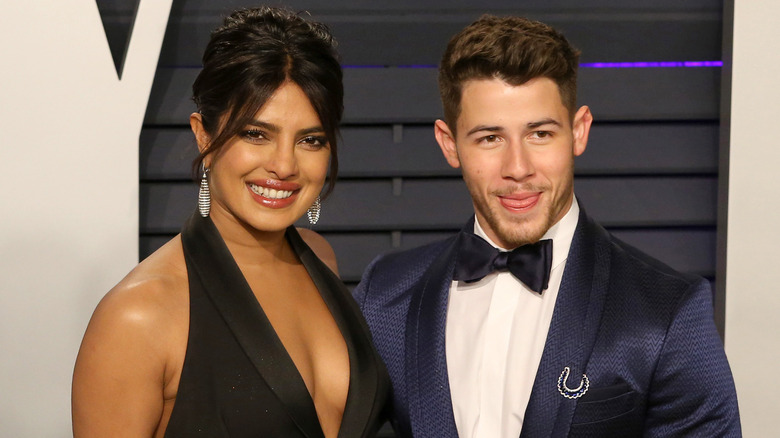 Kathy Hutchins/Shutterstock
Nick Jonas and Priyanka Chopra are one of the most popular couples in the world today. In 2016, the stars began to align for the lovebirds when Jonas slid into Chopra's Twitter DMs. He told Vogue he opened with, "I'm hearing from a few mutual friends that we should meet," to which she replied, "My team can read this. Why don't you just text me?" They stayed in touch until their paths crossed at the 2017 Vanity Fair Oscars after-party, and Jonas already seemed smitten as he jokingly got down on one knee and asked her where she'd been all his life.
Shortly after, the two walked the Met Gala red carpet as friends. His brother Joe Jonas described Nick's lovesick condition to Vogue, "He was just this little puppy dog," he added. "And Sophie and I were just laughing at him. He's sitting on the floor and we're like, 'Look at this little smitten, drunk kid right now.'" However, Chopra and Nick's lives would keep them apart for a year until they'd meet again in May 2018 at the Met Gala.
In the same month, the two made things official. And in July, Nick popped the question. The couple got married at the end of the year,  and in 2022 welcomed their first child, Malti Marie — here's the adorable meaning behind Nick and Chopra's daughter's name. Given this sweet love story and Nick's singer-songwriter roots, it's unsurprising that Chopra is the muse for many of his songs.
Nick Jonas writes about Priyanka Chopra throughout one Jonas Brothers album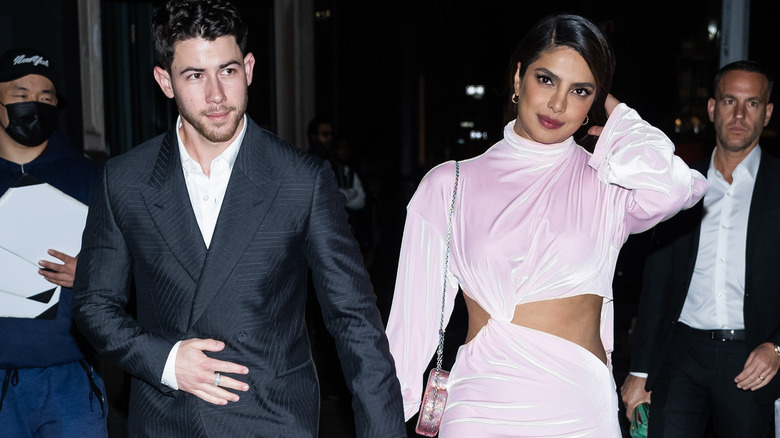 Gotham/Getty Images
Unsurprisingly, one of the Jonas Brothers' most successful songs, "Sucker," is about their partners. It was their first single after a long hiatus, and the music video saw The Jonas sisters — Priyanka Chopra, Sophie Turner, and Danielle Jonas — star alongside their hubbies. Nick Jonas told Cigar Aficionado "We knew that context needed to be given about where we are now. And I think the biggest piece of that puzzle is those three incredible women who stand by our side," he proudly added, "And they stole the show in our video."
In their first album post-hiatus, "Happiness Begins," Nick co-wrote a song called "I Believe," which ties in quite well with their romance. "Well, call me crazy / And people saying that we move too fast" is a lyric that aligns with the fast-moving nature of their relationship, which many would call crazy. 
The jam could also allude to the people who have responded negatively to the romance because of their ten-year age gap and the couple's choice to ignore them to protect their love. Nick told Apple Music (via Harper's Bazaar) that the song was a "love letter to his wife." His brother Joe added, "We listened to it a lot on your bachelor party. It sounds even better by the beach." And if you think that's romantic, you're not prepared for the songs he wrote for her in his solo project. 
Priyanka Chopra is an inspiration for Nick Jonas' solo album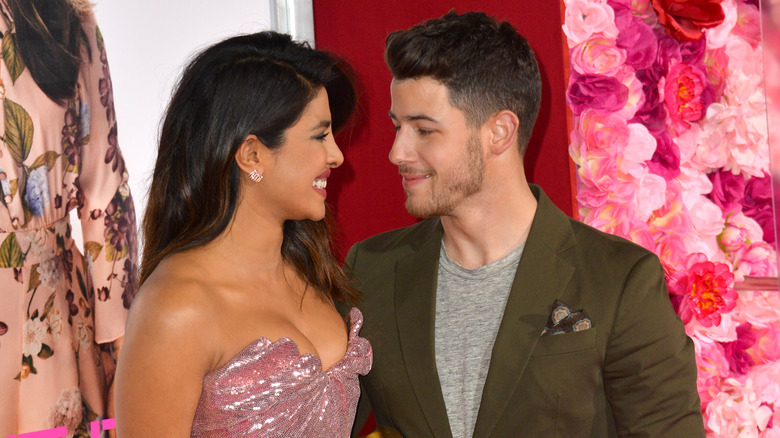 Featureflash Photo Agency/Shutterstock
In 2021, Nick Jonas released "Spaceman," his first solo album since the Jonas Brothers reunion. It was an album that came out of feelings of isolation due to the pandemic and maintaining a long-distance relationship with Priyanka Chopra. In an interview with SiriusXM, he confirmed that the track "This Is Heaven" is about Chopra by saying, "[It] touches on that feeling of being reunited with your person. For context, Pri went to shoot in Germany for a couple of months while I was in LA working on the album." 
He continued, "So, that distance really settled in. And then, when we finally were back together after this time apart, I went back in and wrote this song with Greg Kurstin . . . It was meant to encapsulate that euphoric feeling of being with your person." Another song on the album that ties in perfectly with their love is "If I Fall."
The lyrics, "I remember talking on the first night / Chilled me to the bone 'cause I realized / Everything before was a waste of time," seem to be a reference to Jonas feeling swept off his feet when he met Chopra for the first time. In fact, he told Vogue that right after his first text exchange with her, he messaged actor Graham Rogers to say, "Priyanka. Is. Wow." Some other sweet love songs on "Spaceman" that are most likely about Chopra include "Death Do Us Part" and "Deeper Love."