Why Hailey Bieber Is Worried About Starting A Family With Husband Justin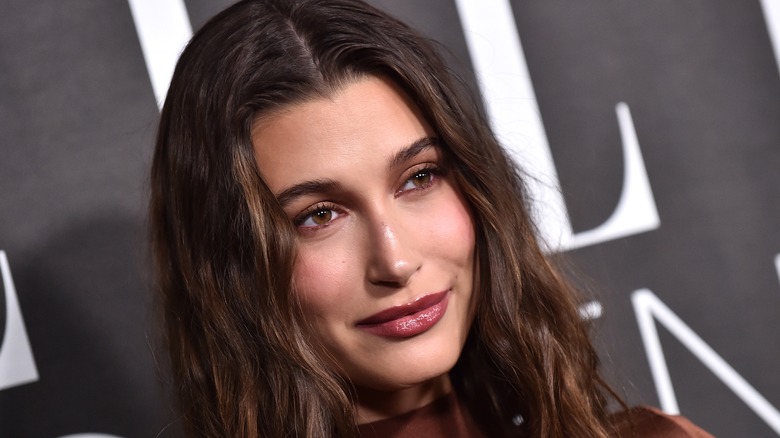 DFree/Shutterstock
Making the decision to start a family with your spouse is a huge, life-altering choice. While couples who don't want children already feel complete on their own, those who have a deep desire to raise kids will likely not feel whole until they have a baby and begin growing their family. Many people find that a large part of their personal identity gets tied to motherhood, and celebrities are no exception. 
Hailey Bieber has always viewed parenting as one of her life's purposes, which can make it hard to wait. With the fear of your biological clock running out of time and the societal pressure to be a younger mom, there are a lot of external factors that come into play. However, it's becoming increasingly common for women in their '20s to delay having kids in order to focus on their careers, and Bieber can definitely relate.
At the same time, there are obviously extra added pressures that come when you are in the public eye. While Justin Bieber has had his fair share of controversies over the years, his wife has been the one enduring more intense online scrutiny — especially lately. In fact, during an interview with The Sunday Times, she revealed, "I want kids so bad, but I get scared" because of how harsh the spotlight can be. 
The spotlight is a crazy place for kids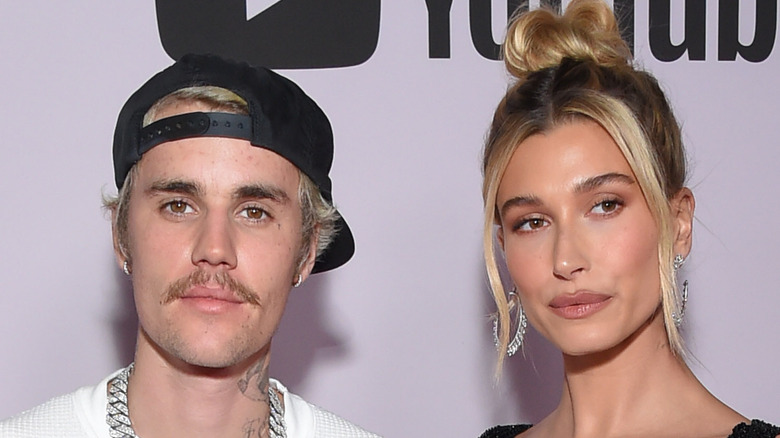 DFree/Shutterstock
While fans have thought that Hailey Bieber might be pregnant before, none of the rumors have turned out to be true thus far. Of course, the possibility of a baby Bieber is always very real. Bieber's desire for children is well documented but has also brought her to tears many times because she's so conflicted about it. The fear of internet trolls attacking her children is almost too much for Bieber to bear. 
As the Rhode Beauty founder admitted to The Sunday Times, "It's enough that people say things about my husband or my friends. I can't imagine having to confront people saying things about a child." There is a new level of protection and security that feels necessary when celebrities bring babies into their crazy world. With the added unpredictability and ruthlessness of social media, it can almost feel irresponsible. Luckily, Bieber isn't willing to give up on her parenting dreams. She still hopes to have a family someday and is determined to raise her kids to the best of her ability. 
Ensuring that her future children "feel loved and safe" is all she can really focus on. Many women specifically experience "mom guilt," which usually involves feeling like they've failed their child in some way. Unfortunately, Bieber seems to be experiencing this before even becoming a mom. However, her awareness of the struggles of fame will likely help her take precautions to protect her family once she does have kids.
Celebrity drama can become toxic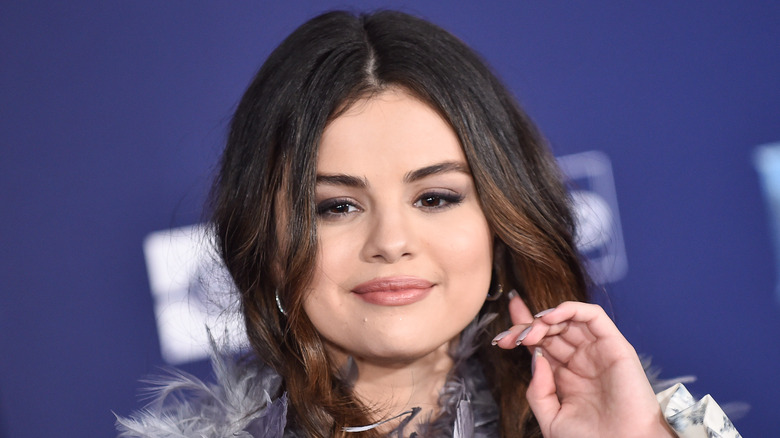 DFree/Shutterstock
The stunning transformation of Selena Gomez over the years has only made fans love her even more. With her acting projects, beauty line, and mental health activism, she's super easy to embrace. However, after fans started to believe that Hailey Bieber was shading Gomez in a TikTok, the internet went wild, resurfacing old videos and sharing the hashtag "Team Selena" in their millions. Although the drama between the two stars was never confirmed as an actual feud it was one that fans obsessively speculated over regardless.
In just a matter of weeks, Gomez gained nearly 20 million new Instagram followers while Bieber lost over a million. On top of this, Bieber also received death threats amongst a slew of online hate. She even reached out to Gomez privately asking for support, which led the singer to use her social media platform to urge her fans to be kind. Being the target of online bullying and having millions of strangers judge your marriage is hard enough, so it's not surprising that Bieber is nervous about potentially bringing a child into that world.