One Of The Biggest Rumors Surrounding Jay-Z And Beyoncé's Relationship Involves Rihanna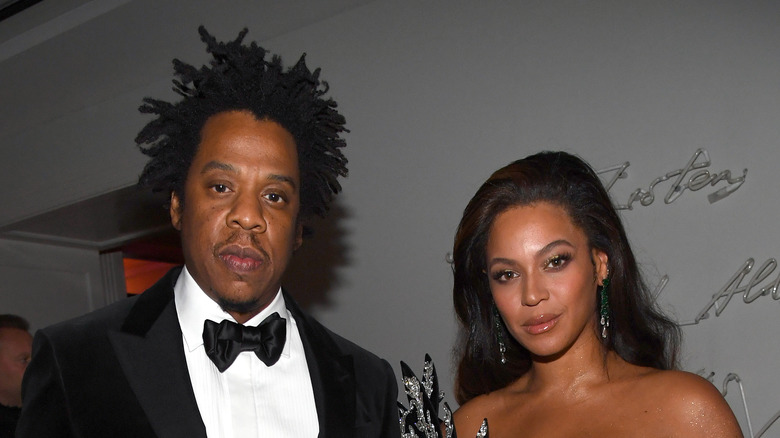 Kevin Mazur/Getty Images
When you're as rich and famous as Jay-Z and Beyoncé, it's impossible to stop gossip and rumors from following your name. The two were both gaining steam on their rise to the top of the music industry at the time that they started dating way back in 2001. Since tying the knot in 2008, and in between welcoming their three children, Jay-Z and Beyoncé both amassed insurmountable wealth and superstardom that only magnifies when you put them together. With a string of hit records, platinum-selling albums, profitable businesses and endorsements, and die-hard mega fans, Beyoncé and Jay-Z are both undeniable GOATs worthy of all the fanfare that follows their names. With that much fame and power as a married couple, it's impossible to shake the chatter and speculation that typically follows Hollywood's elite. 
Speculation about their marriage ignited in May 2014 when surveillance video captured an elevator scuffle between Beyoncé's sister, Solange Knowles, and Jay-Z while leaving a Met Gala afterparty. There were mixed reports about the real reason for the fight, with some outlets like E! News claiming Jay-Z got a little too flirty with designer Rachel Roy, and others saying the fight started because Jay-Z wanted to attend Rihanna's afterparty without Beyoncé, per NY Daily News. The couple released a joint statement addressing the embarrassing ordeal before dropping Grammy award-winning or nominated albums about their marital woes ( "Lemonade" and "444"). But the rumors weren't the first time Jay-Z and Rihanna had their names tied to cheating allegations.
The truth behind those Jay-Z and Rihanna cheating rumors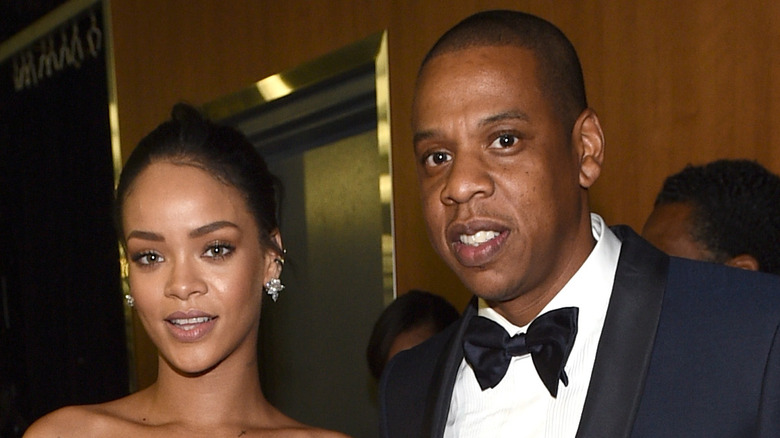 Michael Buckner/Getty Images
Jay-Z has been by Rihanna's side since she signed onto Def Jam at the time he was steering the ship. With the rising Bajan superstar as a protege, Jay-Z spent a lot of time with Rihanna, which helped spark a flurry of cheating rumors at the time. However, more than a decade later, a man claiming to be Rihanna's publicist at the start of her music career owned up to planting the rumors in hopes of blowing up the singer's debut single "Pon De Replay," via NY Daily News. Jonathan Hay made the shocking revelation while speaking with celebrity biographer J. Randy Taraborrelli for his unauthorized tell-all, "Becoming Beyoncé: The Untold Story." Hay later apologized for planting the rumor, claiming it was just a PR stunt that he didn't think would become so big. 
According to the tell-all, Beyoncé even believed the rumor, and it led to her and Jay-Z parting ways for a year (via Us Weekly). Rihanna's team would later clarify that Hay has never been her publicist and she had no idea who he was. Hay followed up by claiming he was never Rihanna's publicist, he was hired by producer Vada Nobles, who co-wrote "Pon de Replay." While the rumors were proven to be untrue, the reveal came so many years later that it might've allowed for tension to fester.
Beyoncé saw Rihanna's potential before Jay-Z did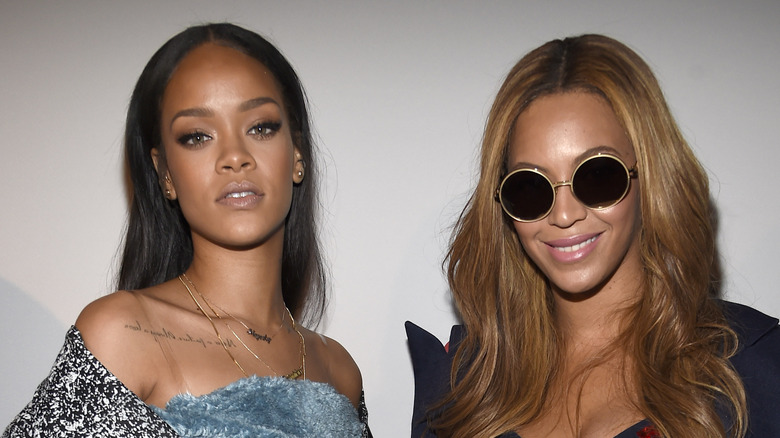 Kevin Mazur/Getty Images
Fans have always speculated why Beyoncé and Rihanna have yet to do a collaboration of some type. Between music, fashion, beauty, and even philanthropic causes, there has been plenty of opportunity for the two superstars to share the stage. But outside of a few photo ops, there haven't been too many friendly encounters between Beyoncé and Rihanna, and fans have wondered if the early cheating rumors played a part in the two never teaming up. But Rihanna shut down the hearsay while speaking with Vogue in March 2016. The "Diamonds" singer called out the public for trying to form a rivalry between the two female artists and claimed she doesn't wake up feeling negatively about Beyoncé. "I can only do me. And nobody else is going to be able to do that," Rihanna quipped. 
Her comments came a few months after record executive L.A. Reid revealed the vital role Beyoncé played in convincing Jay-Z that Rihanna was a future star on the rise, according to Vanity Fair. At the time Rihanna signed to Def Jam, Jay-Z and Reid were focused on pushing R&B singer Teairra Mari, who Reid admits they thought "would be the big star." But, according to Reid, Beyoncé was the one who approached him saying "'That Rihanna girl, she's a beast.'" Beyoncé was right about that, regardless of what cheating rumors would follow.