How Starring In The Tomb Raider Series Inspired Angeline Jolie To Become A Philanthropist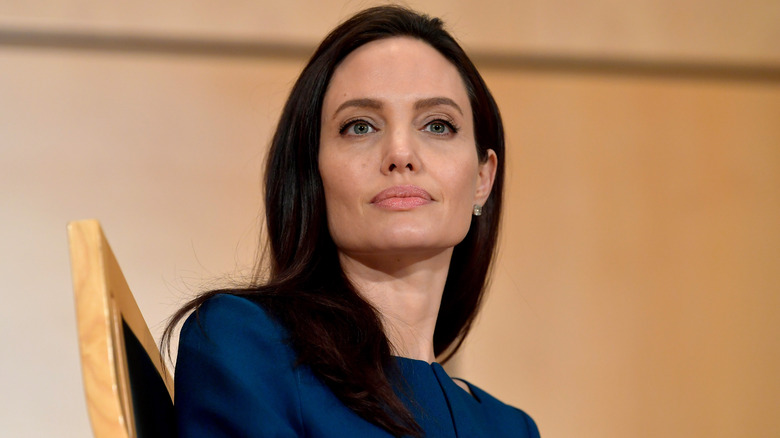 Harold Cunningham/Getty Images
Angelina Jolie is undeniably one of Hollywood's most noteworthy A-list actresses, with memorable roles in movies like "Girl, Interrupted," "Mr. & Mrs. Smith," "Maleficent," and many more. 
While the actress is best known for starring in blockbuster movies and for her high-profile relationship (and split) with Hollywood heartthrob and actor Brad Pitt, she has also made a name for herself as a philanthropist. During the height of her career, Jolie starred in 2001's "Lara Croft: Tomb Raider," which brought in over $274 million at the box office and turned her into a prominent and well-known name that was on everyone's radar. However, it was also transformative for the actress on a personal level.
Some filming for "Tomb Raider" took place on location in Cambodia, and what Jolie saw there completely changed her perspective, as well as the trajectory of her life. Today, the A-list star is a notable humanitarian and human rights activist who uses her celebrity to improve the quality of life for those struggling around the world.
Angelina Jolie was shocked by the refugee camps she saw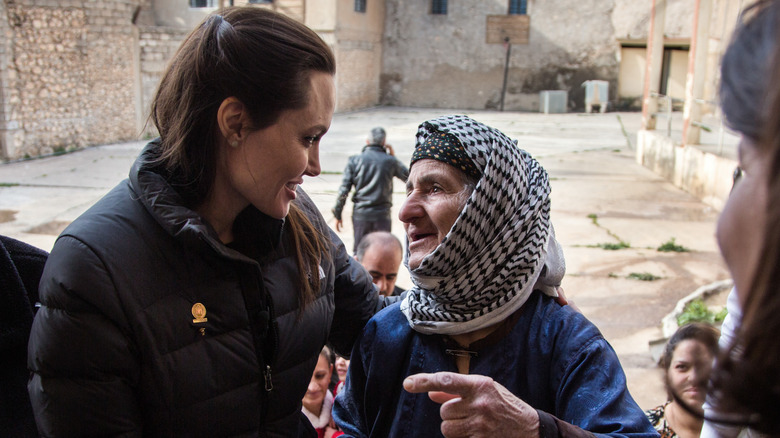 Handout/Getty Images
Angelina Jolie has described being shocked after seeing refugee camps and the thousands of people who lived in unimaginable and inhumane conditions. Speaking to Parade magazine in 2010, she recalled, "One of the first camps I went to had 400,000 people. It was a sea of human misery." Upon seeing the camps for the first time, Jolie claims she felt overwhelmed by the sadness over the unfairness and inequity she witnessed: "I cried constantly. I felt guilty for everything that I had.
But the star quickly realized that crying over what she saw wouldn't help the people who were suffering. "I took a deep breath and focused on how I could help," said Jolie. "I discovered that I was useful as a person." She decided to put her influence to good use. The actress told Vogue: "Cambodia was the country that made me aware of refugees ... It made me engage in foreign affairs in a way I never had, and join UNHCR [United Nations High Commissioner for Refugees]. Above all, it made me a mom." Jolie was here referring to her eldest son, Maddox Jolie-Pitt, who was adopted from a Cambodian orphanage in 2002.
Jolie continues her humanitarian work today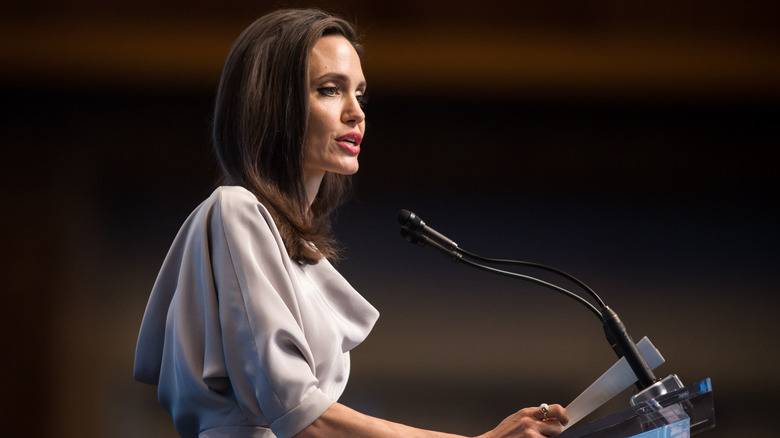 Bloomberg/Getty Images
Between acting jobs, Angelina Jolie has dedicated many years of her life to traveling the world to work for charitable causes and bringing awareness to humanitarian issues. The actress has also created several foundations to help those in need. She founded the Preventing Sexual Violence in Conflict Initiative in 2012 with former Foreign Secretary Lord William Hague, War Child UK with Stella McCartney in 2014, the Maddox Jolie-Pitt Foundation in 2003, and the Jolie-Pitt Foundation in 2006 (via Vogue). These foundations help to support and donate to causes including Doctors Without Borders, Global Action for Children, and many more.
For the last 20 years, Jolie has also worked as a special envoy with the U.N., a position which she has recently moved on from. In a statement announcing her departure (via Reuters), Jolie said that she plans to "work differently, engaging directly with refugees and local organisations, and supporting their advocacy for solutions."